Requesting an Outdoor Space for Instruction
**The Outdoor Space for Instruction reservation system will close on June 16, 2021.**
To help protect the health and promote the well-being of our community members while supporting our academic mission, the Rausser College of Natural Resources has added outdoor areas for limited occasional outdoor instruction. These new outdoor areas may be reserved by instructors, at no cost, for these purposes.  Campus is also providing general use outdoor instructional space at Lower Sproul Plaza that will be made available to all instructors, and can be reserved using this form.  To reserve an outdoor space in Rausser College, instructors (staff instructors, faculty or GSI)  should review the information on this page and submit a Rausser College Outdoor Space Reservation Request form at the link provided below.

Update: Cafe Plaza, in front of Pat Brown's, has increased capacity to 24 participants.  GPB Lawn has increased capacity to 24 participants, when seated on the grass.
Field Trips
If you are a Rausser College instructor and want to be authorized for a field trip on or within walking distance of campus, use the link for field trips at the bottom of the page.  No field trips or meetings are allowed that cannot be walked to from campus. Field trips are allowed Saturday and Sunday, as well as weekend days; classes are only allowed Monday through Friday.  Decal courses may not meet in person, inside or outside.

Update: Instructors may take up to 51 total (including the instructor) on walking field trips.  Please keep in mind that this would be a very large group when socially distanced.  Smaller groups are recommended.
Basic In-Person Requirements:
This checklist is for approved, occasional in-person meetings for instructional purposes on or within walking distance of  campus.  Student participation must be optional with an alternative for remote students. Download this checklist here.
Update: Campus surveillance requirements have changed for those who are vaccinated.
In order to attend in-person occasional instruction on campus in an approved outdoor area, participants must:
read and comply with UC Berkeley's COVID-19 Health and Safety Guide for Returning to the Workplace,
fill out the campus Symptom Screener survey, and
participate in the campus' badge surveillance system and have a green badge at the  time of the meeting, AND
have a confirmed reservation for a designated location.  The designated locations are below.  We recommend Location #1, Café Plaza, and limit non-Rausser faculty to Location #1 until Mulford Hall has key card access.  Location #1 has furniture and some rain and sun protection.
The instructor in charge of the meeting must ask the meeting participants to verify that their badge is up to date; anyone who does not have a green badge will not be allowed to attend the in-person instruction. The instructor must also have a green badge to participate in the class meeting.  Keep in mind that badges turn green for participants after they have reported for testing; it is possible to get tested, receive a green badge, and attend class in the same day.  Masks must be worn at all times by all participants and instructors must actively ensure that all participants abide by mask and social distancing requirements. Each participant should bring their own hand sanitizer.  The furniture used in each designated meeting space should be positioned so that individuals can sit at least 6 feet apart.  All chairs, supplies, or equipment taken out of Mulford Hall for meetings must be returned after the session.
Access to Mulford Hall:  Mulford Hall is the default bathroom access for students.   If you have access to Mulford or another close building, you may let one student at a time in.  
If you do not have access to a nearby building, Facilities Management will admit you to Mulford via 54 Mulford if you have a confirmed reservation, between 9-12 and 1-4.  Plan accordingly.
Chairs and cleaning supplies are stored in 140 Mulford Hall for your use. You will need a key or to be let in by Facilities Management.  If you use Location #1, Café Plaza, you do not need chairs, with you bringing extra.
Prior to Meeting on Campus:
Read and comply with the requirements for coming to campus.
Survey the class to find out who will be able to attend (make sure they know it is voluntary and not part of their grade). Make sure they know the current health guidelines and that they need to participate in the badge system and have a green badge.  Ask for a phone number in case the weather or other factors make it necessary to cancel the class.  Give them a number they can call if they can't find the location of the meeting.  Warn students that bathroom access is complicated.
Space is reserved and the session approved using the Rausser reservation website, with all information provided as requested using the online reservation system provided and the reservation confirmed.
Chairs and cleaning supplies are in 140 Mulford Hall, you will need access to this building if you use any location but Location #1.  You must wipe chairs before and after use.
Know if there is wifi or power.
Disinfect any equipment to be used, and disinfect it before and after use by each student. Bring hand sanitizer or advise students to bring their own hand sanitizer.
The first floor of Mulford Hall is available for bathroom use.  There is one men's restroom and one women's restroom.  No more than one student for each restroom may enter the building at a time. Remember, doors may be locked and you will need access. Ensure students know they should disinfect upon returning.
Have a way of making a film of the trip, or providing an alternative, to students that cannot come. This could be a short summary film, paper, or photos.
Make sure students can socially distance for any activity.
On the Day Of:
Check green badges and symptom screener certificates of students when they arrive.  Keep in mind that badges turn green for participants after they have reported for testing; it is possible to get tested, receive a green badge, and attend class in the same day. 
Record attendaance and store it in case contact tracing is needed.
Make sure all students are masked and socially distanced (6 ft) throughout. Ensure that they continue to wear their masks appropriately (covering the nose and mouth) and maintain distance. Students may want to not eat during class, preferably should not drink, and may want to distance themselves further than required if they need to. 
Clean table and chair surfaces, any other equipment to be shared that you did not clean in prep, with disinfectant.
Have students use hand sanitizer after cleaning (and after returning from the restroom).  Bathroom access is limited to the first floor of Mulford Hall unless wheelchair access is required.
Teach class.  Try to make use of the setting and the in-person opportunities,  and not focus on laptop-based exercises.
Clean all touched surfaces after class.
Return any chairs or equipment.
All students should use hand sanitizer at the end of the session.
Outdoor meetings should not be held if any of the following weather conditions apply:
Air Quality Index is greater than 150
Temperature is above 100°F or below 50°F
There is precipitation or winds in excess of 20 miles per hour
Rausser College Outdoor Instructional Spaces
Locations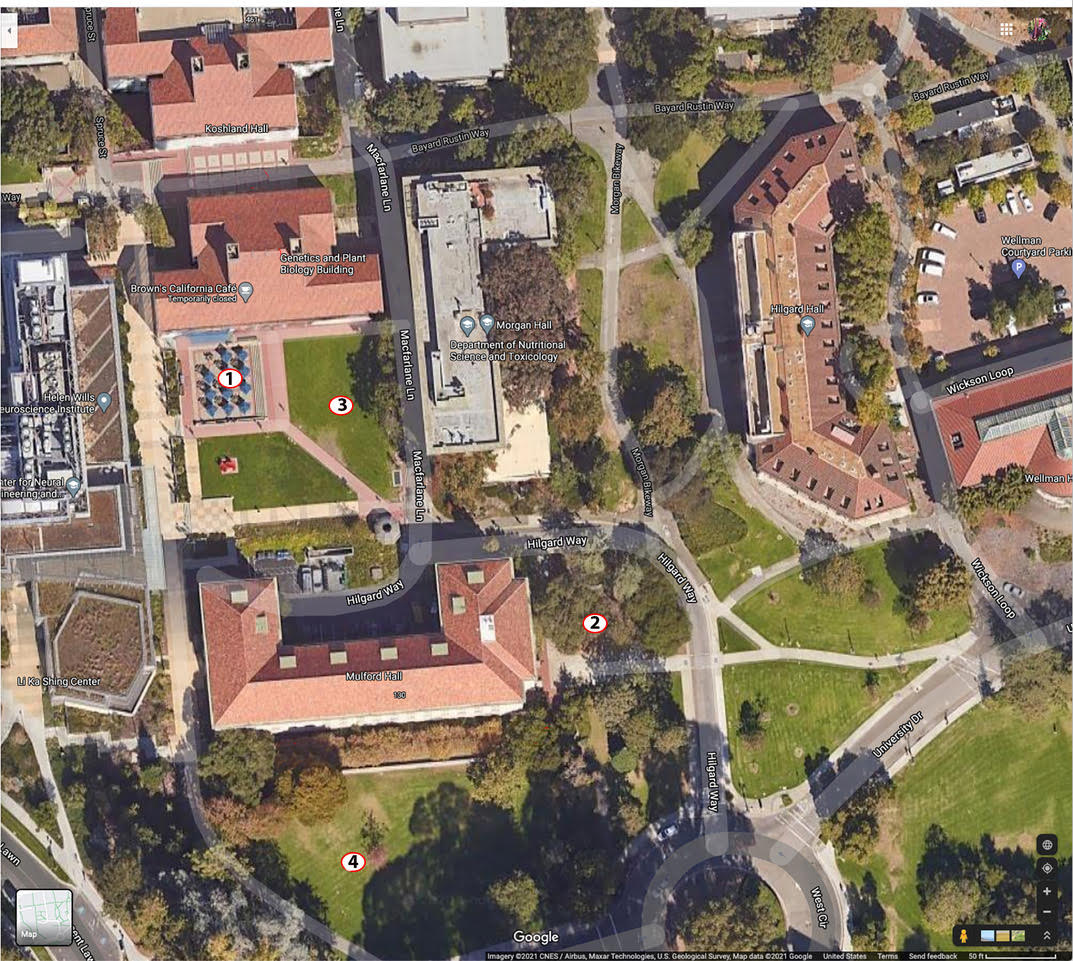 Location 1: Cafe Tables

Capacity: 24
Wifi
Seating: Two people per table

Location 2: Mulford East Entry

Capacity: 12
Wifi available
Seating: Recommend bringing additional folding chairs.

Location 3: GPB Lawn

Capacity: 12(chairs) or 24 (grass)
Limited wifi
Seating: Chairs needed or sit on grass

Location 4: Mulford Lawn

For Field Trip Meet-Ups only
Up to 51 participants (including instructor)
To Reserve an Outdoor Instructional Space:
If you are seeking authorization for a field trip on or within walking distance to campus, and you do not need a meeting space, fill out this RCNR Outdoor Field Trip Reservation form.
For reserving a meeting space, consult the RCNR Outdoor Space - Spring Availability Calendar for available times.  Slots noted as "Reserved" are unavailable during that time.  Reservations must be made at least 1 week ahead of time to ensure building access.
Use the Rausser College Outdoor Space Reservation Request form to make your request for spaces and times.
Receive an email confirmation from the Rausser College Scheduler regarding your reservation.