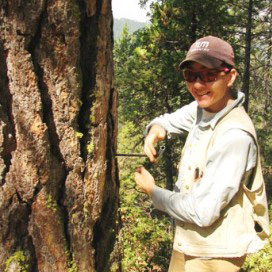 Ph.D. Ecology, Environmental Science, Policy and Management, UC Berkeley
B.S. Biological Sciences, Stanford University
M.F.S. Forest Science, School of Forestry & Environmental Studies, Yale University
My research deciphers how and why forests change, with a focus on ecosystem responses to human demands and disturbances.  In current projects I'm examining the effects of ozone pollution and drought on Sierra Nevada pines, asking how long term exposure to these stressors affects tree growth, how ozone and drought interact, and how their impacts vary across the landscape. To study these questions I use a very tall pole pruner (for examining foliar injury), tree ring analysis, and long term monitoring records from NPS and USFS sites throughout the southern Sierra.
In recent collaborations I've also investigated how standing dead trees contribute to carbon dynamics in California mixed conifer forests. This work is based on extensive dimensional analysis of standing dead trees, describing their patterns of carbon density through measurement of wood density and carbon content. We also used a long-term demographic approach to understand tree fall rates and how they relate to tree characteristics and forest conditions. This research aims to improve the accuracy and completeness of greenhouse gas budgets for forests; it turns field-based information into knowledge useful for environmental policymaking, planning by regulated industries, and investment in ecosystem services.
In related pursuits, I'm part of a graduate student team at the National Socio-Environmental Synthesis Center (SESYNC) studying paths to payment for watershed services. I am also a UC Carbon Neutrality Initiative Fellow and a founding member of the UC Berkeley's Graduate Students in Extension group. Working with UC Cooperative Extension advisors, I've been involved with the Forestry Institute for Teachers program, where I enjoy showing educators how to capture the beauty of tree rings (and other natural wonders) with their phones and sharing current research on California forests. In the past I've studied the health of fragmented ecosystems in New England, developed resource management and recreation plans for a variety of protected lands, and relished countless hours looking at plants.
---
Recent Publications
Cousins, S., Battles, J., Sanders, J., and York, R. 2015. Decay patterns and carbon dynamics of standing dead trees in mixed conifer forests. Forest Ecology and Management 353: 136-147.  DOI: 10.1016/j.foreco.2015.05.030 PDF
Battles, J., and Cousins, S. University of California Berkeley. 2015. Carbon Dynamics and Greenhouse Gas Emissions of Standing Dead Trees In California Mixed Conifer Forests. In review for California Energy Commission. Publication number: CEC-500-2014-TBD.
Battles, J. Saah, D., Robards, T., Cousins, S., York, R., and Larson, D., 2013. Intact Forests. Sequoia and Kings Canyon National Parks Natural Resource Condition Assessment. Appendix 12 in: Panek, J.A., J.J. Battles, J.T. Austin, C.A. Sydoriak, K.R. Nydick, A.M. Esperanza, D.S. Saah. 2013. A natural resource condition assessment for Sequoia and Kings Canyon National Parks. Natural Resource Report NPS/SEKI/NRR—2013/665.12. National Park Service, Fort Collins, Colorado PDF
Cousins, S., and DuVal, A. 2012. Management Approaches for Protected Areas of Cultural and Biological significance: the Beech Pollards of Aiako Harria Natural Park. In: Integrative Protected Area Management: Reconciling conservation, restoration, and recreation objectives in Aiako Harria Natural Park, Northern Spain. Ashton, M., Muruetagoenia, T., and Duval, A., editors. Nova Publishers, Hauppauge, New York. PDF
Cousins, S., Tyrell, M., and Ward, J. Characterizing Ecosystem Health in Fragmented Northeastern Forests. Proceedings of the Third Emerging Issues Along Urban/Rural Interfaces Conference: Linking Science and Society, April 2010, Atlanta, Georgia. Edited by D.N. Laband.
Paul, G., Nerenberg, J., Duguid, M., Cousins, S., Covey, K., and Campbell, R. 2010. Envisioning the Future of Connecticut's Forests. YFF Review Vol 12, No. 1. Yale Forest Forum, Global Institute of Sustainable Forestry, Yale University, New Haven, CT.
Cousins, S. 2010. What is Forest Health? Policy & Science Meet. Sanctuary, Spring 2010. White Memorial Foundation, Litchfield, CT.
In preparation
Cousins, S., Esperanza, A, Cisneros, R., and Battles, J. TBD. Impacts of chronic ozone exposure on tree health and survival.
DeLasaux, M., Cousins, S., and Desantis, R. TBD. Growing educators' grasp of forest ecology: an evaluation of California's Forestry Institute for Teachers.
---
Teaching
Introduction to Environmental Science (ESPM 15, Potts & Rhew 2015)
Berkeley Connect Mentorship Program (ESPM 98, 2014)
Introduction to Environmental Studies (ESPM C12/English C77, Sposito & Hass, 2012)
---
Elsewhere on the web
twitter: @stellacousins | Condensed CV here