<--2018-09-27 10:10:00 | -->
Tonzi: 2018-10-12 10:30:00
Author: Joe Verfaillie
Others: Siyan
Summary: Standard fieldwork - all seems well
Tonzi
2018-10-12

I arrived at about 10:30 with Siyan. It was a mild fall day with good visibility – Mt Diablo was just visible from the tower top. There was a little rain last week, but everything is pretty brown here.

I collected the data and Siyan did the regular fieldwork.
The Tower read: 412.1ppm CO2, 518.8mmol/m3 H2O, 98.8kPa, 19.5C, 98.8SS
The Floor read: 408.7ppm CO2, 560.9mmol/m3 H2O, 99.0kPa, 20.7C, 99.3SS

The FLIR camera was running but the computer was hung up with some strange error. There were only about two days of images. I restarted the computer and it seemed to be running properly. I used the Nikon range finder to get a few readings on points in the FOV but need a photo to annotate.

Everything else seemed okay. The battery on the IRT seems to be dying.

Field Data
CO2 Profile Tanks

| Date | Tank | Pressure (psi) | ppm |
| --- | --- | --- | --- |
Well Depth

| Date | Location | Depth (feet) |
| --- | --- | --- |
| 2018-10-12 | FLOOR | 28.0 |
| 2018-10-12 | TOWER | 32.6 |
| 2018-10-12 | ROAD | 36.7 |
mode = both
Moisture Point Probes TZ

| Date | DOY | Rep | Depth | | | | | | | | | | | Avg | | |
| --- | --- | --- | --- | --- | --- | --- | --- | --- | --- | --- | --- | --- | --- | --- | --- | --- |
| 2018-10-12 | 285 | 0 | 0-15cm | 6.5 | 1 | 8.3 | 5.9 | 6.2 | 6.2 | 0.3 | 9.4 | 8.8 | 0.3 | | | |
| 2018-10-12 | 285 | 0 | 15-30cm | 10.3 | 4.2 | 8.1 | 8.1 | 12.7 | 10.6 | 4.5 | 7.5 | 0.9 | 10.9 | | | |
| 2018-10-12 | 285 | 0 | 30-45cm | 13.1 | 5.3 | 17.6 | 9.5 | 11.7 | 15.6 | 13.4 | 15.9 | 14.3 | 11.7 | | | |
| 2018-10-12 | 285 | 0 | 45-60cm | 13.2 | 8.7 | 23.4 | 10.7 | 19.9 | 24.5 | 11.9 | 15.3 | 15.9 | 21.9 | | | |
| 2018-10-12 | 285 | 1 | 0-15cm | 6.2 | 0.9 | 8.6 | 5.9 | 6.5 | 5.9 | 0.1 | 9.1 | 8.8 | 1.2 | | | |
| 2018-10-12 | 285 | 1 | 15-30cm | 10.9 | 4.8 | 7.5 | 7.5 | 13.3 | 10.9 | 4.2 | 7.8 | 1.5 | 11.2 | | | |
| 2018-10-12 | 285 | 1 | 30-45cm | 12.9 | 5.9 | 12 | 9.8 | 11.7 | 16.2 | 13.1 | 16.8 | 14.5 | 11.7 | | | |
| 2018-10-12 | 285 | 1 | 45-60cm | | 8.7 | 21.6 | 11 | 18.5 | 24.5 | 11.6 | 14.8 | 15.6 | 21.6 | | | |
| 2018-10-12 | 285 | Avg | 0-15cm | 6.35 | 0.95 | 8.45 | 5.9 | 6.35 | 6.05 | 0.2 | 9.25 | 8.8 | 0.75 | 5.31 | 10 | 20 |
| 2018-10-12 | 285 | Avg | 15-30cm | 10.6 | 4.5 | 7.8 | 7.8 | 13 | 10.75 | 4.35 | 7.65 | 1.2 | 11.05 | 7.87 | 10 | 20 |
| 2018-10-12 | 285 | Avg | 30-45cm | 13 | 5.6 | 14.8 | 9.65 | 11.7 | 15.9 | 13.25 | 16.35 | 14.4 | 11.7 | 12.64 | 10 | 20 |
| 2018-10-12 | 285 | Avg | 45-60cm | 13.2 | 8.7 | 22.5 | 10.85 | 19.2 | 24.5 | 11.75 | 15.05 | 15.75 | 21.75 | 16.33 | 10 | 19 |
mode = both
Moisture Point Probes VR

| Date | DOY | Rep | Depth | | | | | Avg | | |
| --- | --- | --- | --- | --- | --- | --- | --- | --- | --- | --- |
| 2018-10-12 | 285 | 0 | 0-15cm | 3.9 | 11.5 | 3.6 | | | | |
| 2018-10-12 | 285 | 0 | 15-30cm | 7.5 | 4.5 | 5.4 | 7.2 | | | |
| 2018-10-12 | 285 | 0 | 30-45cm | 4.5 | 6.7 | 14.5 | 14.5 | | | |
| 2018-10-12 | 285 | 0 | 45-60cm | 14.8 | 20.8 | 18.2 | 26.8 | | | |
| 2018-10-12 | 285 | 1 | 0-15cm | 2.7 | 10.9 | 3.6 | 2.1 | | | |
| 2018-10-12 | 285 | 1 | 15-30cm | 7.2 | 4.5 | 5.1 | 7.2 | | | |
| 2018-10-12 | 285 | 1 | 30-45cm | 5 | 7.3 | 15.9 | 13.4 | | | |
| 2018-10-12 | 285 | 1 | 45-60cm | 14.5 | 20.5 | 18.5 | 26.5 | | | |
| 2018-10-12 | 285 | Avg | 0-15cm | 3.3 | 11.2 | 3.6 | 2.1 | 5.05 | 4 | 7 |
| 2018-10-12 | 285 | Avg | 15-30cm | 7.35 | 4.5 | 5.25 | 7.2 | 6.08 | 4 | 8 |
| 2018-10-12 | 285 | Avg | 30-45cm | 4.75 | 7 | 15.2 | 13.95 | 10.23 | 4 | 8 |
| 2018-10-12 | 285 | Avg | 45-60cm | 14.65 | 20.65 | 18.35 | 26.65 | 20.08 | 4 | 8 |
No TZ grass heigth found
No VR grass heigth found
Tree DBH

Date
Tag#
Reading (mm)
2018-10-12
1
7.8
2018-10-12
12
10.9
2018-10-12
2
5.2
2018-10-12
245
8.2
2018-10-12
3
7.2
2018-10-12
4
9.2
2018-10-12
5
7.6
2018-10-12
7
5.1
2018-10-12
72
15.9
2018-10-12
79
12.6
2018-10-12
8
5.9
No water potential data found

No TZ Grass Biomass data found

No TZ OakLeaves Biomass data found

No TZ PineNeedles Biomass data found

0 photos found

16 sets found

No data found for TZ_Fenergy.
11 TZ_tmet graphs found

11 TZ_soilco2 graphs found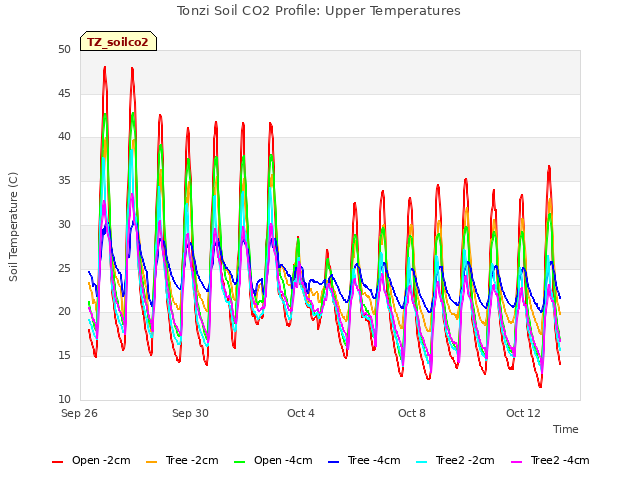 Can't check TZ_mixed
3 TZ_mixed graphs found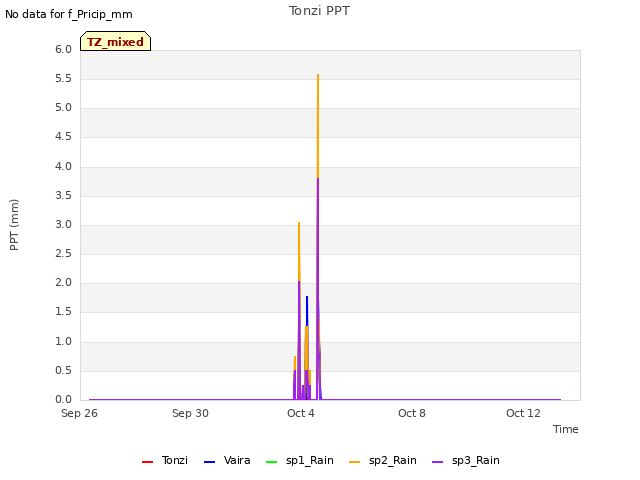 2 TZ_sm graphs found

1 TZ_fflux graphs found
6 TZ_fmet graphs found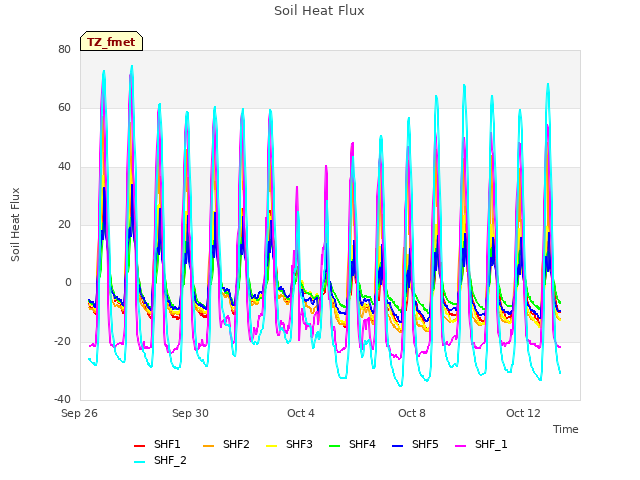 No data found for TZ_tram.
3 TZ_co2prof graphs found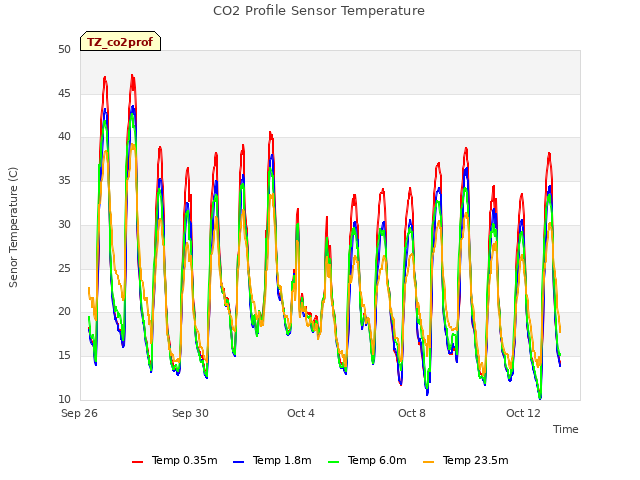 Can't check badm_TZ
2 badm_TZ graphs found
1 TZ_irt graphs found
No data found for TZ_windprof.
1 TZ_tflux graphs found
Can't check TZ_met
1 TZ_met graphs found
Can't check TZVR_mixed
1 TZVR_mixed graphs found
8 TZ_osu graphs found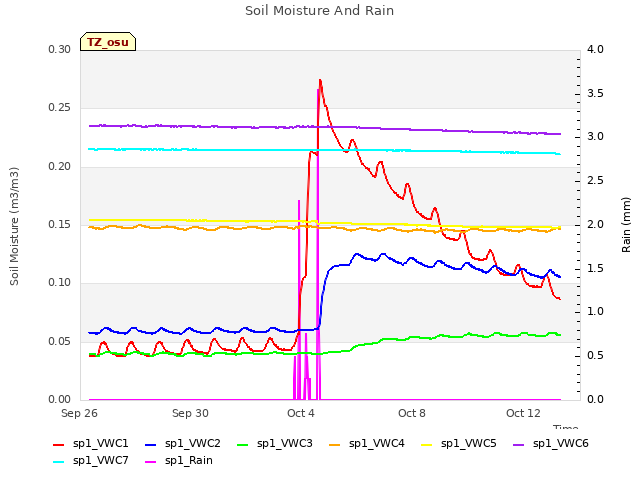 Tonzi Z-cam data