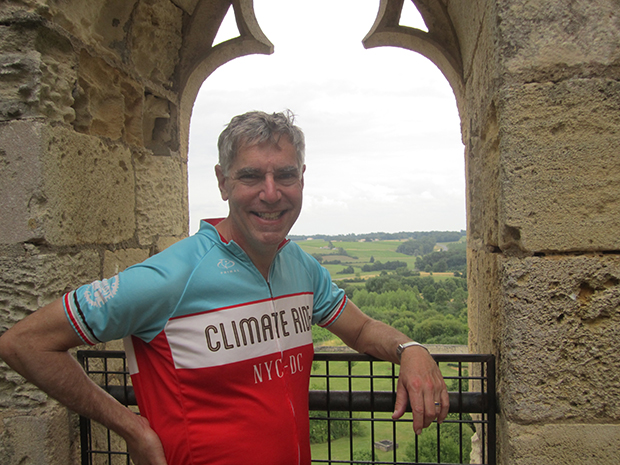 Q&A Talks About Climate Change Response
Alumni working on climate change–related policy talk to Breakthroughs about how their efforts impact energy, water, pollution, and public health.
---
Juliet Christian-Smith
PhD '06 Environmental Science, Policy and Management (ESPM). Climate Scientist, Union of Concerned Scientists, www.ucsusa.org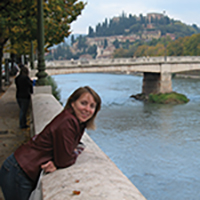 What you do: As a climate scientist for the Union of Concerned Scientists, my work focuses on the relationship between climate change and our water resources. Changes to our water system are one of the main ways that people can tangibly feel and see climate change impacts—from rising seas to reduced snowpack to more uncertain precipitation patterns, including both floods and droughts.
Success story: Last year, I supported efforts to pass comprehensive groundwater-management legislation in California, which was a long overdue and a historic change for the state. Until that time, California was the only western state with no comprehensive plan to manage its groundwater. Groundwater is an increasingly important water resource, as climate change is predicted to reduce our snowpack—the state's largest water reservoir—by as much as 80 percent by the end of the century.
Greatest challenge: When it comes to managing water in California, it has literally taken a generation for sound planning to triumph with last year's groundwater legislation. It will take another generation to actually see the results. After the current drought ends, it will be a challenge to keep public attention on this critical issue.
Scale that up—greatest global challenge: Water is vital to our economy, our food supply, and our public health. Access to clean water remains a global challenge that requires smarter management and technological innovation.
Motivation: I am deeply concerned about the world we leave to our children. I feel compelled to help make sure that science informs the choices we make and the laws that govern our world.
UC Berkeley influences: Being in the Environmental Science, Policy, and Management program at UC Berkeley allowed me to work in a truly interdisciplinary manner—my dissertation committee included a rural sociologist (Louise Fortmann), a landscape ecologist (Adina Merenlender), a hydrologist (Matt Kondolf), and an economist (Isha Ray). The complex environmental problems we face require a range of tools from a variety of disciplines. I am grateful to have had the opportunity to learn from the best in a variety of fields.
Realistic outlook: It's never too late to try to make things better. The choices we make today can have a profound impact on the world our children inherit. Reducing our global warming emissions can help avoid the worst consequences of climate change while we also take steps to adapt to the changes already underway.
---
Daniel Lashof
MS '83, PhD '87, Energy and Resources Group (ERG). Executive Director, NextGen Climate America, nextgenamerica.org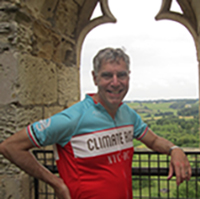 What you do: NextGen Climate America's mission is to promote policies to prevent climate disaster and preserve American prosperity. What could be better than that? In practice that means focusing on reducing carbon pollution from power plants with federal and state policies, mostly in the East, and reducing carbon pollution from transportation with state policies in California, Oregon, and Washington.
Success story: After federal cap-and-trade legislation failed in Congress in 2010, conventional wisdom held that national action on climate would be stalled indefinitely. My colleagues at the Natural Resources Defense Council—where I worked for 25 years, until April of 2014—and I were able to show that the Clean Air Act could be used to make major reductions in carbon pollution from power plants, cost-effectively. Following a strong advocacy push from the broader environmental community, President Barack Obama directed the Environmental Protection Agency (EPA) to regulate carbon pollution from existing power plants, and the EPA proposed its Clean Power Plan last June.
Greatest challenge: The coal industry still has outsized influence on U.S. policy, even though the solar industry now employs as many people.
Scale that up—greatest global challenge: The scale of the global fossil fuel industry, particularly the oil industry, is pretty daunting.
Motivation: I love coming up with policy ideas that significantly reduce pollution and have a realistic chance of being adopted.
UC Berkeley influences: [ERG professor] John Harte's ER 102 instilled systems thinking, and John Holdren's Tricks of the Trade developed skills that I use to this day. More than any specific class or professor, though, the creativity and commitment of the ERG community—students and faculty—inspired my enduring belief that it's possible to change the world.
Realistic outlook: I'm actually very optimistic. The progress on solar in the last five years is truly world-altering. I think electric cars are poised to make the same leap into the mainstream in the next five. The U.S.-China agreement announced last fall is a really big deal. We still face many challenges, of course. The question is no longer whether we will take meaningful action, but whether we will act forcefully enough and fast enough to avert climate disaster.
---
Robert B. Weisenmiller
MS '77 ERG; PhD '77 Chemistry. Chair and Scientist Commissioner, California Energy Commission, www.energy.ca.gov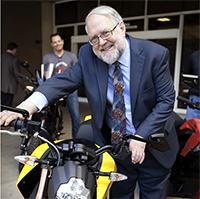 What you do: The California Energy Commission is the energy policy and planning agency for the state. My specific responsibilities lie within research and development, electricity and natural gas supply and demand, legislative activities, intergovernmental affairs, management and budget, and overall quality of the work the Energy Commission produces. Governor Edmund G. Brown Jr. recently reappointed me to another five-year term. I'm looking forward to advancing renewable energy, reducing our need for petroleum, and making our homes and buildings more energy efficient.
Success story: In 2010, we had a laser-like focus on renewable power development. We accelerated permitting for projects that were eligible for federal grants and/or loan guarantees. Given the turmoil in the financial markets and also the innovative nature of some of the technologies, these incentives appeared to be a unique, fleeting opportunity for California to provide jobs and economic development and finally reduce fossil fuel use (and thus greenhouse gas emissions). I served as the presiding member of our sitting committee, and we achieved timely decisions on nine projects representing more than four gigawatts [four billion watts] of new renewable electricity capacity.
Greatest challenge: Our ability to respond to climate change. Since buildings and transportation are California's largest greenhouse gas emitters, it is essential to mitigate the threat of climate changes through monumental leaps in these sectors.
Scale that up—greatest global challenge: Temperatures are higher, sea levels have risen, we face our fourth year of drought, and the threat of forest fires looms. As the producer of 1 percent of global greenhouse gas emissions, California cannot, by itself, reduce the world's greenhouse gas emissions, but we can lead the way. Recently, I was part of trade missions to Mexico and China with Governor Brown, as his principal adviser on energy issues. We're exchanging best practices and creating momentum by carrying the discussion forward. We must aggressively implement mitigation measures as well as build a system that can adapt.
Motivation: I really enjoy the challenge of communicating tough issues to the public, and it's especially rewarding when we provide a solution. For example, the Energy Commission provides millions of dollars each year to encourage innovative research and development. Through our research funds, we have helped create the nation's premier microgrid at the UC San Diego campus.
UC Berkeley influences: My time with Joseph Cerny and John Holdren [emeritus ERG professors] helped direct me to the professional life I have pursued. Cerny helped train me on what it takes to be a successful scientist. Holdren helped me focus my training on the important issues of energy and the environment.
Realistic outlook: In the 1970s and '80s, I also worked for the Energy Commission, in a different role, and was part of a statewide team that transformed our energy system from one of excessive energy consumption and nuclear power plants to one where our per capita electricity demand has remained flat while the rest of the nation's demand has grown by 50 percent. Now I'm getting a second opportunity to make a difference, but this time my experience is much richer and more robust, and I'm excited about where we're going. Governor Brown has set three big goals for us: Increase from [using] 25 percent renewables today to 50 percent by 2030; reduce petroleum use in cars by 50 percent; and double the efficiency of existing buildings. Those are goals based on very high expectations, so we must not hang on the laurels of our past good work and must buckle down for the future.
---
Seth Shonkoff
MPH '08 Public Health; PhD '12 ESPM. Executive Director, PSE Healthy Energy, www.psehealthyenergy.org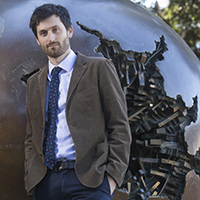 What you do: PSE Healthy Energy is an energy science and policy institute that brings scientific transparency to energy policy. Its physicians, scientists, and engineers [PSE] generate, translate, and disseminate scientific information and put it into the places where it is used to ensure more responsible energy policy-making. The majority of our work is focused on evaluating the public health and climate dimensions of oil and gas development—for example, fracking, or hydraulic fracturing of rock to extract oil—and the transition to clean power. Most days, I conduct analyses, work with scientists, meet with leaders in the nongovernmental organization (NGO) world, talk to policy makers, and give talks in front of diverse audiences.
Success story: In 2010, much of the conversation about fracking was data-free; the oil and gas industry and environmental NGOs each had their own talking points, but there was little data to understand the climate and human health dimensions of the issue. At this time, PSE Healthy Energy began as a group that could bring scientific integrity and clarity to these discussions, highlighting what we know and what we don't know and the implications for energy policy and its impacts. Today, in household- to federal-level conversations about fracking, discussions about the science sit right next to those about the politics, which cannot be said for every energy issue. We think we can take some credit for that.
Greatest challenge: It is no secret that money corrupts very efficiently and effectively, and as such, special interests have great incentives to manufacture messages that serve their bottom line but don't necessarily shine light on reality. This creates a challenge to those scientists who seek to frame the conversation about the reality of what we know and don't know.
Motivation: A strong belief that independent science should inform and come before energy policies, especially when these decisions hold implications for human health, the environment, and exacerbation of climate change.
UC Berkeley influences: The chair of my ESPM dissertation committee was Rachel Morello-Frosch [also a professor of public health]. Rachel provided me with very strong guidance on how to get one's research to affect climate, health, and energy policy. We would never simply publish a paper and move on; we always made it a point to translate our findings into formats that could be integrated into the platforms of groups working for more responsible energy policy. She also taught me how to firmly, but respectfully, not back down when interested parties who didn't like to hear what we had to say came out against us. Let the data speak for itself, but explain it clearly.
Realistic outlook: I still have hope that we can reduce greenhouse pollutant emissions sufficiently to avert the worst climate change scenarios outlined by the Intergovernmental Panel on Climate Change. An important strategy to get there is to put the public health co-benefits of climate change mitigation into the forefront of our efforts. For instance, reducing greenhouse gas emissions from power plants will also reduce health-damaging air pollutant emissions, thereby protecting communities that live, work, and play close by. When we reduce methane emissions from oil and gas development like fracking, we also reduce emissions of co-emitted hazardous air pollutants such as benzene and formaldehyde. Realistically, we can work towards our climate goals while decreasing environmental public health burdens in communities along the way.