Claire Willing
Graduate Student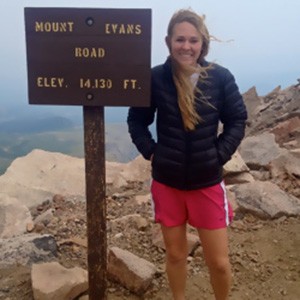 4007 Valley Life Sciences Building
University of California
Berkeley, CA 94720-3140
Phone: 541-226-7796
Email: cwilling@berkeley.edu
Research Interests:
I am interested in plant interactions with symbiotic fungi and how these relationships impact plant physiology and fitness. The most recent research projects in which I have been involved include investigating (1) the root-associated (mycorrhizal) fungi and their relationship with coast redwood (Sequoia sempervirens), (2) fungal foliar endophytes associated with Sequoia sempervirens and Sequoiadendron giganteum, and (3) the role of ectomycorrhizal fungi associated with Bishop Pine (Pinus muricata) on sulfur uptake and the potential isotopic signatures associated with this uptake. My research employs a number of different methodologies including next-generation sequencing techniques, stable isotope ecology, and techniques used in plant ecophysiology.
Education
Ph.D. Plant Ecophysiology, 2013-Present, UC Berkeley, Berkeley, CA
B.A. Biology, 2012, Occidental College, Los Angeles, CA; cum laude, Dean's List
Professional Affiliations
American Geophysical Union, 2016-Present
Ecological Society of America, 2013-Present
Mycological Society of America, 2013-Preset
Funding and Awards (Total awards to date:  $181,880)
NSF Participant Award for Stable Isotopes in Ecology Course; $1,686 (2016)
Reviewer and Panel Member for ESPM Starter Grant;  $1,000 (2015)
National Science Foundation Graduate Research Fellowship; $138,000 (2015)
Save the Redwoods League Foundation Grant; awarded $25,000, (2015)
Save the Redwoods League Foundation Grant; awarded $13,444, (2014)
Sonoma County Mycological Society Scholarship; $1,500 (2014)
Northern California Botanists Scholarship; $1,000 (2014)
Environmental Science, Policy, and Management Starter Grant; $750 (2013)
Specialized Training
Certificate in Teaching and Learning in Higher Education; in progress
Stable Isotope Biogeochemistry and Ecology Course (University of Utah); June 2016
Mentoring in Higher Education; January-May 2016
Introduction to Programming for Bioinformatics Bootcamp Course (Python); January 2016
Expanding Undergraduate Success in Biology Conference; October 2015
Teaching Experience
Graduate Student Instructor, University of California—Berkeley; Berkeley, CA
– PMB/IB 110: The Biology of Fungi, Lecture and Lab, Fall 2016
– ESPM 15: Introduction to Environmental Science, Lecture and Discussion, Spring 2015
– ESPM 2:  The Biosphere, Lecture and Discussion, Fall 2014
Outreach and Community Service
California Academy of Science "Forests Nightlife"; September 2016
Presenter:  Coordinated and created a display about redwood forests and the importance of mycorrhizal fungi and fog.  Demonstrated how the Dawson lab uses a "fog chamber" in order to study the impact of fog on plant physiology and demonstrated the gradient of parasitism to mutualism of mycorrhizal fungi with redwood seedling hosts.
The Unconscious Bias Project (UBP); 2015-Present
Founding Member:  The UBP is a project started by a group of graduate students to describe the prevalence of unconscious bias in STEM fields and how such bias hinders diversity.  Through our trainings, website (http://unconsciousbiasproject.org/), and flyers, we encourage members of STEM to take the unconscious bias tests to determine the groups to which they demonstrate bias.  We have also collected materials for dissemination from peer-reviewed literature about ways to correct biases.
Expanding Your Horizons; 2014-Present
Planning Committee Member and Volunteer: Served on planning committee to organize and facilitate panels in workshops for parents about financial aid and college counseling for different college options (from community college to various public and private schools).
Bay Area Science in Schools; 2013-Present
Group coordinator and volunteer for  "Microbes in Action" lesson.  Developed lesson plan and arranged lessons with local teachers for a lesson explaining the importance of microbes and debunk the notion that all microbes are "bad" microbes.
Presentations
2016:  "Arbuscular myccorhizal fungal diversity associated with coast redwood along a strong precipitation gradient,"  Mycological Society of America Annual Meeting; Berkeley, CA
2015:  [Invited talk]— "Bottom-up impacts of mycorrhizal communities on the ecology and physiology of coast redwood trees; a possible role in climate change adaptation," Sonoma County Mycological Society Annual Meeting; Occidental, CA
2012: "The molecular pathways involved in bacterial virulence of X. fastidiosa: Interruption of the phosphorylation related to the Type IV pili (Pil-Chp operon)" Occidental College, Los Angeles, CA