Robert Skelton
Postdoctoral Researcher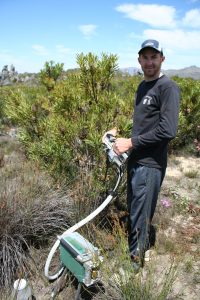 Background
I graduated with a PhD in Botany under the supervision of Adam West at the University of Cape Town toward the end of 2014. My doctoral thesis – "The role of hydraulic strategies in understanding plant response to drought" – was awarded the Best Dissertation Award for that year by the South African Association of Botanists. I recently completed my first post-doc with Tim Brodribb at the University of Tasmania, Australia where I investigated the response and recovery dynamics of a dry sclerophyll woodland community.
Research interests
I am primarily a plant ecophysiologist and have spent much of time investigating plant hydraulic strategies and how these influence drought response. I enjoy thinking about community ecology from a bottom-up, mechanistic or physiological approach and my research includes a combination of field- and laboratory-based physiological approaches, and quantifying plant functional trait variation and developing physiological models to explore questions about contrasting responses to drought.
Current and future pursuits
I am keen to explore the association between stomatal responses and xylem vulnerability and the trade-offs associated with highly contrasting combinations in future. I am currently conducting research for my second post-doc at the University of California Berkeley with David Ackerly, Todd Dawson and Sally Thompson. Here, I will be investigating the physiological processes underpinning the response of oak woodlands to current and future drought.
This is the link to my research website: https://robertskelton.org/