Back to Assignments
Micmac Panorama
---
The Micmac Indians who lived in what is now the Gaspe Peninsula in southeastern Canada were a gathering-hunting-fishing people whose lives were transformed by the advent of French traders and missionaries beginning with the explorations of Jacques Cartier in 1534. A reconstructed 1675 Micmac village in the town of Gaspe demonstrates subsistence activities in each of the four seasons of the year using both traditional and introduced tools.

As you view the panorama and additional photographs identify the ways that Micmac people sustained their lives and the changes introduced by the French. Use the linked quotations to assist you in your interpretation.
Quicktime VR
If your browser does not automatically start loading the panorama after you click on this image link, please download Quicktime here.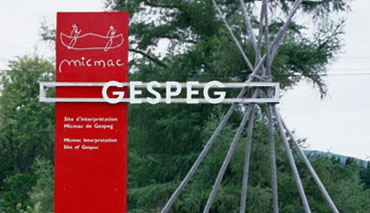 Micmac Panorama
Credits: Photographs by Carolyn Merchant; panorama assembly and web page by Rob Weinberg.