Written by Elyse Weissberger
Fall 2018
My community engagement project involved work with DoorDash in order to launch a pilot program, Kitchens Without Borders, that would aid immigrant and refugee restaurant owners to provide customers with free delivery. The idea for the program was born in an internal hackathon at DoorDash and the company decided to include it in their corporate social responsibility initiatives (CSR). Essentially, the program would partner with local non-profits working with immigrants and refugees in the food system. Together with corporate funds, these partnerships would enable DoorDash to pay the delivery fee for selected participating merchants, which, according to internal data,boosts sales from 50-200 percent. When I was contacted to work with them on launching this program, I knew I had to be a part of it.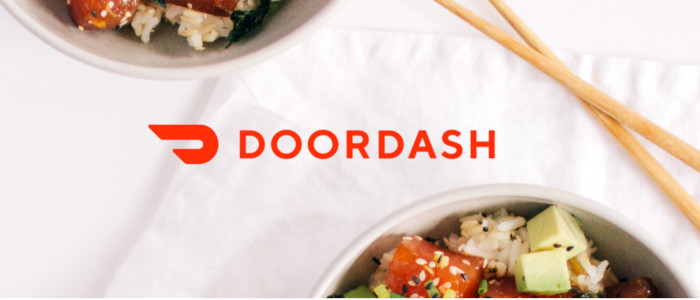 I am a business major with more experience in corporate/for-profit work than the type of work that is often making the biggest, most effective changes in the food system. I am deeply inspired by the people currently working in the food system, yet through my business studies, I have come to believe that we really will not advance as far as we would like unless we involve big business and compel them and others with power and resources to contribute. DoorDash's commitment to taking this step is incredibly important and I am so grateful to have been a part of their journey.
When this program was born, the creators knew that it could have positive impact on the communities which DoorDash serves. However,they lacked the metrics to prove the impact in a quantifiable way. That is where I came in with my team. We decided to research the population of immigrants and refugees in San Francisco, where the pilot program would be launched. Our research indicated that there is great need for programs such as this for immigrants, especially in the food system, especially in restaurants.
DoorDash decided to partner with La Cocina, a Bay Area non-profit working with immigrants and minorities to empower them in food systems work. This partnership is vital to the success of Kitchens Without Borders for a number of reasons. The most important in my mind is that the partnership allows DoorDash to interact with an existing community and to draw from the work and experience of this organization that has already begun work tackling the problems that DoorDash has only recently identified. I believe this is the only way that people and organizations in power can enter the food system as helpers and advocates. There is already so much work going on in this space, especially by the very people that are marginalized by the system. DoorDash certainly has the resources to help these people,but it does not necessarily have the solutions. Consulting with La Cocina allows DoorDash to really address the issues that the people they are trying to help believe are pertinent and it allows DoorDash to enter this space as a partner instead of a savior.
In this project, I had the opportunity to explore the value propositions a program such as Kitchens Without Borders presents. I learned incredibly valuable lessons both from the thought exercise surrounding value propositions and from composing them in a convincing way for all involved parties. As I mentioned earlier, I believe that the only way we can make serious changes in the food system is if we can convince the people and companies in power to use their power and resources to get involved. This is true because movements of this magnitude with goals as far-reaching as advocates for food system justice have set need resources, especially monetary resources, in order to succeed. It is confirmed however by my belief that a system such as this, which touches every single person and which links all of us, must be attended to by all of us, including corporate America. Originally the value propositions that we were drafting were going to address the value for program participants and for customers who order from the merchants featured, but we decided to take it one step further. In the end we wrote three value propositions, one for customers, one for participants and one for management. I think being able to convince management that programs like Kitchens Without Borders make good business sense has been an invaluable skill to learn. It is easy to convince human beings that helping others is the right thing to do. It is much more difficult to convince an executive that investing money and resources into a CSR program will provide worthwhile business returns beyond simply being the "right" thing to do. Early in December, the developed program was pitched to DoorDash executives and the team was granted an extended period to continue building the program and to hopefully launch in early spring 2019. Management clearly understood that this program would not only be beneficial for participants, but it provides DoorDash with branding and marketing at the same time.
The Kitchens Without Borders program will not be a silver bullet for the issues plaguing immigrants and refugee restaurant owners. The program still has many flaws, many of which my team and I indicated for the folks at DoorDash, so that they could continue to perfect the program even after its launch. Kitchens Without Borders requires that applicants submit record of annual income and proof that they have never filed for bankruptcy. Only foreign-born people are eligible for participation and only a limited number of restaurants will be selected for participation. Clearly DoorDash cannot help everyone,but my team and I discussed whether they were doing as much as they could reasonably be doing. We suggested that perhaps the program would not be accessible for all of the people that truly need it. We were thinking of undocumented folks, restaurant owners who have struggled more than a little bit financially, American-born people of color and so many more who face similar struggles to those DoorDash has granted eligibility to. Kitchens Without Borders will not reach everyone, but we decided that despite its shortcomings, we were proud of the project. It is truly a step in the right direction and hopefully it inspires DoorDash competitors and other companies with influence in the food system to implement programs of their own. We are hoping that this has such a pull with consumers that competitors will be forced to respond with programs of their own. In an ideal world, at least as I see it, programs such as these would be the types of things that companies share with each other so that they can improve together and in turn provide more for the communities they serve.
I am grateful to have participated in developing this program and I cannot wait to see the ripple effects I believe it will have on DoorDash's industry and on the immigrant communities the program serves. I know that we are far from an equitable food system, but I am inspired that this sort of work is being taken up and I hope to continue to be able to contribute.