Support Forestry Camp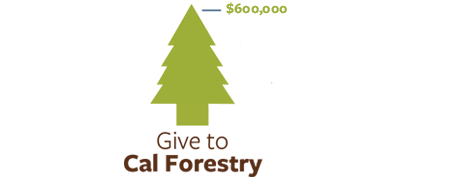 A Treasure to Preserve
At Cal's Forestry Camp in Plumas County—officially called the Forestry Summer Field Program—students get exceptional, in-depth and hands-on opportunities to study the ecology, stewardship, and management of forest, woodland, and grassland ecosystems. The camp is educationally unique and is the only one of its kind west of the Mississippi River.
The Schwabacher Fund was created specifically to help students attend Forestry Camp and to enable Cal's Center for Forestry to continue to offer this valuable hands-on experience. Your gift will help us reach our $600,000 goal and continue to make camp possible.
It helps students pay for camp. Attending camp precludes students from engaging in summer employment, so they cannot raise their own funds over the summer.
It helps make up the gap between student fees, which are kept as low as possible, and the actual cost to run the program, which has been rising year after year.
Learn More
Contact us for more information on sponsorship or to arrange a meeting with Berkeley professors and graduate students to learn more about their current and future research priorities.
Contact:

Office of College Relations
College of Natural Resources
University of California, Berkeley
phone:(510) 643-6641
email: raussercollege@berkeley.edu