Carrie Cizauskas
DVM, Ph.D. Student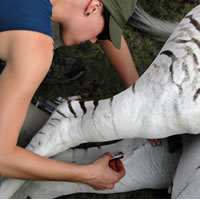 Email:caciz@nature.berkeley.edu
Phone: 510-643-1227
Mailing Address: 137 Mulford Hall, #3114, University of California, Berkeley, CA 94720-3114
Ph.D. Environmental Science, Policy, and Management, UC Berkeley, Expected 2010
DVM Cornell University 2005
B.S. University of Wisconsin, Madison 1998

Curriulum Vitae

Research
I'm interested in why infectious disease outbreaks occur when and where they do. Being a veterinarian, I prefer to focus on what occurs within a host to make it more or less susceptible to contracting and becoming affected by an infectious agent. To this end, my dissertation research involves studying the ecology of anthrax in Etosha National Park, Namibia.

Anthrax, a bacterial infection caused by Bacillus anthracis, exists in vegetative form within hosts, and in spore form in the environment. Only the spore form is infective to hosts, and hosts must inhale or ingest a large dose of spores from the environment in order to contract the disease. As these spores are very hardy and long-lived, one would perhaps expect hosts in an endemic anthrax environment such as Etosha to have the same chance of encountering and contracting anthrax year-round. However, anthrax outbreaks tend to occur in plains herbivores in Etosha at the end of the wet season,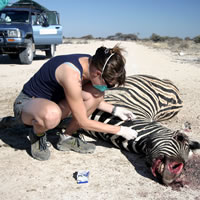 with only sporadic cases occurring here the rest of the year. This conundrum has led me to examine whether host (particularly plains zebra, Equus quagga) susceptibility to disease changes seasonally. Using darting techniques, I capture and collar zebras so I may resample the same individuals in different seasons. From these samples, I use immunology assays, measures of stress and reproductive hormone levels, and coinfection assays to determine an animal's stress, reproductive, immune, and coinfection "status" as a way of gauging potential susceptibility to anthrax.

As part of the larger Berkeley-Etosha Anthrax Research Project, I'm also involved in a number of collaborative studies with my colleagues. These include research to determine whether opportunistic scavengers can be used as biosentinels to determine presence of anthrax in an area. Carnivores can, in most cases, eat anthrax-laden carcasses without contracting the disease; scavengers such as jackals mount a strong, measurable immune response against anthrax, which may be used to determine whether, and potentially when, a jackal has encountered anthrax.