Our goal for this project is to introduce Latinx/POC undergraduate students to different fields of study, framed around the four elements: air, water, earth, and fire – and the impacts of them on the Latinx/POC community and our environment.
Workshop Series
Latinxs in Their Element will be funding eight (8) student fellows to conduct environmental research projects during the academic year. We are hosting a series of workshops for students to gain an understanding of the elements prior to conducting their own research. L&E will be offering students this unique opportunity to explore their passions while allowing them to gain real research experience.
You're invited!
Our next workshop will be announced on our Instagram. We hope to see you there!
Past Worshops from Fall 2021: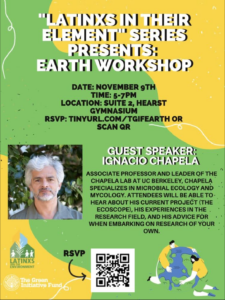 Creators of "Latinxs in Their Element"
Leslie Alfonso and Gianella Renteria