Thursday April 5: Devon Peña
Since 1999, Dr. Peña has served in appointment as Full Professor of American Ethnic Studies, Anthropology, Chicana/o Studies, and the Program on the Environment at the University of Washington in Seattle. He directed and assisted in the creation of the University's Doctoral Program in Environmental Anthropology (1999-2005).
Peña is also the founder and President of the Acequia Institute, a private non-profit charitable foundation established in 2006 to support the environmental and food justice movements. The foundation provides small direct to producer grants with a focus on women-led food justice projects. It also funds tuition scholarships for youth from acequia farm communities, and research fellowships to graduate students and early career professors and research scholars. He was involved in the development of the 2009 Colorado Acequia Recognition Law that has opened opportunities to protect open space and agricultural and ecological values important to the acequia way of life. TAI has launched a campaign for the establishment of the first campus of Calmecac/Colegio del Maíz in Viejo San Acacio to serve the next generation of indigenous agroecologists and work with at-risk urban and rural youth through our acequia farm mentors network and programs in mindfulness training, "irrigation meditation," and restorative yoga.
The Acequia Institute is located on lands within ancestral Caputa Ute territory on the Sangre de Cristo Mexican merced, land grant (1844), and in the village of Viejo San Acacio. The 181-acre acequia farm was part of the extension granted to the founder of the Plaza de San Luis de la Culebra, Don Dario Diego Gallegos. We irrigate from the oldest continuously operating community ditch in Colorado, the San Luis Peoples Ditch (1852). The farm is operated as an 'almunyah,' a private grassroots agricultural extension service and research station. Our work is focused on ecological restoration of damaged riparian ecosystems and the revival and extension of indigenous knowledge and practice in soil biodynamics, permaculture, heirloom crop breeding, and seed saving. The entire farm is under a conservation easement that is the first in Colorado history to tie water rights irrevocably to use on the farm land.
A prolific author of several books, two encyclopedias, and numerous journal articles and book chapters, Dr. Peña's most recent book is Mexican-Origin Foods, Foodways, and Social Movements: Decolonial Perspectives. The 440+ page book was just published by the University of Arkansas Press (September 2017). He is currently working on a two-volume book under contract with the University of Arizona Press focused on a 30-year study of acequia farms in Colorado and New Mexico; forthcoming in 2019-20.
Kevin De Leon – California Senate President Pro Tempore Emeritus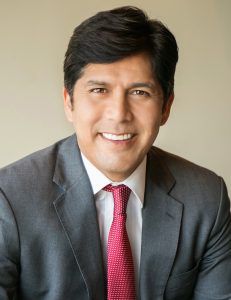 In many ways, Senator de León embodies the promise of America. From a childhood of poverty to community activism, to the upper echelon of the California Legislature, his respect and commitment to working families and the betterment of all Californians has never diminished.
Senator de León is the son of an immigrant mother who supported her family in the San Diego barrio of Logan Heights with housekeeping and other pick-up jobs. He was the first in his family to graduate from high school.
He attended U.C. Santa Barbara and graduated from Pitzer College at the Claremont Colleges with honors. He is a Rodel Fellow at the Aspen Institute and a guest lecturer at the University of Southern California. He has one daughter.
Before entering into politics, Senator de León served the public as a community organizer, taught English as a Second Language and U.S. Citizenship, and advocated for public schools.
During his five years at the California Teachers Association, Kevin fought for additional funding for "high-priority schools" in low-income neighborhoods, more school construction, and health insurance for children.
As a Senior Associate for the National Education Association (NEA) in Washington, D.C., Kevin advocated for more resources for schools in low-income neighborhoods. He fought against schemes to take funds from public schools through taxpayer-funded vouchers and   academic censorship in public schools.
Senator de León was elected by his colleagues to lead the Senate in 2014, making him the first Latino to hold that position in over a century. Senator de León served four years in the Assembly before his election to the Senate in 2010. He is the first person in California history to serve as the Chair of the Appropriations committees in both the Assembly and Senate.
During his time as President pro Tempore of the California State Senate, Kevin de León (D-Los Angeles) has led the 40-member Senate body to historic accomplishments that will improve the lives of Californians and the state's environment and economy for decades to come.
Friday April 6: Martha Guzman Aceves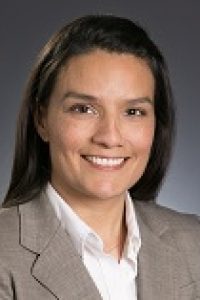 Martha Guzman Aceves was appointed Commissioner at the CPUC by Governor Edmund G. Brown Jr. on Dec. 28, 2016. She previously served as deputy legislative affairs secretary in the Office of the Governor since 2011, focusing on natural resources, environmental protection, energy and food and agriculture. She was sustainable communities program director for the California Rural Legal Assistance Foundation from 2005 to 2011. From 2006 to 2008, she worked with Swanton Berry Farm on human resources issues including a new employee-stock ownership program. She was legislative coordinator for United Farm Workers from 1999 to 2005, working on labor and environmental issues. In 2010 she co-founded Communities for a New California, a charitable organization promoting increased civic engagement of underrepresented communities. Guzman Aceves earned a Master of Science degree in agricultural and resource economics from the University of California, Davis.