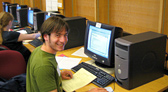 The College of Natural Resources' Student Resource Center located in 260 Mulford recently acquired ten new computers, replacing older computers that did not meet University security standards.

The new computers not only meet security standards, but also provide faster and more powerful computing.

The computers were purchased with funds from the Berkeley Fund for Natural Resources, which is generously supported by hundreds of alumni and friends of the College.

Over the years the Student Resource Center has grown as an education portal for CNR students. With the new computers, students have improved tools to help with homework and group projects.