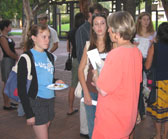 Networking events can really help students with their career choices, and those who attended the Environmental Alumni & Students Mixer on Sept. 30 certainly got their share of information and resources.

Over 50 students were introduced to environmental professionals who are making a difference and who were willing to answer career questions and provide support and encouragement.

Sponsored jointly by the Career Center, College of Natural Resources Student Affairs, and the Berkeley Environmental Alumni Network (BEAN), this event could inspire a new Homecoming tradition in CNR!