The National Science Foundation fellowship is a crown jewel of graduate student awards, and, according the UC Berkeley graduate division, Berkeley students lead the nation in capturing these prestigious and highly competitive grants.

From 2001-2011, UC Berkeley boasted more NSF fellowship recipients–1,333–than any other university in the country. Currently, 621 Berkeley graduate students hold the three-year fellowships supporting their research in fields ranging from medical anthropology and bioengineering to environmental sciences and particle physics.

The UC Berkeley Graduate Division profiled six students currently on NFS grants, including two from the College of Natural Resources.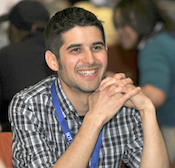 In the Department of Nutritional and Toxicology, Brandon Gaytán (right) is working in Chris Vulpe's molecular toxicology lab to understand the impact of toxics on a cellular level. He hopes to shed light on the health effects of long-term exposure to pesticides and other environmental contaminants.
Gaytán's work to date has focused on so-called legacy pesticides. Though largely banned, substances like the insecticide dieldrin were heavily used in the past and persist in the environment. "One of the problems in toxicology is we know a lot about these pesticides in terms of high-dose effects, but not a lot is known about long-term effects at low doses, which is what's happening out there right now," Gaytán says.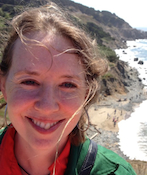 History is fraught with competing claims and legal battles over land and how it's used. Sybil Diver (left), a doctoral candidate in the Department of Environmental Science, Policy, and Management, studies how diverse groups can work together to become good stewards of the earth and its natural resources.
Much can be learned, Diver says, from the unfolding agreements between officials and members of California's Karuk Tribe along the Klamath River and the Xaxli'p Indigenous Community along the Fraser River near Lillooet, B.C. Ultimately, Diver hopes her research fuels changes in management practices of environmentally sensitive lands. "We can't really afford to have these issues tied up in court for years," she says.

Adapted from an article by Abby Cohn

Read the complete Graduate Division story.