Four faculty members and one external supporter were honored for their outstanding contributions to the College of Natural Resources in a ceremony on Friday, Nov. 1, presenting CNR Citation awards. Dean J. Keith Gilless presided over the festivities.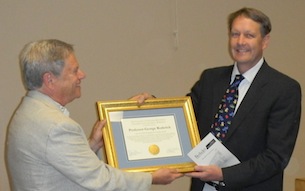 Professors Vincent Resh (left) and George Roderick
The CNR Distinguished Teaching Award, honoring a professor who has excelled in undergraduate teaching and made significant contributions to the teaching mission of the College, was awarded to Professor George Roderick, Department of Environmental Science, Policy, and Management (ESPM). ESPM professor Vince Resh made the presentation.
The CNR Career Achievement Award honoring a professor or specialist who has provided distinguished service as an educator and scholar over the course of their career, was awarded to ESPM Professor Mary Firestone. ESPM professor and former Firestone student Lynn Huntsinger presented the award.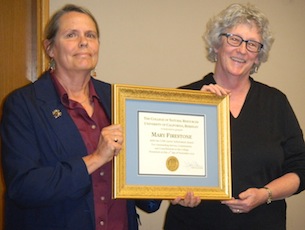 Professors Lunn Huntsinger (left) and Mary Firestone.
The CNR Young Faculty/CE Specialist Award, honoring young colleagues who have made outstanding contributions in research, teaching and service, was awarded to two recipients this year: Assistant Professor Stephanie Carlson, Assistant Professor Matthew Potts--both of ESPM. ESPM professor John Battles introduced both awardees.
The CNR Citation Award, honoring an external supporter who has made extraordinary contributions to CNR, was awarded to Dr. Matt Winkler '74, a friend and donor. Dr. Winkler was unable to attend on Friday and was feted at a special alumni dinner.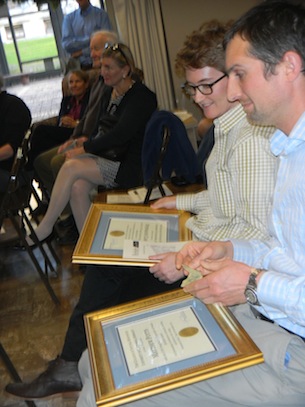 Assistant Professors Matthew Potts and Stephanie Carlson