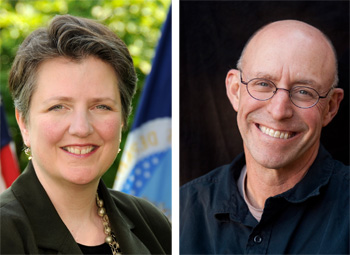 Thursday, November 14, 2013
7:00-8:30 p.m.
Wheeler Auditorium, UC Berkeley
Limited Seating
FREE
Co-sponsored by the Berkeley Food Institute.
Join us for a conversation with Kathleen Merrigan, former U.S. Deputy Secretary of Agriculture under President Obama, and Michael Pollan, Knight Professor of Science and Environmental Journalism, UC Berkeley Graduate School of Journalism. Linda Schacht, UC Berkeley Graduate School of Journalism, will moderate.
Public transportation is encouraged. The event will be videotaped and available online.
The event is free and open to the public. Seating is limited and on a first-come basis. Free tickets will be available in person (one ticket per person present) at the Wheeler Auditorium Box Office beginning at 5:30 p.m. the day of the event. Doors open at 6:30 p.m.
Learn more at nature.berkeley.edu/albright
Kathleen Merrigan photo: USDA
Michael Pollan photo: Fran Collin