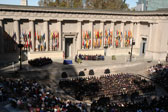 Spring Commencement
The Spring 2014 Commencement Ceremony will be held in the Hearst Greek Theater on Sunday, May 18 2014, from 7pm to 9pm.
Commencement or Graduation?
Commencement and Graduation are two entirely separate events. Commencement is a ceremony, a celebration for you and your family of the completion (or near completion!) of your college years. Participating in Commencement does not mean that you have graduated. Graduation is the process by which you receive a degree at Berkeley. See Graduating for more information.
All CNR students who graduated or will graduate in these semesters are invited to participate.
Summer 2013
Fall 2013
Spring 2014
Summer 2014
Fall 2014
The ceremony is about two hours long.
Registration for Commencement
Registration is closed, the deadline was April 11, 2014.