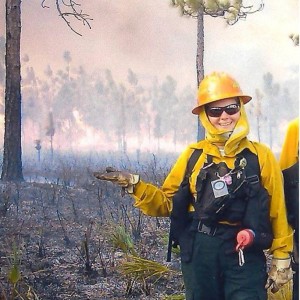 Hometown: Abingdon, VA
Ph.D. Environmental Science, Policy, and Management, UC Berkeley
B.S. Biology, Environmental Science, The College of William & Mary
M.S. Biology, California Polytechnic State University
---
People and wildland fire are integral to California. Today, people and fire are often in opposition of one another, which requires us to find new ways to coexist. Therefore, I study wildland fire — how it worked historically, how it works today, and what are the solutions to protect people and nature.
---
Publications
Collins, B, J Lyderson, D Fry, K Wilkin, T Moody, and S Stephens. 2016. Vegetation and fuel dynamics across landscapes with over 40 years of natural fire. Forest Ecology and Management: 74-83
Ponisio, C, K Wilkin, L M'Gonigle, K Kulhanek, L Cook, R Thorp, T Griswold, and C Kremen. 2016. Pyrodiversity begets plant-pollinator community diversity. Global Change Biology: 1-15.
Wilkin, K 2016. Chaparral fire hazard reduction has drawbacks for biodiversity. Fire in California's Ecosystems. Eds. Sugihara, N.G., et al.: University of California Press, 2016. Forthcoming.
Wilkin, K, D Ackerly, and S Stephens. 2016. Climate Change Refugia, Fire Ecology and Management. Forests 77:1-14.
Wilkin, K, C Ponisio, D Fry, C Tubbesing, J Potts, and S Stephens. 2017. Chaparral fire hazard reduction has drawbacks for biodiversity. Fire Ecology. Accepted.
Wilkin, K, VL Holland, D Keil, and A Schaffner. 2013. Mimicking fire for successful chaparral restoration. Madrono 60:165-172.
---
Publications in Preparation
Boisramé, G, S Thompson, M Kelly, J Cavalli, K Wilkin, and S Stephens. 2017. Vegetation change during 40 Years of repeated managed wildfires in the Sierra Nevada, California. Submitted.
Wilkin, K, L. Ponisio, D Fry, B Collins, T Moody, and S Stephens. 2017. Drivers of plant communities in forests with long restored fire regimes. In preparation.
Wilkin, K, C Ward-Simons. 2017. Social relationships affect wildland fire outcomes. In preparation.
---
Outreach
Fuel-hazard reduction in chaparral
– Co-organized the Northern California Chaparral Fire Hazard Summit on May 19th, 2015 at UC Hopland Research & Extension Center. We learned about fuel hazard reduction treatments and their relationship to fire hazards, chaparral ecology, birds, small mammals, & plant communities; toured a 10-year old fire/fire-surrogate study; and help build a decision support tool that focuses on these key questions: Should we treat or accept fuel hazard? If treatments occur, What treatment should be used?, and When should treatments occur?
– Results featured in Joint Fire Science's national newsletter Friday Flash.
Pyrodiversity  in CA's Sierra Nevada mixed conifer forests
– Guided environmental reporter and NPR affiliate Amy Quinton through Yosemite National Park's Illilouette Creek Basin to discover what fire could be like in California, if fire suppression were replaced with better fire management. Listen to the episode about my trip with Amy on California Burning, a multimedia examination of how Californians are coping with the increased threat, technologies being developed to fight and predict fire, and how we can make forests less prone to megafires in the future.
– Read the full story with video links and photos on the Department of Environmental Science, Policy & Management blog.
– One of the infographics, Fire as a Jigsaw Puzzle, was picked up by other news sources.