Egg on your Face :
Quality Control Object Lesson
Pablo Muñoz
Farm Manager, Agrícola Forestal El Escudo
Gregorio Billikopf Encina
University of California
---
This article is important as it documents the first known time where workers under a piece-rate system were paid to actually take a break. Some key issues regarding quality are discussed. For a more complete paper on piece rate pay and quality factors, see Piece Rate Pay Design.
---
We were about to start our 2007 apple harvest this year and were considering some important changes. Among them, was to move from an hourly based pay to a piece rate approach. Our biggest worry was maintaining quality.
Quality
We began by meeting with our crew workers and explaining the commercial importance of our apples, as well as the typical injuries produced by improper harvesting. We encouraged worker questions and discussed forms of improving quality.
Each picker would work two rows at a time. We had observed that they often banged their ladders against the apples when moving them from one side of the tree to another, so we provided three ladders per picker: one for the middle row, and one each for the outside rows.
A base quality standard was established for all picked fruit. This first year we kept it to a simple "pass or no pass." Next year we may also incorporate a quality bonus.
Our management team decided to use an object lesson to illustrate the importance of quality. The general idea came from Chris Peereborn, our field consultant, although we came up with the details. We bought enough raw eggs to fill half a bin.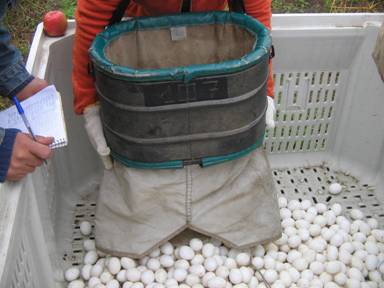 © 2007 Pablo Muñoz
We then invited the pickers and field equipment operators out to the orchard. The workers were quite surprised when they saw the eggs. We instructed the pickers to take the eggs from one bin and fill their harvest bags, climb up and down the ladders, and then deposit them in an empty bin about 15 yards from the original one. The tractor driver would take the bin to the cold storage shed when we are done. The reactions were quite varied. We overheard such comments as: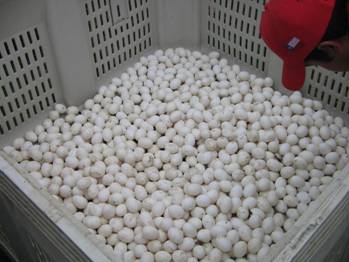 © 2007 Pablo Muñoz
Pickers. "But these are eggs, they are going to break." "I will only place a few in the harvesting bag so they don't break." "The key is emptying the bags slowly into the empty bin."
Equipment operators. "I will have to be very careful." "I will choose the roads that are in the best condition to drive to the shed." "It will take me twice as long to drive to the shed." "I will pile no more than two bins on top of each other with the fork lift, and do so much slower."
The fork lift driver at the cold storage did not have the benefit of seeing the contents of the bin ahead of time. He began to handle the bin quite roughly and got quite upset when he noticed the broken eggs. "You could have told me the bin had eggs!" he complained. At the end of the day, our object lesson was clear. If you do not want egg on your face, handle the apples as if they were raw eggs.
Benefits for the workers
We introduced a straight piece rate (so a worker picking twice as many bins would earn twice the money). We provided cold water and toilets that were close by. We also gave each worker two pairs of gloves.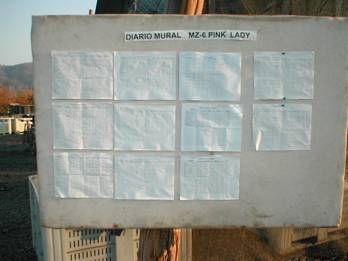 © 2007 Pablo Muñoz
Workers who move from hourly to piece rate often worry that they will not get credit for all of their work. Our orchard manager, Don Alejandro, suggested posting the daily quantity and quality results on a board for all to see. (It is important that worker names re substituted with a number or some other way of maintaining anonymity. Otherwise, slower workers may feel humiliated.)
When workers are paid by the hour it is the farm enterprise that pays for the break. When paid by the piece, it is the workers who pay for it. For this reason, most workers resent being made to stop and take their break when paid by the piece. So we insisted that our workers take their full morning and afternoon breaks but we paid for these.
That is, we calculated the amount of work each crew worker was performing per minute, and paid them for their break as if they were working without stopping. Another way of saying this to the workers was, "Come and take a break and pretend you were still out there working, because we will pay you for the break time as if you were indeed working."  
It took us three days before they relaxed a little and began taking the breaks without a major struggle. They had trouble believing us at first and were delighted when they were able to see that we did indeed follow up with this payment. 
Results
We finished our harvest and are pleased. We reduced the number of apple injuries during harvest. Workers were able to pick twice as fast as last year on the average. The fastest worker picked four times more than the slowest. We did not retain the slowest workers, so the ratio was reduced to 1:2.6 by the end of the harvest. It is true that our trees were loaded this year and we harvested double than last year, making it easier for the crew workers. But even so, we reduced the man-days-person from 1,200 to 800.
 For more information on designing an effective piece-rate or bonus system, go to tinyurl.com/99cq or contact Billikopf at gebillikopf@ucdavis.edu or (209) 525-6800.
---
© 2007 by The Regents of the University of California and Gregorio Billikopf
Agricultural Extension, Stanislaus County. No part of this publication may be reproduced, stored in a retrieval system, or transmitted, in any form or by any means, electronic, mechanical, photocopying, recording, or otherwise, without the written permission of the publisher and the author. Printing this electronic Web page is permitted for personal, non-commercial use as long as the author and the University of California are credited.