Welcome to the Order Hymenoptera page, also known as Sawflies, Parasitic Wasps, Ants, Bees, and Wasps!
Information about Hymenoptera in general:
Winged members have four wings with the hind wings being smaller.
Most larvae are grublike.
Usually fertilized eggs develop into females, unfertilized into males.
Females have ovipositors that some species use for laying eggs (eg. parasitic wasps), while others use it simply as a stinger (eg. bees).
Hymenoptera identified and listed in alphabetical order by family name.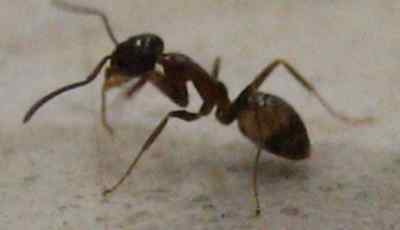 Order: Hymenoptera
Family: Formicidae
Common Name: Argentine Ant
Key Characteristics: Small in length (~3mm) and raid food. When food is found, they trail to it.
Pest Status: Scavengers and will eat mainly your garbage or anything they can find.
Diet: Healthy and rotting foods - mainly human foods.
Habitat: Underground and in concrete and wood cracks.
Life Stages: Egg, drone.
Distribution: In cracks and near food sources.
Location Homeowner Found:Enter where homeowner found pest.