Sudden Oak Death Blitz Survey 2023
---
March 31 – Big Sur, Monterey & Carmel Valley
Monterey Peninsula Regional Park District, Palo Corona Discovery Center
4860 Carmel Valley Rd, Carmel-By-The-Sea, CA 93923
https://goo.gl/maps/PKkj6tEeFTj6v9SA8
Kerri Frangioso – kfrangioso@ucdavis.edu
---
April 15 – Napa
SOD Blitz Station located in the front porch of the Napa County Agriculture Commissioners Office Building, 1710 Soscol Avenue, Napa, CA
Bill Pramuk – info@billpramuk.com
---
April 21 – Marin County
SOD Blitz Station located at Dominican University, outside the main entrance to the Science Building, 155 Palm Avenue, San Rafael. (Please approach via Acacia Avenue: walk through a little park and cross over a wooden bridge)
Contacts: Wolfgang Schweigkofler wolfgang.schweigkofler@dominican.edu
---
April 22 – Saratoga
West Valley College, 14000 Fruitvale Ave, Saratoga, CA
Vivian Neou – vivian@neou.org
---
April 24 – First Nation Tribal Land
Heather Rickard – heather.d.rickard@gmail.com
---
April 28 – South Skyline
SOD Blitz Station located in the Cal Fire CZU Station #21 (Saratoga Summit) parking lot
12900 Skyline Blvd, Los Gatos
Jane Manning – skyline_sod@yahoo.com
---
April 28 – UC Berkeley Campus
UC BERKELEY, SOD Blitz Pickup/Drop-Off Point, West Crescent Parking Kiosk, Berkeley, CA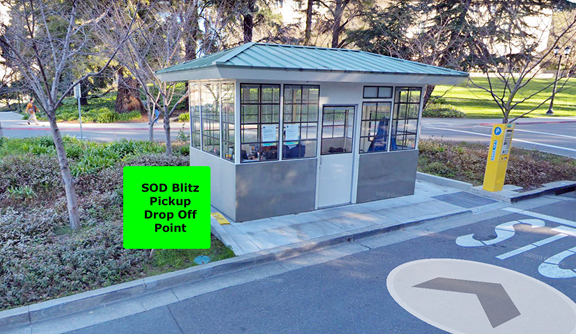 Edo Scali – edoardo_scali@berkeley.edu
---
May 2 – San Francisco
Gabriel Ortega gabriel.ortega@sfgov.org, David Iribarne, Christa Conforti, and Mia Ingolia
---
May 5 – Native Here Nursery
Delia Taylor – deliataylor@mac.com
---
May 5 – San Luis Obispo
SOD Blitz Station in front of the SLO County Department of Agriculture, 350 N Main St, Templeton, CA
SOD Blitz Station in front of SLO County Department of Agriculture, 2156 Sierra Way, San Luis Obispo, CA.
Contacts: Kim Corella Kim.Corella@fire.ca.gov
Cindy Roessler skaaantics@yahoo.com
---
May 12 – East Bay
SOD Blitz Pickup/Drop-Off Point, West Crescent Parking Kiosk, Berkeley, CA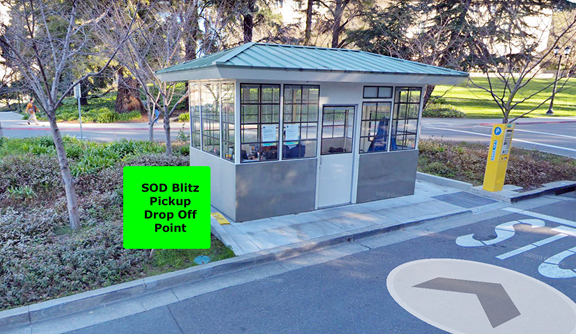 Doug Schmidt – contact@matteolab.org
---
May 12 – Orinda and John Muir National Historic Site
Pick up and drop off at the entrance to Fire Station 45, 33 Orinda Way, Orinda, CA
Bill Hudson – wllhh@ymail.com
---
May 12-15 – Santa Cruz
SOD Blitz Station at the front gate of the UCSC Arboretum.
1156 High St, Santa Cruz, CA 95064. Location: Google Map LINK and coordinates. 36°58'55.1″N 122°03'40.8″W
Jon Detka – jdetka@ucsc.edu, Liz Rennie – erennie@ucsc.edu, and Brett Hall
---
May 11 to 31 – Sonoma
Four Locations in Sonoma County – Link to Details
This is a bilingual event / Este es un evento bilingue
Más información para el SOD Blitz en español
Kerry Wininger – kwininger@ucanr.edu
---
May 15 – John Muir National Historic Site
Victoria Seher – Victoria_Seher@nps.gov
---
May 20 – Peninsula, Woodside/Portola Valley, and Los Alto Hills
Portola Valley – Blitz Station will be located on the Historic Schoolhouse porch, 765 Portola Road, Portola Valley
Woodside – Blitz Station will be located between Independence Hall and Town Hall, look for the signs out in front.
Los Altos Hills – Blitz Station will be located in front of the Town Hall Council Chambers, 26379 Fremont Rd.
Contacts: Debbie Mendelson sodblitz@gmail.com
LAH: Sue Welch sodblitz09@earthlink.net
Emerald Hills: Rochelle Kopp rnkopp@aol.com
Fioli: Haley O'connor hoconnor@filoli.org
---
June 2 – Santa Lucia Preserve (Residents)
Alix Soliman – asoliman@slconservancy.org and Kerri Frangioso – kfrangioso@ucdavis.edu
---
June 10 – Midpeninsula Regional Open Space District.
5050 El Camino Real, Los Altos, CA
Arianna Nuri – anuri@openspace.org
---
June 11 – Mendocino County
South – Anchor Bay
North – In front of the Ford House, 45035 Main St., Mendocino
Nancy Morin – Nancy.Morin@nau.edu
---
North Coast
SOD Blitz Survey for nonprofit, state, and government employees
Wallis Robinson – wlrobinson@ucanr.edu
---
Burlingame Hills and North Peninsula
Date and Location TBD
Contact: TBD
---
---