Jackie Gerson
Postdoctoral Researcher
Department: Past Members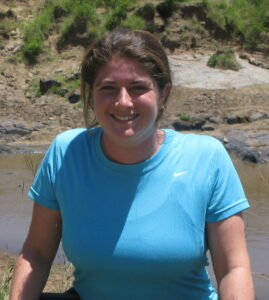 I define myself as a landscape biogeochemist and am deeply interested in element transport and fate, as well as the consequences for global health and environmental conservation. I was a postdoctoral researcher working with Dr. Whendee Silver to examine the biogeochemistry of soils. My research compared soil properties at six sites across the Critical Zone Network in Arizona, California, Idaho, New Mexico, Puerto Rico, and South Carolina.
I earned my Bachelor's at Colgate University in biochemistry. I earned my Master's at Syracuse University, where I studied temporal and spatial patterns of mercury in lakes and forests of the Adirondack Mountains. I earned my PhD at Duke University, where I studied the transport and fate of mercury from mountaintop mining of coal in West Virginia and artisanal and small-scale gold mining in Peru and Senegal to determine how geochemical and landscape properties influence these processes. I also evaluated evidence for the interaction of mercury and selenium within sediment, water, and the base of the food web.
I am passionate about increasing opportunities for underrepresented groups in STEM.  co-founded and co-direct a two-week science backpacking summer program for high school students who identify as female or gender non-conforming from backgrounds underrepresented in STEM. Through this program (Girls on outdoor Adventure for Leadership and Science, GALS) based in North Carolina with partner programs established throughout the country, I hope to inspire high school students to pursue STEM and to develop as leaders.
When I'm not engaged in research, I can be found hiking, biking, paddling, camping, playing with my dog, or curling up with a good book.
Personal website: http://jacquelinegerson.weebly.com