Erin Westeen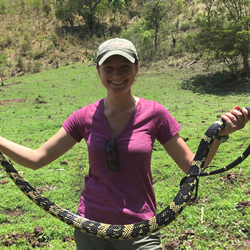 Position: Grad Student
Email: ewesteen@berkeley.edu
Office: 217 Hilgard Hall
Research Interests: landscape genomics, phenotypic evolution, herpetology, conservation genetics


Honors & Awards:
2020 NSF Graduate Research Fellowship
2019 Liu Fellowship in Environmental Studies, UC Berkeley
2018 Berkeley Fellowship, UC Berkeley
Recent Publications:
Shi, JJ, Westeen EP, and Rabosky DL. Accepted. Digitizing extant bat diversity: an open-access repository of 3D μCT-scanned skulls for research and education. PLOS One.
Shi JJ, Westeen EP, Katlein NT, Dumont ER, and Rabosky DL. 2018. Ecomorphological and phylogenetic controls on sympatry across extant bats. Journal of Biogeography, 45(7):1560-1570.
Cotten, TB, Love-Chezem T, Westeen EP, Shaw CJ, and Fadlovich R. 2017. Thamnophis rufipunctatus Habitat. Herpetological Review, 48(3):686-687.