Berkeley Connect Environment Fosters Community, Mentorship at CNR
Ignacio Escalante wants his students to be prepared. Around a conference table in Hilgard Hall, his class of Berkeley Connect students listens to Escalante give interview tips and share job search strategies. Brie cheese, chocolate, and clementines dot the length of the table as students take notes and prepare for their in-class activity: conducting mock interviews.
This exercise is part of the non-traditional curriculum and approach to learning that is foundational to the Berkeley Connect program. Berkeley Connect is a 1-credit mentorship and community-building course that students may take at any point in their undergraduate studies. The class arms students with professional development skills and creates a close-knit community, helping them better navigate Berkeley's large campus.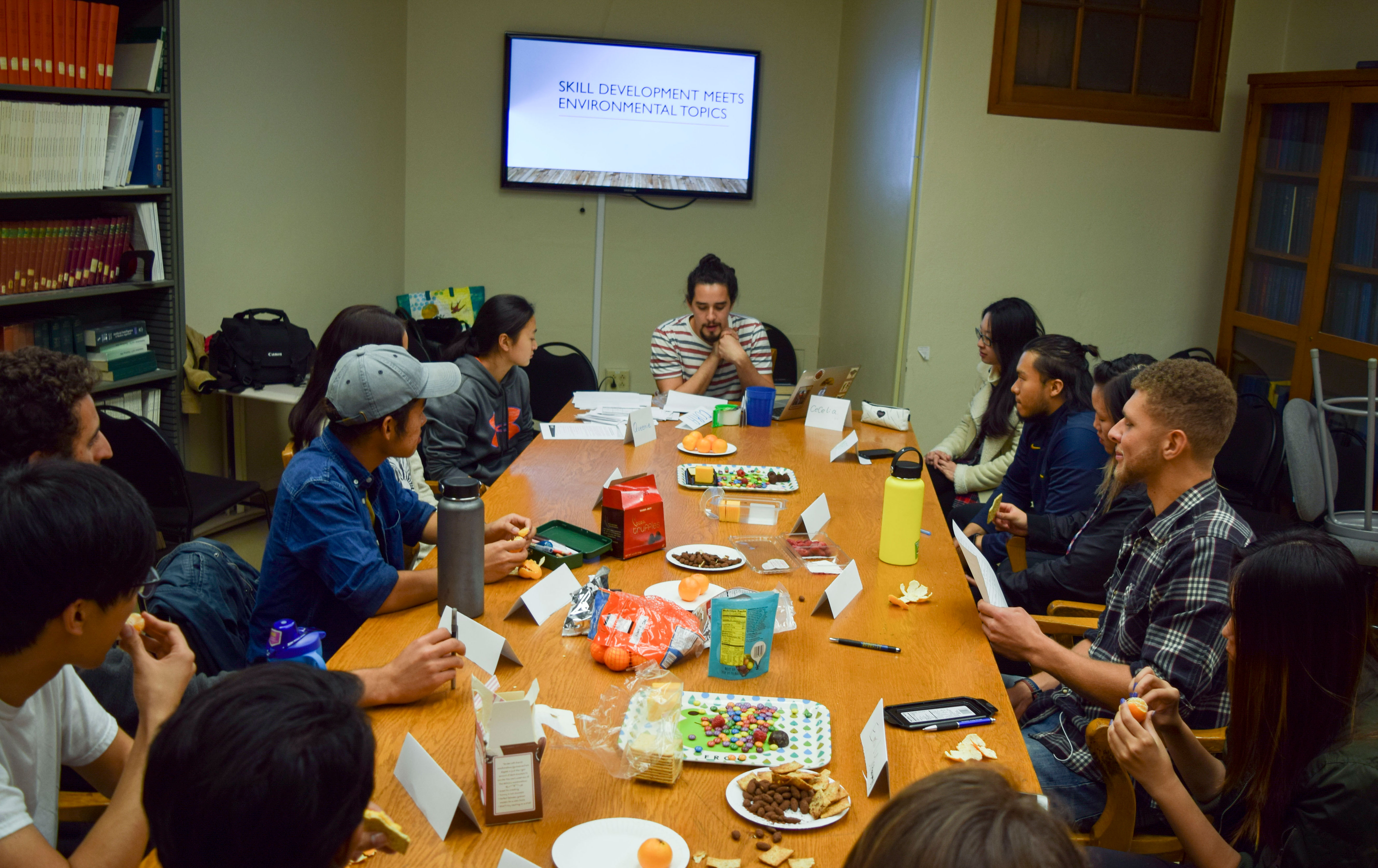 The Department of Environmental Science, Policy, and Management (ESPM) is one of 12 departments across campus to offer Berkeley Connect, which was founded in 2010 in the Department of English and launched campus-wide in 2014. The ESPM program—referred to as Berkeley Connect Environment—attracts students from the College of Natural Resources and across the university. Last fall, 49 percent of Berkeley Connect Environment students were ESPM undergraduates, with the remaining 51 percent of students joining the program from other departments.
Building community through the environment
Escalante, an ESPM PhD candidate, is part of a team of four graduate students who lead Berkeley Connect Environment sections for 160 undergraduates each semester. As graduate student fellows they act as mentors, guiding the class through activities such as drafting cover letters and resumes, tackling graduate school application strategies, and translating their major coursework into a career path. All of these skills are developed through hands-on learning that often includes classroom debates and small-group discussions.
In designing and leading his section of Berkeley Connect Environment, Escalante was eager to offer his students a "uniquely ESPM" point of view. He kicked off the semester by asking students to brainstorm lists of environmental issues—climate change, pollution, endangered species, and more—and then rank them by importance. According to Escalante, the exercise helped students understand the complexity of environmental issues and illuminated the tough choices that climate scientists, conservationists, and policymakers must face throughout their careers.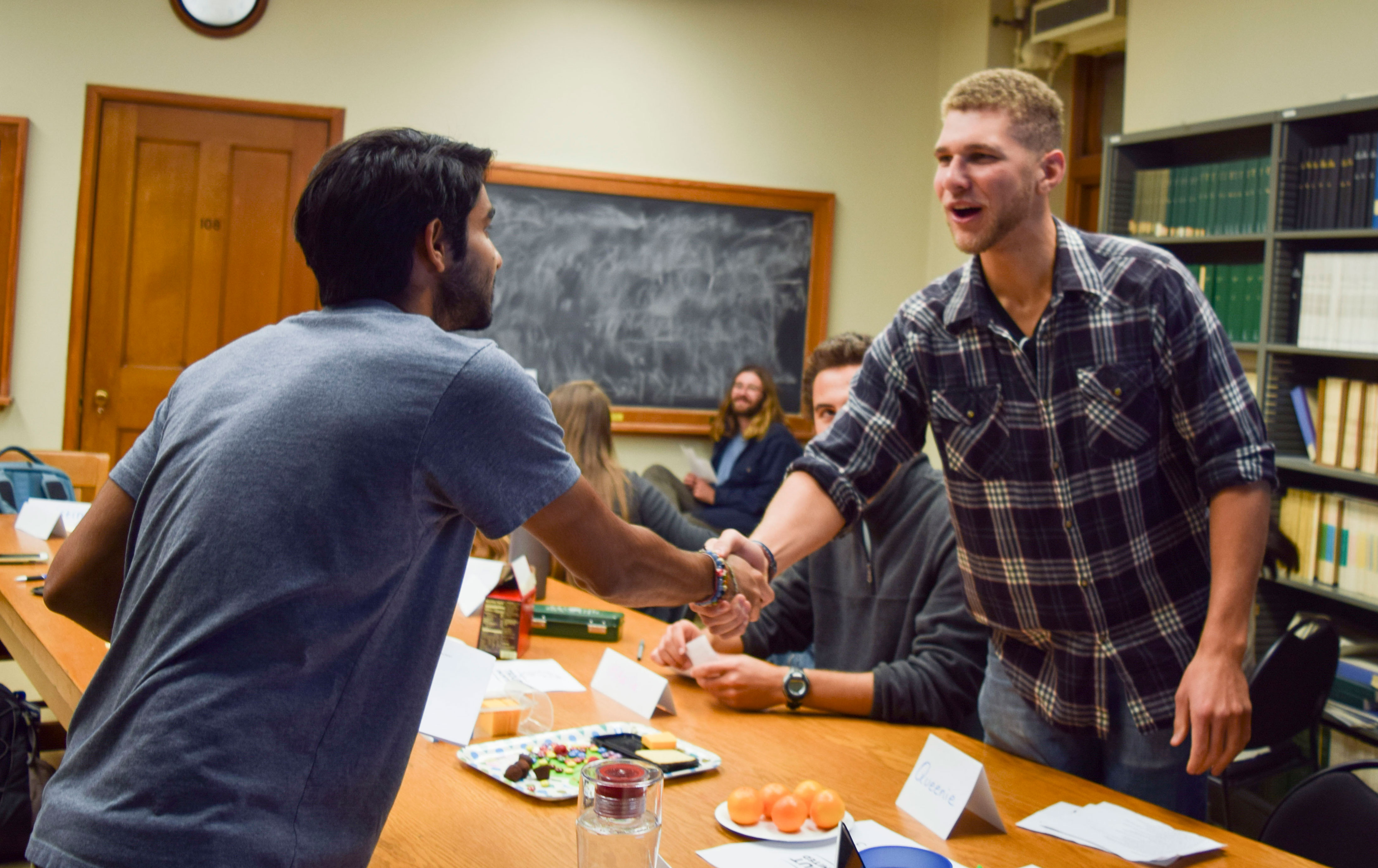 A mentorship model
As a international student from Costa Rica, Escalante sees Berkeley Connect as a way to gain a better understanding his American students and their experiences as undergraduates. "Berkeley Connect gives students a place to talk, relax, and break down the barrier of being in an academic setting," Escalante says. "It helps them establish a thriving community with environmental issues at its core. It helped me see my students as people with goals outside of a single course or a single grade."
"Berkeley Connect helps students navigate their time here, make real connections, and build meaningful community."
Berkeley Connect is structured around a tiered-mentoring system in which the graduate student fellows are mentored regularly by faculty directors, who help them plan lessons and brainstorm ways to build rapport with students, as well as guide them in their own professional and academic development. Associate Professor Bree Rosenblum currently serves as faculty director of Berkeley Connect Environment with Assistant Professor Laura Lammers as co-director. Professor Justin Brashares also made a lasting contribution as faculty director when the program first began in CNR. Berkeley Connect Environment offers students the opportunity to create lasting bonds with classmates, mentors, and faculty across the college," says Rosenblum. "This really contributes to CNR's small college feel. Berkeley is such a huge place with so many resources, and Berkeley Connect helps students navigate their time here, make real connections, and build meaningful community."
Connecting to the future
Some of those undergrads enjoy the program so much that they enroll several times. Alumna Surina Gulati, '17 Conservation and Resource Studies, comments: "This program is so valuable because the transition to college is a difficult one. Students move into a new home, away from their families, in an unknown place," she says. "Berkeley Connect provided a safe and non-confrontational environment for me to express myself and make friends." Gulati notes that the skills she learned as a Berkeley Connect student have helped her hone her resume and cover letter-writing skills as she embarked on her job hunt, post-graduation. She now works for Thermo Fisher Scientific in Santa Clara and recently enrolled in Johns Hopkins University's Master of Biotechnology Enterprise and Entrepreneurship program online.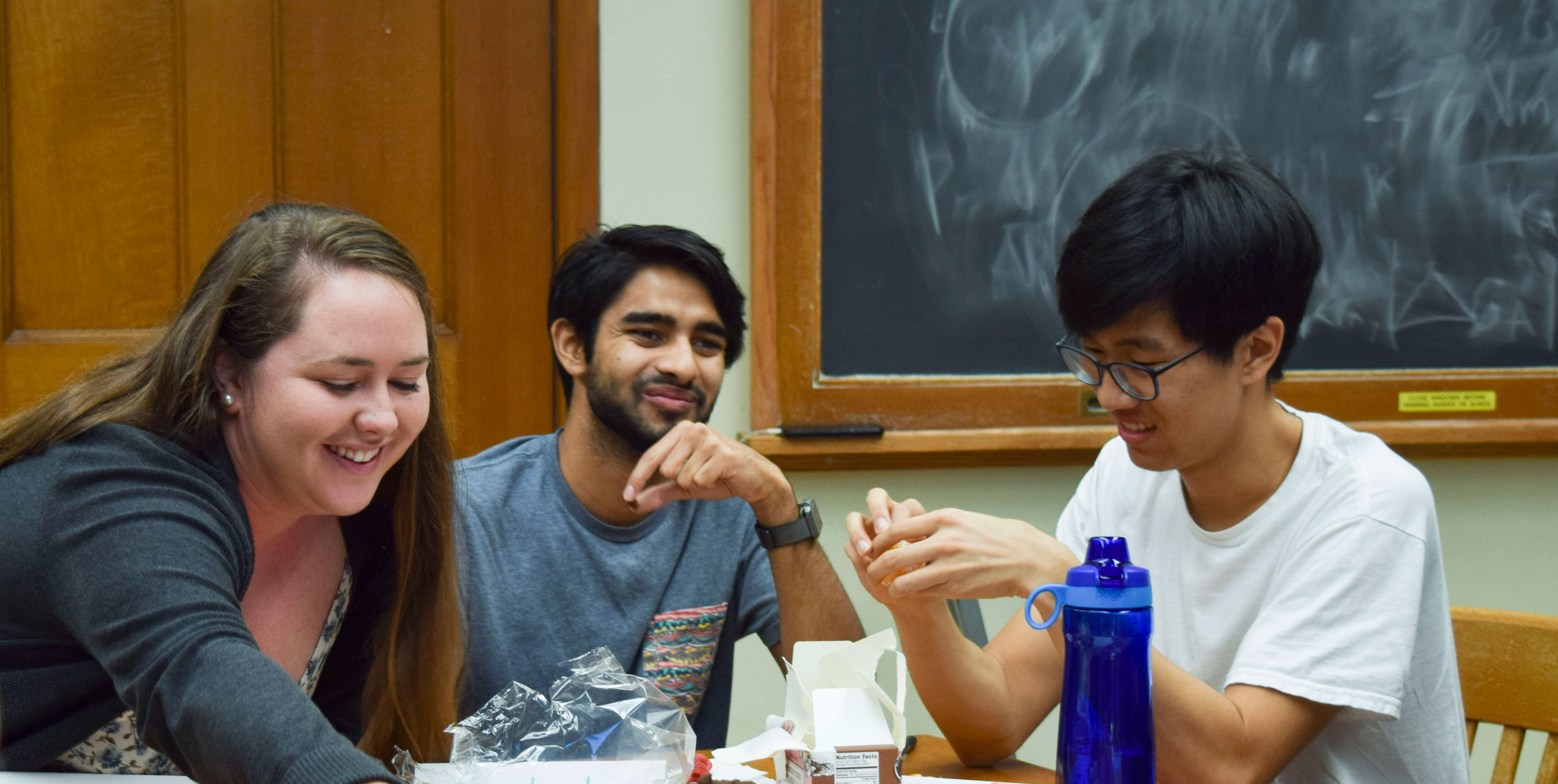 The impacts of Berkeley Connect also linger for its graduate student fellows. Former fellow Manisha Anantharaman completed her doctorate at ESPM in 2015 and is now an assistant professor at Saint Mary's College of California. She credits Berkeley Connect Environment as playing a crucial role in solidifying her passion for teaching.
Four years after Anantharaman led her last Berkeley Connect class, the experience in the program has continued to shape her teaching philosophy as she forges an academic career: "Being a Berkeley Connect Environment mentor was the first time that I saw education as truly humanizing and transformative," she says. "That experience animates everything I do today. Education isn't only about learning; it's about changing ourselves, and Berkeley Connect helped me understand that."
Read more about Berkeley Connect Environment on the program's website.