The catastrophic global decline of biodiversity is widely recognized as among the most pressing problems we face as a society.
The biological, economic and social consequences of depauperate oceans, tundras, savannas and forests remain unclear and in desperate need of study. Our research in the Department of Environmental Science, Policy and Management at UC Berkeley attempts to understand how the consumption of wild animals and conversion of natural habitats affects the dynamics of animal communities and the persistence of populations.
Work in our group extends beyond traditional ecology and conservation to consider the economic, political and cultural factors that drive and, in turn, are driven by, changes in wildlife abundance and diversity. Through these efforts, we strive to propose empirically-based, interdisciplinary strategies for biodiversity conservation.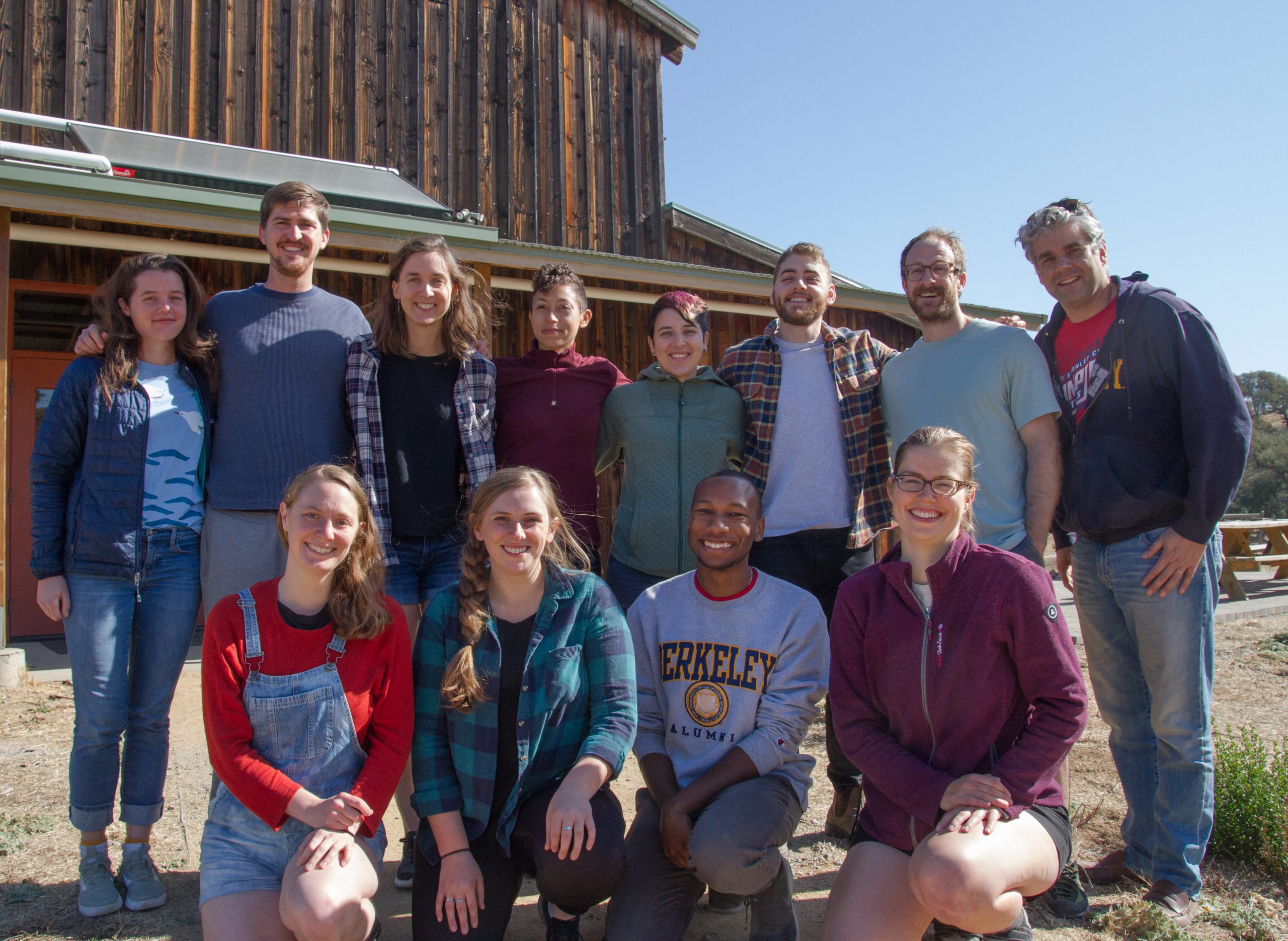 The Brashares Group on a Lab Retreat to Blue Oak Ranch Reserve, CA in November 2019. 
______________________________________________________________________________
Commitment to DEI and Anti-Racism
The Brashares Group is committed to promoting diversity, equity, and inclusion (DEI) in our research, teaching, department and broader community. We recognize that long-standing systems of power, privilege, and oppression have excluded many groups from academia, including the fields of ecology and conservation. We work to foster a culture of inclusivity and honest communication across race, age, ethnicity, gender identity and expression, sexual orientation, religion, national origin, migratory status, ability/disability, and class. We embrace an antiracist agenda by calling out and actively resisting racism, intolerance and inequality in our professional and personal interactions. We strive to show, and be held accountable for, meaningful results from our efforts to ensure the words we share here are anything but academic.
To achieve our goals of antiracist action, we commit to:
Recruit and mentor undergraduate and graduate students from diverse backgrounds and support efforts to recruit and retain faculty from diverse backgrounds at the departmental level.

Host an annual intra-lab workshop on 'DEI in Ecology, Conservation, and Society'.

Support underrepresented students and provide mentoring to help students navigate facets of scientific training that reflect and sometimes amplify legacies of exclusion. These include academic conferences, career planning, academic "old boy networks", thesis committees, the publication process, grant-writing, and fieldwork.

Reference literature in our publications and teaching that emphasizes contributions to our field from BIPOC (Black, Indigenous, and People of Color) voices.

Critically examine representation in our own research, particularly in the composition of research teams and our targeting of outreach.

Set aside time during yearly lab retreat and/or semesterly lab meetings to check in on our progress towards these goals and our committed actions.
"We are caught in an inescapable network of mutuality, tied in a single garment of destiny.  Whatever affects one directly, affects all indirectly." 
-Dr. Martin Luther King Jr.
Letter from Birmingham Jail (1963)
Resources for further education: