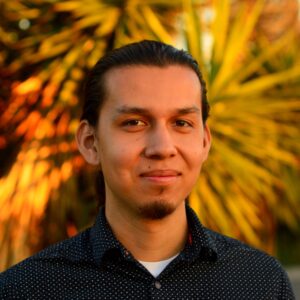 Miguel is a doctoral student in UC Berkeley's Department of Environmental Science, Policy, & Management. His research interests lie at the intersection between agroecological management practices, climate-resilient crop production, and rural economic development. Miguel's undergraduate research centered around how drought in California would impact root growth patterns and overall organismal plasticity in native coastal shrubs.
Miguel is a recipient of the NSF Graduate Research Fellowship, as well as the UC Berkeley's Chancellor's Fellowship and the Latinx & the Environment Leadership Fellowship. He received a B.S. in Biological Sciences and a B.A. in Chicano/Latino Studies from UC Irvine in 2019.
Miguel was born in California's central valley and comes from a long heritage of farmers and farmworkers. As an undergraduate, Miguel spent 3 months aborad in Central America studying sustainable farming practices on coffee plantations in Costa Rica's Guanacaste province. He also has spent time volunteering on llama and wool farms in Upstate New York. Prior to joining the Bowles research group, Miguel worked in non-profit healthcare and education sectors doing data analyses to better inform decision-makers.
He is an avid coffee enthusiast and loves to read Sci-Fi and play RPGs in his spare time.