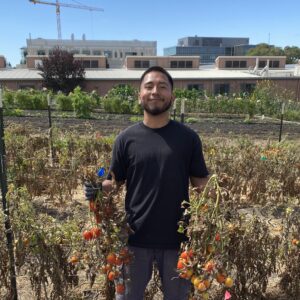 Yordi is a 4th year undergraduate pursuing a Bachelor's degree in Genetics and Plant Biology through the Rausser College of Natural Resources. His academic interests include soil management, crop production, plant science, pesticide use and public policy. He actively seeks opportunities to further learn about his interests and networks with others in order to prepare for his career. He aims to attain his bachelor's degree and apply his skills into the agriculture industry. He joined the Berkeley Agroecology Lab in summer 2020.
He currently works as a proud Laboratory Assistant in the Berkeley Agroecology Lab of Professor Timothy Bowles under PhD Candidate Kenzo Esquivel. He collaborates with lab members in order to meet project goals. As an undergraduate, he helped collect data from the root samples of lettuce and tomato crops. He assists PhD candidates on field days in order to harvest fruit, collect soil samples, and record biomass. From his interests, he's currently being trained to work in a wide range of laboratory data collection technologies for soil and plant samples, such as elemental analysis.
Before UC Berkeley, he actively participated in the agriculture industry as a farm laborer preparing and harvesting orchards and table grapes in the Central Valley, Ca. As a kid he helped maintain his elementary school's garden, watching the plants  produce fruit and bloom into flowers. Since then, he's maintained a close relationship with agriculture and networking in the industry.