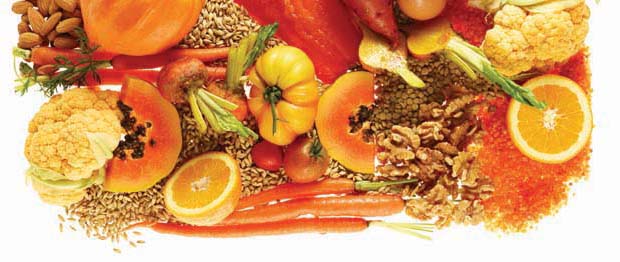 +PHOTO
Reconstructing the Global Food System
The new research group's goal is nothing less than transforming the way the world grows, processes, distributes, and consumes food.
To a casual observer, the proceedings at the Clark Kerr Conference Center this past spring may have looked like the typical machinery of academic self-perpetuation: eager grad students, a jetlagged coterie of international experts, breakout sessions, guest panels, strategic use of PowerPoint. And yet closer inspection reveals more than a few peculiarities. To begin with, most people found themselves seated alongside someone who not only was a complete stranger, but somebody whose entire field of study was unfamiliar. In fact, many of the attendees weren't academics at all. A senior advisor to the mayor of Los Angeles rubbed shoulders with a soil scientist; a doctor chatted with an Internet tycoon, a cartographer, and a tomato farmer.
But the revolutionary nature of the day's events came into focus as the 165 attendees filed out to grab their catered lunch. Where were the soggy sandwiches with gray roast beef and too much mayo? Where was the tiny yellow bag of Lay's potato chips? Instead, attendees munched on baked ricotta with herbs and white bean and celery salad with asparagus. Delicious and healthy, to be sure, but even more important to the conference organizers, the produce was supplied mainly by a local farm that provides significant environmental benefits through emphasizing biodiversity, and the significant social benefit of year-round labor for its farm workers.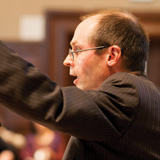 BFI visiting scholar Olivier De Schutter's mandate is as overwhelming as the balance in his Frequent Flyer account: to promote the "adoption of measures at the national, regional, and international levels for ... the fundamental right of everyone to be free from hunger."
Fittingly, the symposium was laying the groundwork for the fall 2013 launch of the Berkeley Food Institute (BFI), an ambitious new research group that has as its goal nothing less than transforming the way the world grows, processes, distributes, and consumes food.
Unlike the more rarified air of, say, molecular biology or Russian literature, everyone on Earth has a personal understanding of and connection to food. And yet the reality of what it takes to get a meal onto a table is unfamiliar to most people, and shockingly complex. According to Alastair Iles, associate professor of environmental science, policy, and management (ESPM) and one of two faculty co-directors of the BFI, the food system "spans the range from farms to processing firms to supermarkets, from farm workers to restaurant workers, from urban to rural farms, and from large companies to nimble community NGOs."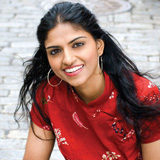 When BFI visiting scholar Saru Jayaraman walks into a restaurant, her attention is drawn toward the man in the back cutting 500 onions a night or the waitress on her feet for 8 hours, who might not break even from her commute and childcare costs.
Arriving at a nuanced understanding of all those variables would be a lot to heap onto the plate of any one person or even a single academic department. Fortunately, the BFI draws strength from five units: the College of Natural Resources, the Goldman School of Public Policy, the Graduate School of Journalism, the School of Public Health, and Berkeley Law. Its executive director, L. Ann Thrupp, has a multidimensional background in government, academia, and the nonprofit advocacy arena, and as a leader in sustainable and organic farming. The BFI's ability to attract talent from across campus and at every level, including 25–35 affiliated faculty, is perhaps its greatest strength.
"The university is known for excelling at multiple academic disciplines, but the Institute will truly be interdisciplinary," says Claire Kremen, an ESPM professor and, with Iles, BFI's faculty co-director. It's not enough just to conduct high-level environmental science, she explains. "We need to get the results of that work into the policy process. To be really effective, we need to communicate broadly. An academic department isn't set up to do that, but an institute can take that process as its main way of acting."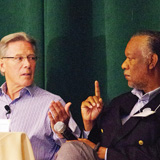 Food 101
It's only natural that a cutting-edge food institute would be launched from the Berkeley campus — it's basically impossible to talk about the sustainable food movement without circling back to Berkeley. From Francis Moore Lappe's 1971 book, Diet For A Small Planet, to Alice Waters's seminal influence, to Marion Nestle's decades of scholarship and advocacy, Cal alumni have played an integral role in shaping the national discussion surrounding food.
Author and Berkeley journalism professor Michael Pollan, a BFI executive committee member, has become something of a national food guru. His recent class, Edible Education 103, was open to 400 students, as well as 300 members of the public, who rushed to reserve spots online. The lectures, which featured guest speakers from across the food spectrum, even became a hit on YouTube. "Any class that's even tangentially related to food is immediately oversubscribed," says Sally Smyth, a recent Goldman School graduate who served as the director of operations before becoming a Presidential Fellow with the U.S. Department of Agriculture.
Berkeley students have been working on food reform for years. In 2011, for example, students in the Graduate School of Journalism published The Ration, an iPad magazine that touched on everything from nutrition to farming to the psychology of labeling. A year earlier, a group of undergraduates received a grant to open the Berkeley Student Food Collective to expand access to organic, sustainable foods. Others redesigned the food packaging in the dining halls and started a program to redistribute excess food from corporate events to low-income Oakland neighborhoods.
"There are pockets of people all across campus — in geography, in education, in ethnic studies — who study food and we wondered, why aren't we talking to these people, why don't we know them?"
Maywa Montenegro
There has been a breadth of interest in the research arena as well. Since 2011, the Berkeley Center for Diversified Farming Systems (DFS) has been a key touch point for exploring agriculture techniques that rely on biodiversity for critical inputs like pollination, soil fertility, pest and disease control, and efficient water use. But researchers found that they needed to expand their focus beyond the production side to confront the myriad issues encompassed by the simple word "food."
"There are pockets of people all across campus — in geography, in education, in ethnic studies — who study food and we wondered, why aren't we talking to these people, why don't we know them?" says Maywa Montenegro, an ESPM Ph.D. student and DFS's communications coordinator. "We had a pre-symposium mixer ... and it was pretty astonishing to see the overlap in interests. There were sparks flying as people realized, like 'I could really get my hands into your data and love it.'"
Those sparks helped ignite something much bigger. With guidance and commitment from an executive committee and vision, perseverance, and financial support from some early backers, the Berkeley Food Institute was born. By crafting a mission statement that calls for transforming the global food system into one that is "healthful, ecologically sustainable, socially just, and economically equitable," the Institute has set its aims high.
Changing the Questions
Holding an inaugural symposium was a great start; the event gathered minds from across the entire food system to inform a research agenda. But there's a long way to go before real results will materialize. How can already flourishing successes be scaled up into big wins with wide-reaching effects? Everyone involved with the BFI understands that "contributing to some dusty scientific paper that seven people will read is not enough," says Kathryn DeMaster, an assistant professor of agriculture, society, and food security. "We need to ask questions that are relevant to the public. If we do that, then we have the chance to be particularly impactful." Toward that end, the BFI will support faculty interested in conducting new research that connects their interests to the information needs of constituencies such as growers, eaters, and policymakers.
A few key areas of inquiry have already begun to emerge. "CNR is particularly well positioned to contribute to commodity chain analysis," says DeMaster, and that process of following a product through every intricacy of its life cycle is a natural fit when it comes to food.
Other essential questions include how first-world appetites contribute to food insecurity in the developing world; how regulatory programs like labeling, nutritional requirements, and organic certification can change consumer behavior; and how large-scale producers can be incentivized to reduce their reliance on pesticides, antibiotics, and agricultural techniques that deplete soils. None of these problems can be solved in isolation. "We can accomplish more together than we might in our individual departments," DeMaster says.
Scope of Influence
The mechanics of achieving boots-on-the-ground change are complicated and often opaque to people who spend the bulk of their time in academia. But Goldman School Dean Henry Brady has been involved in the BFI since its inception, and he sees great opportunities for making concrete change. "We are more linked to government than most other faculties on campus," he says. "What we bring is a real sense of the policy issues and an ability to link that with governmental agencies. The Institute provides us with an opportunity to connect Berkeley's world-class research with government policymakers."
The goal of the BFI is, in part, to disrupt the normal pace and process of academia by putting researchers in contact with people outside of their comfort zone.
The alliance with the J-School offers similar opportunities for broad-based impact; a steady drumbeat of media attention can be instrumental in challenging society's orthodoxies. "We will generate stories on the ground by sniffing around, looking for new models and experiments," says Edwin Dobb, BFI executive committee member and Carnegie lecturer in journalism. "We might drive research, and we might drive policy considerations." The idea is that journalists can help scientists develop the storytelling skills they'll need to move out of the academic arena and into the wider world. Indeed, it's the teamwork and skill-sharing between the many participants that will determine the success of the Institute.
But how exactly will success be measured? Journal articles generated, conferences sponsored, students involved, graduate research funded: All of these traditional academic metrics are crucial, but none of them is enough to achieve the transformative influence that the group envisions. "We're not going to be happy," says Brady, "until people look to us as the go-to experts, so that when Washington is talking about these issues, people from our group are asked to come testify."
Olivier De Schutter, who keynoted the May symposium, has a more ethereal but no less challenging measure of success. Recognizing that experts tend to be immersed in their own disciplines, De Schutter says that "success is to be measured by the opportunity for each faculty member involved to revise their assumptions as to the magic bullet they believe they hold in their hands." See Defending the Right to Food.
Global and Social Approaches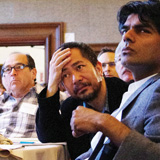 Magic bullet is also a good way to describe the relationship that a lot of Americans have to their food. This fruit will make me live forever; that grain will make me skinny. Research-based food trends like pomegranates or the Paleolithic Diet occasionally net some value for people with the time, education, and money to ponder every morsel. But for the vast majority of the world's eaters, such concerns are out of the question. And that's why the issue of social justice is integral to food.
"There are two food systems in this country," says Maria Echaveste, BFI executive committee member and the policy and program development director at Berkeley Law's
 Institute on Law and Social Policy. "If you're wealthy, you can afford to purchase food that's organic, that has less pesticide residue, that's less processed. It just costs more. And then there's the food that's mass-produced and cheaper, but has deep implications for both health and society." And the problem only broadens as you look outside the United States. "I fundamentally believe that the fights 100 years from now will be about food and water," Echaveste continues. "Those places that figure out how to produce food in a sustainable, regionalized way are simply going to be more successful."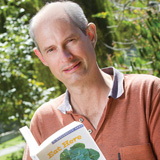 Even when it comes to local issues, massive numbers of stakeholders present a dizzying array of interests and ideologies that are not always in alignment. UC Berkeley has not been immune to conflict. Over the past two years, in a well-publicized dispute, urban gardening activists repeatedly broke into the Gill Tract — a patch of land in Albany that CNR scientists use for agricultural research projects — to cultivate the soil and advocate for more community-oriented use of precious urban agricultural land. The University, which owns the plot and had worked closely with the Albany community on plans to develop land adjacent to the fields, repeatedly spoke in favor of urban agriculture but against the group's tactics.
Despite these clashes, the BFI's principals remain committed to involving grassroots voices like the Gill Tract activists in the dialogue, including inviting three members of the group to participate in the May symposium. The activists were constructive voices in the larger discussion, and the convergence struck a small, hopeful step in mending fences and identifying many points of agreement.
"We need a sandwich strategy, a little from above, a little from below," Jun Borras, associate professor at the International Institute of Social Studies at The Hague, said at the symposium. Academic investigation is often backward-looking, Borras says, but with the scale and immediacy of the problems currently facing the food system, "we are not interested in post-mortem research." The goal of the BFI is, in part, to disrupt the normal pace and process of academia by putting researchers in contact with people outside of their comfort zones. The best chance for success, Borras thinks, is to "marry the sense of urgency of campaigners and advocates with the rigor of the academic community."
It's so easy to take what we eat for granted, and yet studying the food system in its entirety is truly a radical act. Thinking about the challenges that the BFI will face, Alastair Iles likes to look at the buildings that house much of CNR. The massive stone faces are engraved with pictures of food: cattle, beehives, bushels of wheat, grapes. And on Hilgard Hall, in stark relief, are words that hearken back to Berkeley's heritage — and mission — as a land-grant institution: "To Rescue for Human Society the Native Values of Rural Life."
Iles laments that it's been a long time since UC Berkeley has been the national leader on issues of food and agriculture. But in the minds of everyone involved, there's no doubt that the BFI is destined to not just circle back to that early mission but to amplify it and propel the field in new directions. From rooftop gardens to multi-ton fishing vessels, from village councils to the United Nations, from starvation to obesity, questions about the world's food supply get more complicated by the day. In taking on what may be the signature issue of our era, the Berkeley Food Institute is as ambitious in its appetite as it is hungry for change.
Defending the Right to Food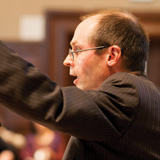 Olivier De Schutter is not an easy man to catch. His summer itinerary alone included Thailand, Malawi, Belgium, and two trips to India. "We can always talk over Skype," he offered in an email. As the United Nations Special Rapporteur on the Right to Food, De Schutter's mandate is as overwhelming as the balance in his Frequent Flyer account. His job is to promote the "adoption of measures at the national, regional, and international levels for ... the fundamental right of everyone to be free from hunger."
VIDEO: The Right to Food: Reshaping Policies for Development and Public Health
The son of diplomats, De Schutter attended grade school in India, Saudi Arabia, and Rwanda — his time spent earning law degrees from Harvard and the Universite de Paris seems ho-hum in comparison. De Schutter has always used these rarified academic credentials to focus on human rights and poverty issues; food, of course, is an inseparable component. "The pressure on resources of the global south to feed our own needs in the north are becoming extremely difficult to bear for the poorest in the south," he says.
To that point, De Schutter will be on campus this fall teaching the seminar The Political Economy of Hunger as one of the Berkeley Food Institute's first visiting scholars. "We have all the technical solutions [to hunger]," he says, "but we have failed, because of ... the wrong policies, sometimes adopted in good faith, but which have not worked."
"I've changed my mind many times," he says of which policies work best, "and I hope to change it many times again in the future." And while his multidisciplinary U.N. experience will be a great asset to the BFI, the biggest challenge may be getting him to sit still long enough to share it. Office hours in Bangkok anyone?
A Voice for Food Workers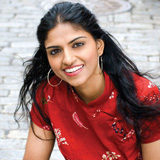 When Saru Jayaraman walks into a restaurant, she doesn't see the same things that most diners do. Sure, she appreciates a colorful salad or an artfully laid table, but her attention is usually drawn toward the man in the back cutting 500 onions a night or the waitress on her feet for 8 hours who, on a slow night, might not break even after her commute and childcare costs. "How great is it to eat an organic, locally sourced meal when the server is being paid $2 an hour, when they're being yelled at, or racially discriminated against?" she asks. "How ethical can your meal really be?"
Jayaraman, a labor researcher and activist, was contacted by restaurant workers who had been displaced from the World Trade Center after 9/11. She soon learned that "the largest and fastest growing industry in the country proliferates the lowest paying jobs." Her interests range from increasing the minimum wage for tipped workers — it has remained at $2.13 in most states since 1991 — to partnering with the Icahn School of Medicine at Mount Sinai to create ergonomic kitchen workstations. This fall, as one of the Berkeley Food Institute's first visiting scholars, she's wrapping it all together in the wide-ranging course Food Systems Policy.
But what she's most excited about is changing consumer demand. Jayaraman, the director of Berkeley's Food Labor Research Center, remembers when restaurants claimed going organic would ruin them. "Now Walmart [is providing] organic food because that's what consumers are demanding," she says. The same can happen with working conditions. Her smartphone app, ROC (Restaurant Opportunities Centers) National Diners Guide, helps people determine which restaurants provide a living wage and fair working conditions.
"I've had people tell me, 'I always thought about the cows and the pigs, but I've never thought about the people touching my food.'" Jayaraman says. In the future, she hopes that people will look beyond the end of their forks and understand that you "can't have good food without good working conditions."