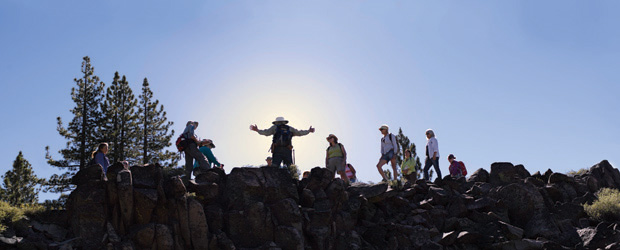 [+PHOTO]
The New Naturalists
UC's California Naturalist Program is integrating citizen science into conservation
"Birds are mobile indicators of ecosystems," wildlife biologist Walter Clevinger tells a group of California Naturalist students bundled against the early-morning cold. At 7:15 a.m., the group had just crunched across a frosty meadow at Sagehen Creek Research Station, 10 miles northeast of Truckee, to check netting for ensnared birds. "They need food, cover, and water just like us. They help us understand how these meadows are changing and what's causing the changes."
Back at the picnic table that serves as a temporary classroom, Clevinger pulls a tiny dusk flycatcher out of a cloth sack and leads students through a series of procedures. He measures the wing and beak and determines the sex by blowing the feathers up on the belly — a female's breast, reddish from increased blood flow, will "unzip" to help warm the eggs. The bird looks peaceful as it submits to Clevinger's steady grip, resigned to the intimate transaction between species. He attaches a tag to its leg and releases it.
Next to him, Jen Cubias grips a pencil and clipboard through thick gloves and records information. The self-declared "bird nerd" has been volunteering at Sagehen this past summer, helping Clevinger gather data that is part of a national study on bird survivorship. She took the 10-week California Naturalist course herself the previous summer, earning one of the new statewide program's first certifications, which are issued by the University of California Cooperative Extension (UCCE), a land-grant educational outreach organization known for its agricultural research and extension programs, and for running the 4-H Club and Master Gardener programs.
"They get 10 weeks of training, they get certified, and they want to do more."
Sagehen's summer course is just one of ten being offered across nine California counties this year as the new program emerges from a yearlong pilot to scale up across the state. Other states, like Texas, Minnesota, and Virginia, have thriving naturalist trainings, but California's is destined to be the biggest in the United States, and it's an early adopter in a new trend to redefine naturalist work, merging conservation with public participation in scientific research, known as citizen science.
"Contributing to scientific research is a relatively new option for people wanting to volunteer for conservation," says Heidi Ballard, Ph.D. '04, Environmental Science, Policy, and Management (ESPM), a professor of education at UC Davis and principal investigator on a National Science Foundation (NSF) grant that supported the integration of citizen science into the program's curriculum. Aspiring naturalists can choose research participation — stewardship and education are the other options — for their service hours, which their local course providers may either suggest or require.
Keeping It Local
Before citizen science could be included in the naturalist curriculum, a structure had to be created for a state with an enormous diversity of people, institutions, and ecological systems. Adina Merenlender, the program's co-founder and a Cooperative Extension specialist affiliated with ESPM, says she and co-founder Julie Fetherston, a former UCCE county advisor, addressed those challenges by using a "course in box" approach that allows partner organizations to tailor it for their own localities.
"We're a big state — 38 million people. We also have more bioregions than any other state, a lot of environmental issues, and a lot of institutions — museums, gardens, outdoor education groups — so it took us a while to ground-truth the whole thing," explains Merenlender. A year-long soft launch gave her and co-authors Deborah Edelman and Greg de Nevers valuable user input on an early draft of The California Naturalist Handbook, the official course textbook, published by UC Press this year, and helped them learn how best to implement a collaborative, trainer-to-trainer model.
Partner organizations adjust the training to their local ecosystem and, by doing their own instructor and student recruitment, tap local expertise and serve their respective communities. UC provides the curriculum materials and the handbook, and qualifies each institution and teacher to ensure that UC's high standards and science-education goals are met.
"We cover a lot of management of natural resources and environment issues," Merenlender says. "What are natural resources? What are California's major ecosystems? The curriculum could come right from ESPM — physical sciences, ecological and biologic science, and environmental issues in policy and management."
Redefining the Naturalist
The mix of summer students at Sagehen reveals a lot about the program and its potential ripple effects across the state, for both scientific research and the burgeoning community of certified naturalists it is producing. Some had strong science or education backgrounds. Young people and soon-to-be-retirees were looking toward first or second careers. But they all shared a mission to align their lives with their passion for the outdoors.
The enthusiasm is palpable on an all-morning geology field trip that is a nonstop frenzy of looking, touching, sniffing, photo-snapping, notebook-scribbling, and attempting to identify every rock, tree, wildflower, and bug along the trail. Gary Raines, a retired geologist from United States Geological Survey who is leading the hike, approves. "What we're doing here is wandering intelligently instead of wandering aimlessly," he explains as he guides students through some detective work to discern the movement of an ancient glacier.
"What we're doing here is wandering intelligently instead of wandering aimlessly."
Gary Raines
Not surprisingly, the course is a magnet for teachers, and its effects will be felt in the schools as the program grows. "We have this nature trail and basically people just go for walks on it, but no one really understands what's there," says Terry Golub, a third-grade teacher from Grass Valley. She plans to use her training to create a teacher's field guide for the trail. Lynn Hori, a retired high school teacher from Palo Alto, wants to help kids connect what they are learning in biology to the world outside the classroom. She's focusing her capstone project, required for certification, on a stewardship program she plans to implement in her former school district.
Chauncey Parker emerges as the go-to person for the names of the various species. He should know — currently an outdoor educator for Gateway Mountain Center in Nevada County, he has been doing naturalist work since he was 15. He took the program to mingle with the experts and build a network of colleagues.
In college, Janet Zipser Zipkin, Haas'74, M.B.A. Haas '76, a UC Berkeley business alumna now retired from a marketing career at Stanford, used to play volleyball with classmates who were studying forestry and the environment. "I'd say, 'hey, look at that butterfly that flew across the net, that's a ... ,' and they'd say, 'what are you doing in business school?!'" Zipkin remembers. "Well, I had my career and raised my kids and now I get to do what I'm passionate about. Don't you just love it? It's like camp for grown-ups." On the board of the Truckee-Donner Land Trust, she already has the passion and commitment, so the program's basic science and naturalist skills are "exactly what I need. I'll make a better board member because I understand the land better."
Golub says the course, and especially its citizen science component, has also given her the confidence to get more involved in volunteer research. "We have a lot of groups like that in Nevada County, but I wasn't quite ready to jump in. Now I feel like I can do that."
A Community of Doers
That's just what Ballard and Merenlender, who also worked on the NSF grant, had in mind. The latest cool app may make the evening news, but, Ballard says, "public participation in scientific research has been going on for 20 years before the Web and app revolution." For example, teams of people can adopt a stream to do water-quality monitoring. "The naturalist program is helping make all these different kinds of projects available and training naturalists to participate." Ballard developed a database that makes finding a project as easy as deciding what you're interested in. It's searchable by keyword and organized by county to facilitate community-based activities.
In addition to locally based groups, a larger community of newly certified naturalists is growing, lively, and vocal.
"What we're learning from the early pilots is that the first thing they want to do is participate," Merenlender says. "They get 10 weeks of training, they get certified, and they want to do more. They want to do service. They want to interact with each other. They want to get more information on nature. They're real doers, and at Cooperative Extension, our work is about galvanizing that energy."
Case in point: Kaitlin Backlund was so inspired when she finished her certification last summer that, at the suggestion of Sagehen's directors, she developed a workshop on the online database iNaturalist, which she gives to local volunteers as well as naturalist students.
Working the Networks
Via the website or mobile app, people anywhere in the world can upload photos and the GPS locations of species to the iNaturalist database and confirm each other's sightings. Developed as the master's thesis of three UC Berkeley School of Information students, iNaturalist is now approaching 20,000 registered users and has been adopted by the California Naturalist Program as its official data repository and online journaling tool.
But iNaturalist is just a tool. "The reason people do citizen science is because it's social, fun, and people can contribute to something they care about," Ballard says. "It's one thing to be social online, but even better when it's social in person, outdoors."
That social aspect makes citizen science and naturalists the perfect marriage. With this burgeoning new community — both live and virtual — California is only beginning to feel the new wave of activism as the program looks ahead to its third year.