100 Percent Empowerment, Zero Percent Guilt Trip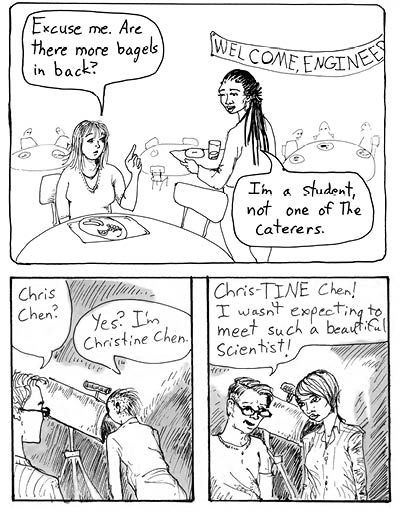 During workshops, Cat Adams and Linet Mera of the Unconscious Bias Project use cartoons they commissioned as catalysts for discussion.
Cartoons: Theresa Oborn
The Unconscious Bias Project (UBP) wants to help scientists tackle the biases lurking in our labs, lives, and classrooms. "We work to help scientists acknowledge the problem of unconscious bias, understand that they shouldn't feel bad about it, and—most importantly—know that there's something they can do about it," said Cat Adams, a PhD candidate in the Department of Plant and Microbial Biology, who launched UBP at UC Berkeley in 2017. "This is why our slogan is 'one-hundred percent empowerment, zero-percent guilt trip.'"
Unconscious bias often stems from stereotypes that can lead to prejudiced or unsupported judgments regarding a person or group. Through participatory workshops and media campaigns, UBP guides researchers, students, and faculty on the path to understanding and correcting their own biases, with the goal of reducing unconscious bias in STEM through "fact, tact, art, and activism." When Adams and co-founder Linet Mera conduct a training, they promote a sense of shared ownership of this goal by inviting a member of the group to learn the material in advance and act as a co-leader of the session.
The idea for UBP began to percolate before Adams came to Berkeley, but it wasn't until she arrived on campus that she felt she had found a home for the organization. "As a public institution, Berkeley fosters a sense of transparency," she said. "I knew this was the ideal place to help scientists identify and correct unconscious bias." UBP was recently invited to lead workshops at the University of Arizona and the University of Puerto Rico, and this spring it was awarded a $10,000 Chancellor's Advisory Committee on Student Services and Fees grant.
— Mackenzie Smith
California-China Climate Institute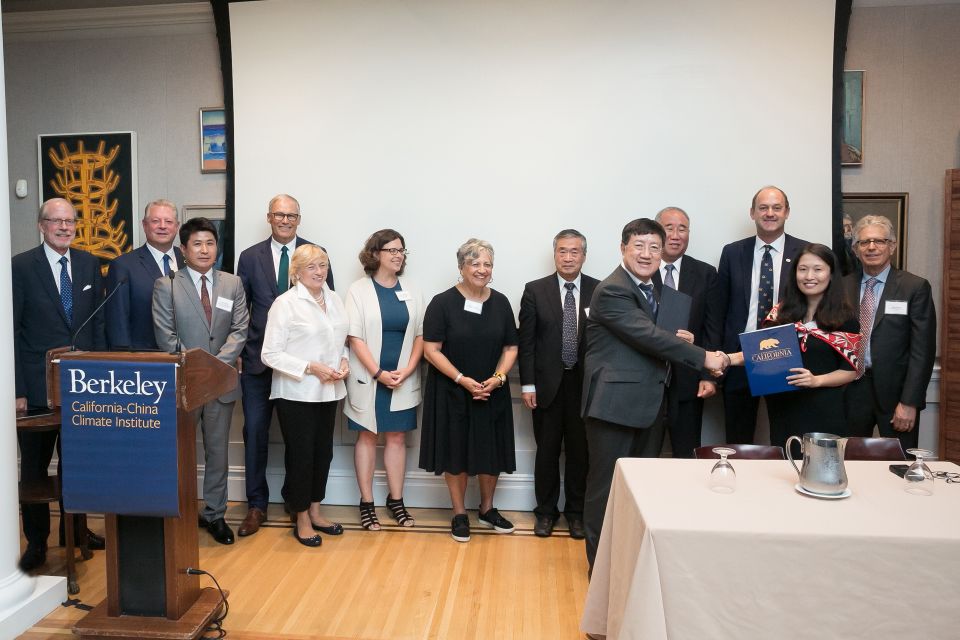 Government officials, climate change advocates—including Al Gore—and leaders from UC Berkeley and Tsinghua University gathered at a launch event for the California-China Climate Institute.
PHOTO: Beowulf Sheehan
On September 23rd, UC Berkeley launched a groundbreaking partnership with former California governor Edmund G. Brown Jr. and China's top climate change official Xie Zhenhua: the California-China Climate Institute—which will spur further climate action through joint research, training, and dialogue.
Housed at CNR and Berkeley Law, the institute will be chaired by Brown and will collaborate with the Institute of Climate Change and Sustainable Development at Tsinghua University, which Xie Zhenhua leads. The institute will deploy UC Berkeley's resources and expertise to advance research on low-carbon transportation and zero-emission vehicles, carbon pricing, climate adaptation and resilience, sustainable land use and climate-smart agriculture, carbon capture and storage, and long-term climate goal setting and policy enforcement.
"The climate threat doesn't respect borders, and it doesn't pause for politics. Now is the time for action from leaders everywhere—for humanity and our common future," said Brown, who will have a visiting professorship at Berkeley in his role as co-chair. "With this institute, California and China are pushing forward together."
New Cannabis Research Center Explores Impacts of Legalization
Because of its unusual history as a U.S. crop—once illegal to grow, now legal in many states but heavily regulated—cannabis has left a unique footprint on the environment and the communities of farmers who cultivate it.
Launched in early 2019, UC Berkeley's Cannabis Research Center explores how cannabis production affects the environment and society and how these impacts will evolve under new regulations set in place by legalization. The center is co-directed by Van Butsic and Ted Grantham, both assistant Cooperative Extension specialists in the Department of Environmental Science, Policy, and Management. While other research groups in the University of California are focusing on the individual and public health effects of cannabis, the center will be the first in the UC system to explore these oft-overlooked dimensions of cannabis growth. "This is a rapidly changing industry, and no one really knows where it is headed," said Grantham. "We believe researchers have an important role in bringing independent scientific information to conversations around cannabis policy."
— Kara Manke