Dawn Wyllie
Advocating & Educating for Public Health
A life-threatening bout with pneumonia couldn't quell Dawn Wyllie's childhood curiosity. The six-year-old peppered her pediatrician with questions about the bug in her lungs. He patiently answered and even let her view the infection under a microscope. She was captivated. Hospitalized again for an injury a year later, she hailed someone she thought was a nurse to ease a discomfort. "Just so you know, I'm a doctor, not a nurse," the woman gently corrected her. "It was an 'aha' moment," Wyllie recalls. "For the first time, I realized women could be doctors."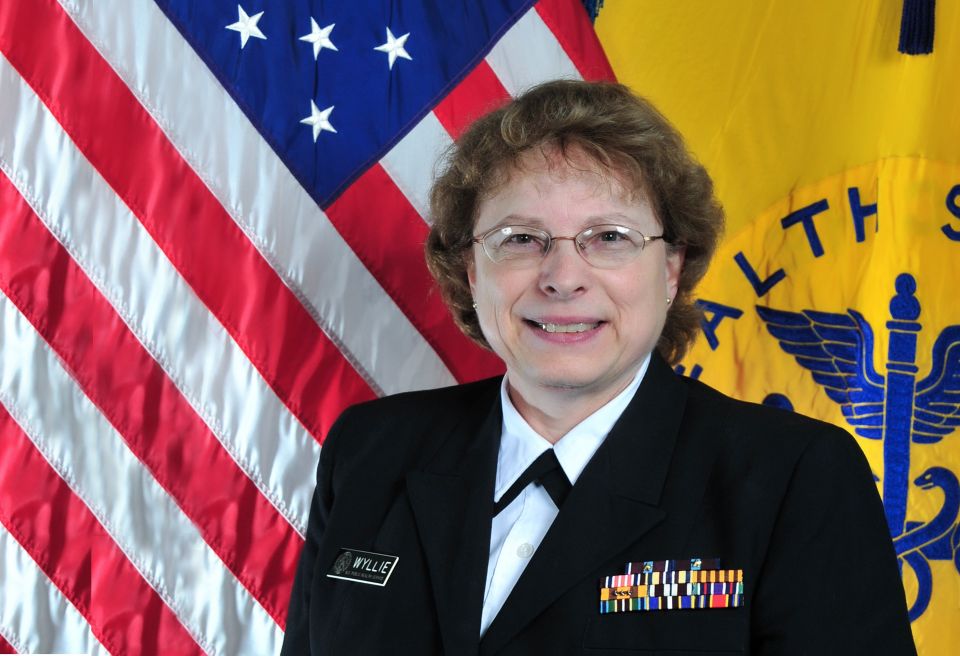 PHOTO: Courtesy of Dawn Wyllie
Wyllie went on to earn her MD and MPH and served for 27 years in the U.S. Public Health Service—what she calls "a small but mighty force" charged with protecting and improving America's health. Working first as a family physician and then as a policy leader, she rose to the rank of rear admiral and served as an assistant U.S. surgeon general until her retirement in 2016.
Wyllie attributes her curious nature in part to an upbringing rich in diversity, starting with her early childhood in San Francisco's Mission and Bernal Heights neighborhoods. When she was a teen, her family moved to the still orchard-covered South Bay. She was immersed in rural life during summers with her grandparents in and around Crescent City, where cycles of logging, farming, canning, and animal care ruled daily life.
That's where she formed close family connections with Native people—Wyllie is a descendant of the Sisseton Wahpeton Oyate of the Lake Traverse Reservation, in South Dakota. That heritage and those cultural ties became a central component of her work; she served in the Indian Health Service, a division within the U.S. Department of Health and Human Services that provides health care and advocacy assistance to Native people, for most of her career.
The threads of Wyllie's life experiences first coalesced at the College of Natural Resources. Her academic adviser, Angela Little (MS '55 Nutrition Science; PhD '69 Agricultural Chemistry), then a nutrition science professor, pointed her toward conservation of natural resources, a flexible major—now called conservation and resource studies—that allowed her to choose areas of emphasis. "I could focus on public health and environmental health," she says, "and also add classes in resource conservation and forestry that I found interesting"—all while completing her pre-med courses.
Culturally appropriate care
During her clinical years, Wyllie cared for patients from many different tribes. "Each tribe has a unique history and set of traditions and approaches to wellness," she says. In her work, she drew upon her background in environmental health and her experiences with rural and tribal cultures—while also taking contextual factors like socioeconomic status, education, and living conditions into account.
As a doctor, Wyllie drew upon her background in environmental health and her experiences with rural and tribal cultures.
In Wyllie's many years of policy work, she engaged with issues as diverse as health disparities, vaping, and emergency response. The opioid epidemic represented one of her greatest challenges but also a proud accomplishment: she was a key author and adviser on the 2014 Indian Health Service manual's chapter on chronic non-cancer pain management, which presented a "culturally appropriate, integrative approach," according to Wyllie, and was one of the first such clinical guidelines from any federal agency.
In Minnesota, where she spent 17 years as the chief medical officer for the five-state Great Lakes region, Wyllie served on the governor's medical cannabis task force, helping to define when scientific evidence supported cannabis use while identifying unwanted consequences such as increased accident rates. As with most public health issues, she says, "there are lots of layers, lots of complexity." Board certifications in family medicine and addiction medicine helped her navigate these and other complicated topics in her work related to suicide prevention, addiction, and adolescent health. And her uniform helped her connect with veterans while assessing the service-related environmental exposures that can affect health.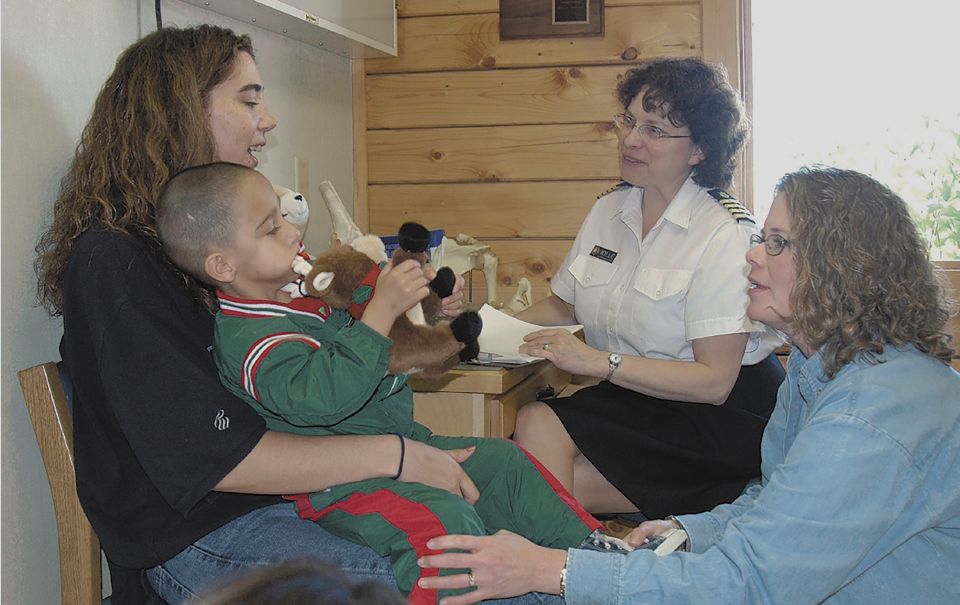 Dawn Wyllie served families from many different tribes as a physician in the U.S. Public Health Service.
Everything is integrated
"CNR helped teach me that everything is connected," Wyllie says. That jelled with what she knew from a cultural perspective. "In Native communities, the concept of the Medicine Wheel teaches that everything's related—nature, people, experience—so you have to look at the broader picture." Integration means avoiding patient labels like "noncompliant." "That word takes a pejorative view," she says. "I ask, 'Why is a patient struggling with guidelines for care?' That's a different question that gets to the underlying challenges anyone faces in being compliant with anything—whether it's transportation to the clinic visit, taking medications, cooking a meal that helps control their diabetes. It's all connected."
Wyllie remembers talking about these bigger issues at CNR. "Discussions with Angela nurtured my ability to think outside the box," she says, a skill she's used throughout her career, especially working in under-resourced agencies and communities. "Obstacles are just challenges to creativity."
As a retiree, Wyllie continues to serve, volunteering with organizations such as the American Medical Women's Association, where she was recently named a fellow. She gives lectures and leads workshops, mentors students and junior officers, and continues to educate and advocate for Native people and veterans. Looking back, she can't imagine a better career path. "Ultimately, it was a way to do the work my spirit was calling me to do," she says.