Sustainable, Professional Development
CNR's new program supports students participating in summer internships.
For Olga Rozmarynowska, Cal's blue and gold makes for the perfect shade of green. The fourth-year transfer student is majoring in both society and environment and classical civilizations, alongside a minor in sustainability. She's the editor in chief of Leaflet, Berkeley's undergraduate environmental publication. She's working to create a partnership between the Green Life, an environmental education program for inmates at San Quentin State Prison, and Berkeley's Student Environmental Resource Center. And she's even helping to reduce the carbon footprint of the Cal Marching Band, in which she plays the mellophone.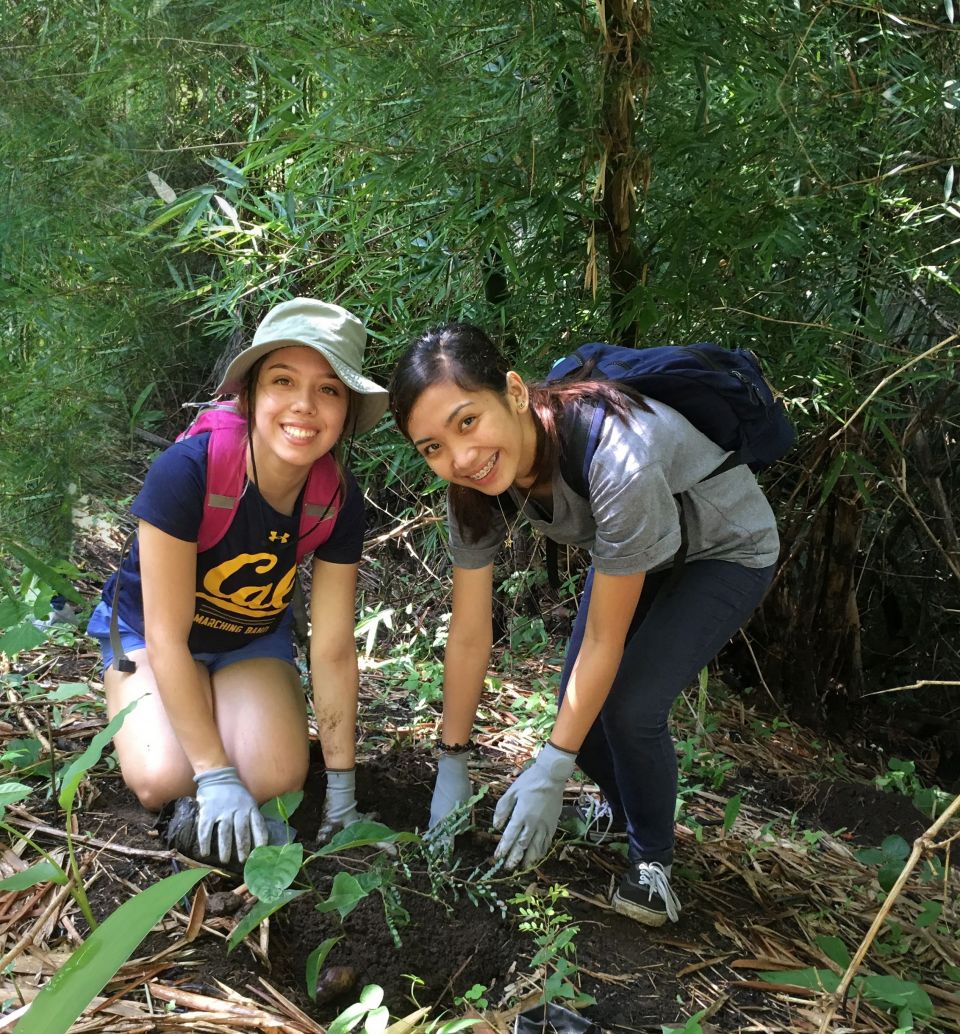 Olga Rozmarynowska (left) and a coworker participate in a tree-planting program jointly facilitated by Schneider Electric and the Cavite provincial government's Environment and Natural Resources Office.
PHOTO: Courtesy of Olga Rozmarynowska
Although she's surrounded by other environmentalists on campus, when Rozmarynowska goes to Sacramento to visit her parents—who are immigrants in a lower income bracket—she's reminded that sustainability isn't easily achievable for everyone. So she set her sights on finding a summer internship that would help her "gain more exposure to the ways those living outside the bubble of California can live sustainably."
She was excited to be offered an internship in the Environment and Natural Resources Office of the Cavite provincial government in the Philippines, where her mother was raised.
But pursuing an unpaid internship was out of reach for Rozmarynowska, given her family's finances. Such cases are the inspiration for the College of Natural Resources' Summer Internship Grants, a program that was piloted this year and is supported by CNR's Annual Fund. Thirteen students received awards ranging from $350 to $3,000, with the amount depending on the student's need, proposed budget, and statement of how their work would promote social equity and inclusion.
From June through mid-August, Rozmarynowska worked with the Cavite office's Integrated Coastal Management division to begin locally enacting the UN's Sustainable Development Goal 6, which focuses on ensuring access to sanitation services and integrated water resource management for all. She examined assessment reports to explore the links between climate change and water supply, public health, marine ecosystems, agricultural productivity, and food security within the province. And she helped create educational materials for a joint summit on water and solid waste held in Cavite this fall.
Introducing CNR students to such meaningful work is the motivation behind the Summer Internship Grants, which enable them to apply their Berkeley educations to real-world settings. "This is a big first step toward pursuing my career goals in climate change mitigation and adaptation in developing communities," Rozmarynowska says. "I'm gaining skills and experience that will play a vital role when I embark on my graduate studies and will build on my passion to aid the less fortunate."
Making a Difference Through CNR's Internship Grants
Michael Spencer helped Aravind Eye Care Systems reduce waste and shrink the carbon footprint of its hospital in Pondicherry, India.
Savannah Autran worked with Planting Justice in East Oakland to research food and environmental justice and equity.
Martin Banuelos learned about aquaponics systems and the packaging, marketing, and distribution of locally sourced produce at Waiea Aquaponics in Hawaii.
Jessica Aguilar assisted a neurosurgeon at the Forensic Medical Center in Mexico City.
Make a gift to support this program at give.berkeley.edu/CNR.