Jen Guyton
An Eye for Conservation
As a researcher and photographer, Jen Guyton (BS '10 Conservation and Resource Studies) has followed wildlife across four continents. For nearly a decade, her photography has depicted wildlife, communities, and natural disasters in Africa. Her photographs have appeared in such publications as BBC Wildlife and National Geographic, and she has won numerous awards for her work.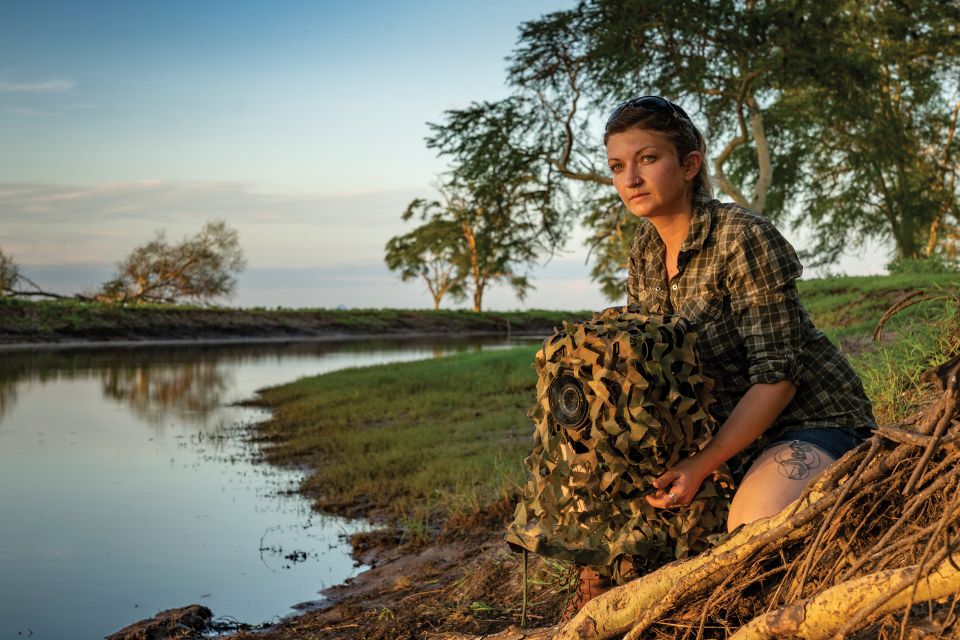 In 2015, Guyton found herself in Mozambique's Gorongosa National Park with a pangolin and its infant in her lap. The scaly mammal, resembling a cross between an anteater and a fish, had a pungent smell and a formidable weight. Park rangers had rescued the pair from poachers, and Guyton, deeply moved by the animals' release, later recalled the moment on her blog. "In Chinese mythology, pangolins are wayfarers. It's said that they travel the world by digging through the core of it, tying the earth together with a vast underground labyrinth," she wrote. "I'd like to think she's safely reached the Alps by now."
Since her undergraduate years at the College of Natural Resources, Guyton's photography has reached millions and brought to life the world of wildlife conservation. She has also documented resilient communities: In northern Mozambique, she happened upon an orphanage accidentally set ablaze and photographed the response. After Cyclone Idai prompted massive flooding in 2019, Guyton joined Gorongosa National Park staff as they launched a rapid-response aid operation in surrounding villages. On quieter assignments, she has observed pelican-eating crocodiles and chased bats through caves.
For Guyton, a Fulbright fellow and a two-time National Geographic Society grant recipient, photography raises crucial awareness about conservation. She is a fellow of the International League of Conservation Photographers, and in 2016, National Geographic named her one of its "20 under 30: The Next Generation of National Park Leaders." She has been honored in photo competitions including Wildlife Photographer of the Year and Nature's Best.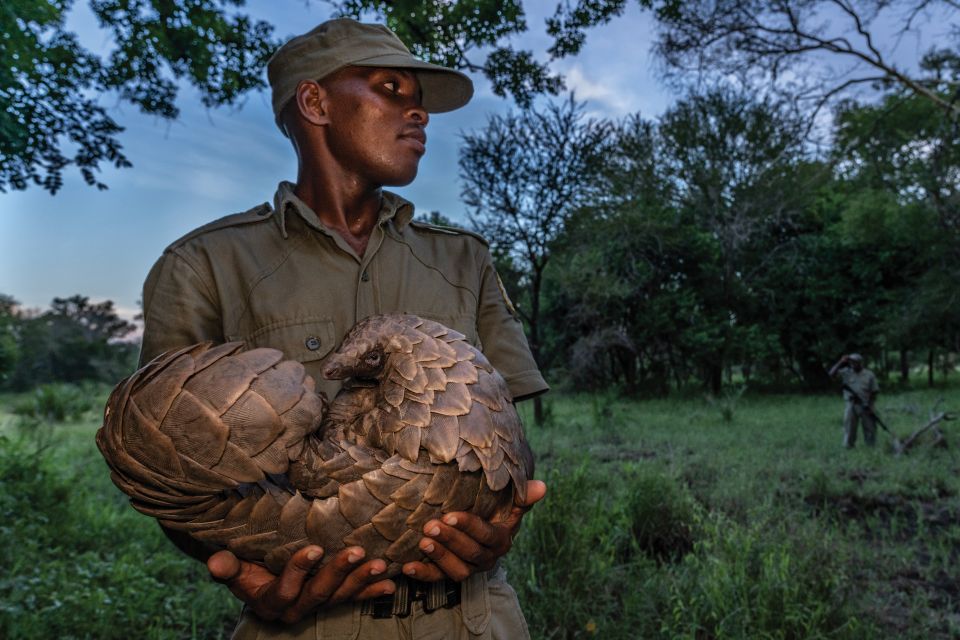 A ranger in Gorongosa National Park holds a rescued pangolin. PHOTO: Jen Guyton
Off to Africa
Guyton aspired to be a photographer from a young age. Visiting Berkeley during her second year at the University of Southern California, she was blown away by a wildlife ecology lecture by Justin Brashares, a professor in the Department of Environmental Science, Policy, and Management. She decided to transfer to Berkeley and was accepted into the conservation and resource studies (CRS) major.
At Berkeley, Guyton delved into research, assisting a graduate student with data analysis and social surveys on human-wildlife interactions in Ghana. She welcomed CRS's interdisciplinary nature, which offered her the freedom to take classes in poetry, photography, and nonfiction writing before designing a focus in communicating conservation in the developing world. In her spare time, she volunteered with two conservation organizations, campaigned for the College to bring conservationist speakers to campus, and wrote for the undergraduate publication Theory.
After graduation, Guyton joined the Kalahari Meerkat Project in South Africa as a research technician. "I think I spent more time taking pictures than doing actual science," she remembers. "That was when I realized I still really wanted to do photography." A year later, Brashares invited her to join him on a hippopotamus ecology project in Kenya. After it ended, Guyton enrolled in doctoral studies at Princeton, which led her to spend five years at Gorongosa. In 2014, she received a National Geographic Young Explorers Grant. "Suddenly I was meeting photographers at National Geographic, and I started seeing firsthand how they worked," she says.
Guyton's doctoral project examined ecological restoration in the aftermath of the Mozambican Civil War, a conflict that had decimated wildlife populations and plunged the country into poverty. In the early 2000s, the Mozambican government partnered with philanthropists to restore Gorongosa's denuded ecosystem while bolstering research and law enforcement capacity. "When a completely degraded ecosystem gets restored," she says, "it offers a unique chance for scientists to better understand how ecosystems assemble."
After completing her PhD, Guyton was awarded a Fulbright–National Geographic Storytelling Fellowship to remain in Gorongosa for another nine months to focus full-time on photography.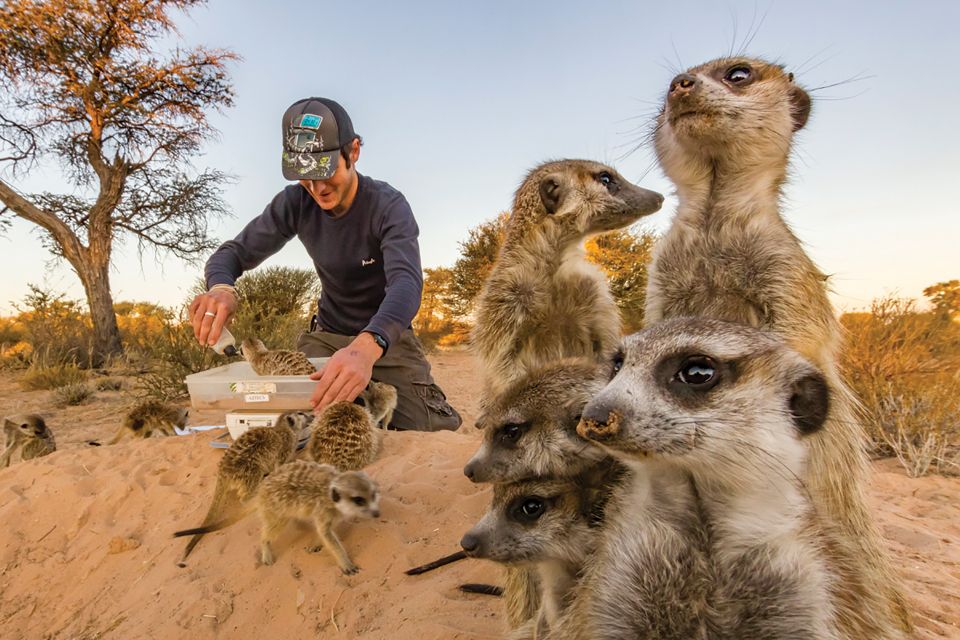 As a research technician at the Kalahari Meerkat Project in South Africa, alumna Jen Guyton captured this image of a colleague weighing meerkats. PHOTO: Jen Guyton
Picturing Change
Though Guyton ultimately chose photography over research, she knows that her scientific background enriches her work. "Knowing how to read the savanna and understand animal behavior—these things offer the potential for much better photographs," she says. "In addition, that background knowledge really helps me understand the bigger picture and identify the most significant stories." Now she works as a freelance photographer and is contributing to two books: an overview of park and reserve ecosystems and a field guide to the bats of Gorongosa.
"Knowing how to read the savanna and understand animal behavior—these things offer the potential for much better photographs."
Guyton holds no illusions about the challenges conservationists face, but she remains hopeful that nature can rebound, if people let it. "We can still intervene and make decisions that can save natural spaces for future generations," she says. Guyton is equally passionate about supporting women's and girls' education and reproductive freedom. "We should think about it as the moral thing to do, which also happens to have many benefits for the planet." In rural communities, she has seen how women in leadership positions can improve conservation dynamics.
Earlier this year, the Cal Alumni Association granted Guyton the Mark Bingham Award for Excellence in Achievement by Young Alumni, in recognition of her outstanding work, global impact, and embodiment of Berkeley values. In August, she won the American Society of Mammalogists Murie Family Conservation Award.
In what little spare time she can muster, Guyton gives presentations, seminars, and talks to student groups. She always takes time to advise the aspiring conservationists and photographers who contact her—in particular, young women and girls. "I didn't have a particular role model in photography early on," she says. "I definitely want to pay it forward."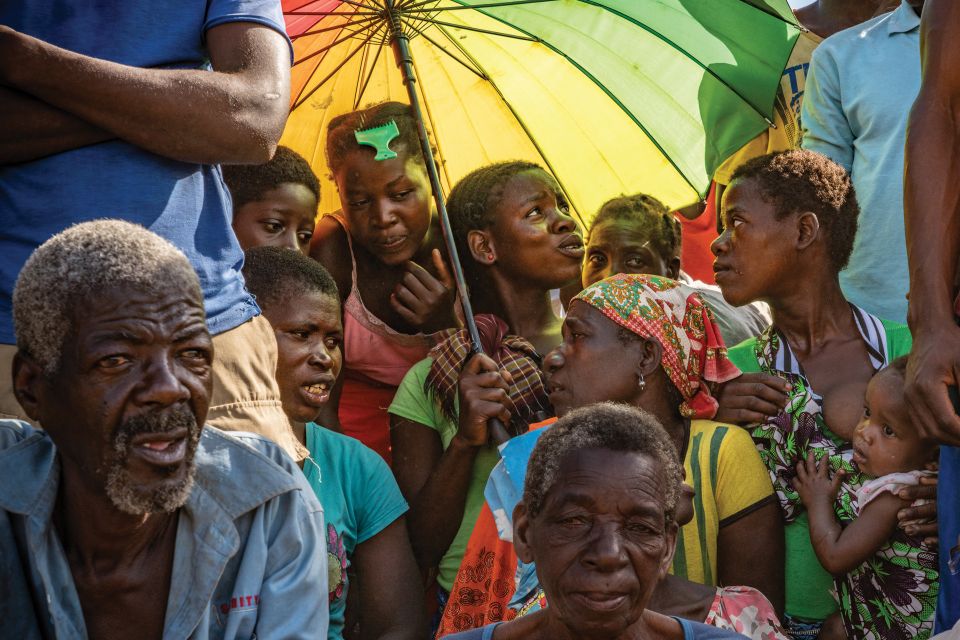 In 2019, Guyton took photos as Mozambicans displaced by Cyclone Idai waited for Gorongosa National Park staff to distribute emergency aid. PHOTO: Jen Guyton