Distanced in the Woods: Forestry Camp Adapts during COVID-19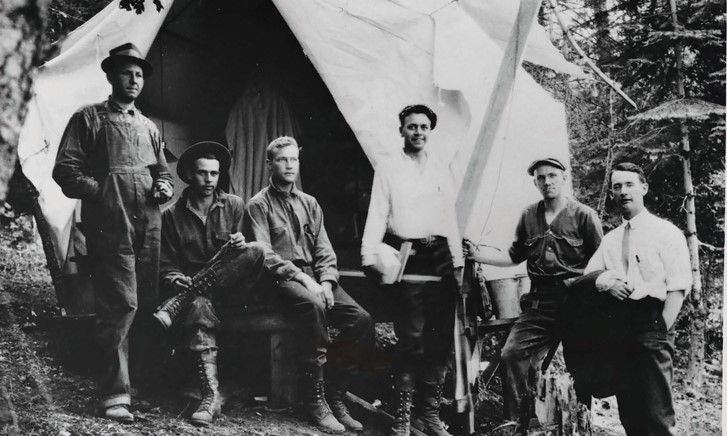 Students at the first camp, in 1915, in Quincy, California.
When it comes to the current pandemic, not even time-tested traditions have been spared disruption. But thanks to the resilience of Rausser College of Natural Resources students, faculty, and staff, a cornerstone of the forestry program—and one of the College's oldest traditions—continues.
Forestry Field Camp, an annual eight-week intensive program in the mountains of Plumas National Forest, introduces students to the scientific and professional dimensions of natural resource management. Students take courses in ecology and forest ecosystem management from both faculty and other forestry professionals. Normally, participants share sleeping quarters and eat communal meals. The camp offers a vital bonding experience and introduction to fieldwork.
Brandon Denina Pundamiera was one of just two students at Forestry Camp this year.
This year, however, social-distancing mandates meant that the program could invite only a few applicants. Camp coordinators found a way to help ecosystem management and forestry majors Brandon Denina Pundamiera and Natalie MacMillan attend in order to fulfill their graduation requirements. They ate outdoors and stayed socially distant, while core faculty gave all the lectures rather than inviting guest speakers. Sadly, a collaboration with members of the Mountain Maidu tribe focused on Indigenous land management had to be postponed.
Since its founding in 1915 by Walter Mulford, the first director of forestry at Berkeley, the camp has been canceled only twice, during both World Wars. In the early 1900s, students had to take two trains to Quincy, then travel by horse and buggy on rudimentary roads. Some students even rode bicycles into the mountains—a distance of roughly 200 miles—camping along the roadside.
"Forestry Field Camp is a fantastic setting where students get learning opportunities, and the community that develops can produce relationships for life," said Scott Stephens, a professor in the Department of Environmental Science, Policy, and Management (ESPM) and the academic leader for the camp. "Our group really pulled together safely for an enriching experience, despite the pandemic."
— By Jacob Shea