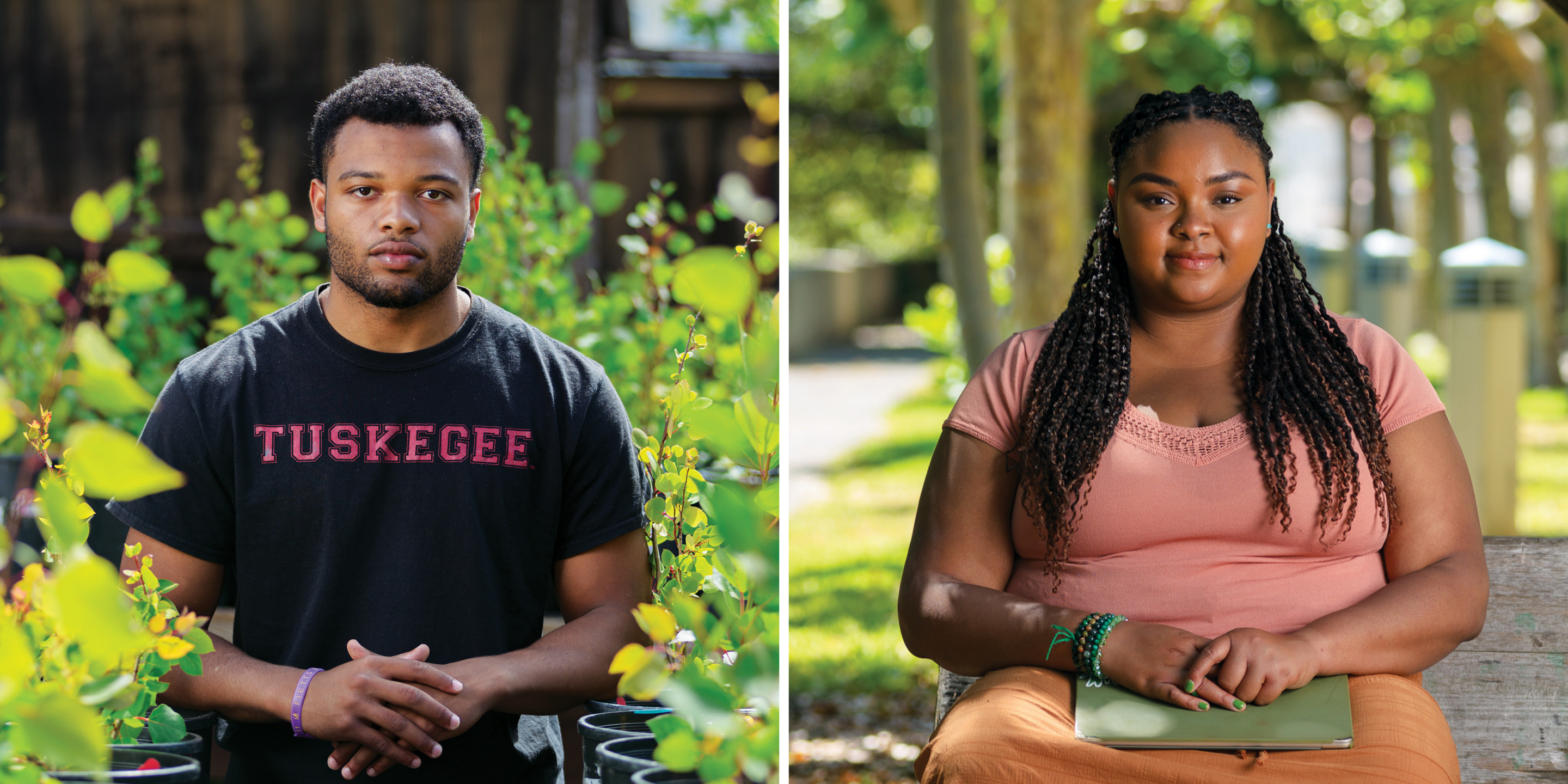 Carlos Jackson (left) and Na'Zyia Dowdy-Arnold are two of eight students who have come to campus as part of the HBCU Environmental Scholars for Change Program.
Building Bridges
Undergraduates at Historically Black Colleges and Universities are collaborating with Rausser College scientists to prepare for graduate-level research
As graduate programs work to ease pathways to PhDs for a more diverse group of incoming students, they're facing a steep challenge. Not only is recruitment essential for attracting students from a wide range of backgrounds, academic programs must take an antiracist approach to shift long-standing norms and practices that perpetuate barriers to belonging for students with minoritized identities. A new program at Rausser College of Natural Resources seeks to do just that—starting when students are only halfway through their undergraduate degrees.
The HBCU Environmental Scholars for Change Program represents a shift away from recruitment-focused models, with an immersion opportunity for students from Historically Black Colleges and Universities (HBCUs). The mission: create opportunities for visiting students to participate in research while learning from mentors about what daily life as a doctoral candidate is really like. It's the ultimate internship: a chance for students to develop as scientists and enrich the Rausser community with their own unique perspectives.
Building a partnership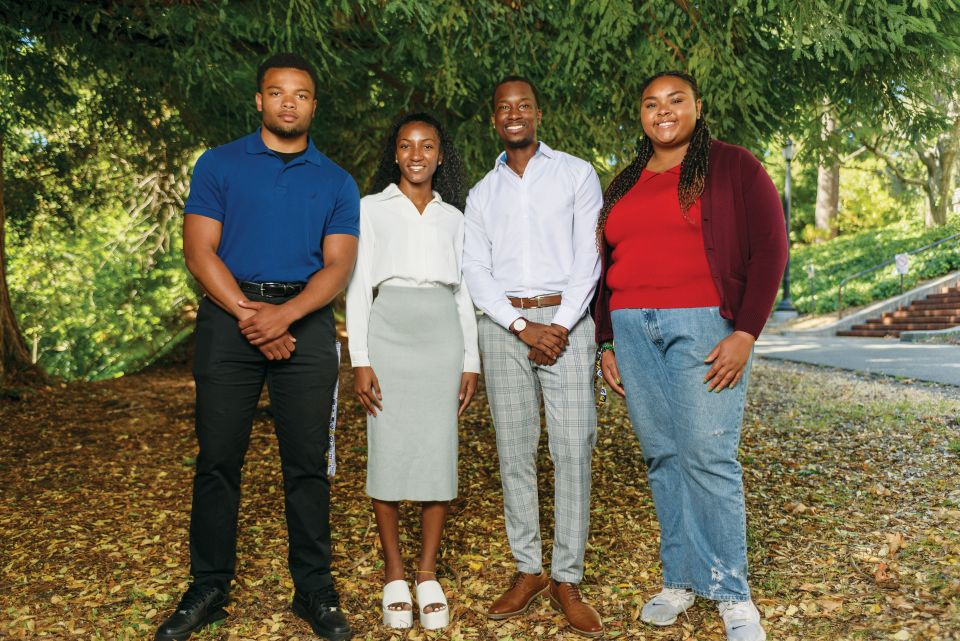 From left: Carlos Jackson, Destinee Whitaker, Christopher Bass, and Na'Zyia Dowdy-Arnold, 2023 participants in the HBCU Environmental Scholars for Change program.
Hosted by the Department of Environmental Science, Policy, and Management (ESPM), the program is geared toward undergraduates at Tuskegee University, Spelman College, and other HBCUs who are interested in pursuing a PhD in the environmental sciences and related fields. The program was co-created by ESPM professor Timothy Bowles and ESPM doctoral candidate Rosalie Fanshel, and it has received support from Spelman College as well as ESPM, the Berkeley Food Institute, Berkeley's Office of Graduate Diversity, and Rausser College donors.
Faculty collaborators at Tuskegee and Spelman recruit students who are curious about environmental scholarship and might have an interest in visiting Berkeley. Then, Fanshel and Bowles visit those campuses, working to match undergraduates with a Rausser College professor in their area of interest. There has been strong interest both among students and Berkeley faculty, but so far, the program has only had enough funding to support four students per summer, says Bowles.
"I see the partnership as another way of expanding the pathway of Black scholars into these fields," says Kimberly Jackson, chair of chemistry and biochemistry, professor of biochemistry, and director of food studies at Spelman. She oversees partnerships with several institutions that welcome Spelman students, mentoring participants during their time at Berkeley and elsewhere. Jackson says there are plenty of opportunities for students to plug into existing research. But at Berkeley, she says, "We're able to tailor some of the programming for our students' needs."
Students in the program receive a $5,000 stipend during their two-month stint at Berkeley, as well as travel and housing. They spend about 25 hours each week on research projects, then participate in networking and mentorship sessions, cultural activities, and workshops. Outings this past summer included visits to Planting Justice nursery, labs in the Joint BioEnergy Institute, and Pt. Reyes National Seashore, to name just a few. Each week participants spent time with Fanshel, Bowles, and a graduate student coordinator—Kenzo Esquivel in 2022 and McKalee Steen this year—and throughout the program they interacted with numerous Black faculty members, graduate students, and academic leaders across the University.
The goal is to allow students to experience grad school on a condensed timeline, from direct participation in ongoing research and visits to Bay Area cultural institutions to chatting with current doctoral candidates for day-to-day insights and tips on applying for graduate school.
Rising Researchers Explore Options
Joy Rutledge was among the first students to benefit from the program. A computer science major at Spelman, she joined the Environmental Scholars Program in its first summer in 2022 to explore twin interests in agriculture and technology.
Using machine learning methods and satellite data imagery to quantify farms' ground coverage over time, Rutledge did just that. With mentorship from Bowles, professor Manuela Girotto, and ESPM graduate student Tianxin Carlos Wang, she studied the impact of soil health on carbon storage in farms in central California. Thanks to the program's flexibility, Rutledge and a peer contextualized their work by traveling to farms in the Salinas Valley, observing the study areas in person.
"I didn't just want to be on my computer coding all day, I wanted to see what the farms actually looked like," Rutledge says. "What I learned at Berkeley is that everything is interdisciplinary." Now dreaming of starting a family-owned microgreens farm one day, she gained new tech skills through another Bay Area internship this summer at Salesforce, and she still has her eye on a potential PhD in environmental sciences.            
Na'Zyia Dowdy-Arnold, a Spelman student who participated in the program this past summer, is a women's studies major and part of the college's interdisciplinary food studies program. "A big part of our program is preparing us for PhDs," she says, so she was intrigued when she heard high praise of the program.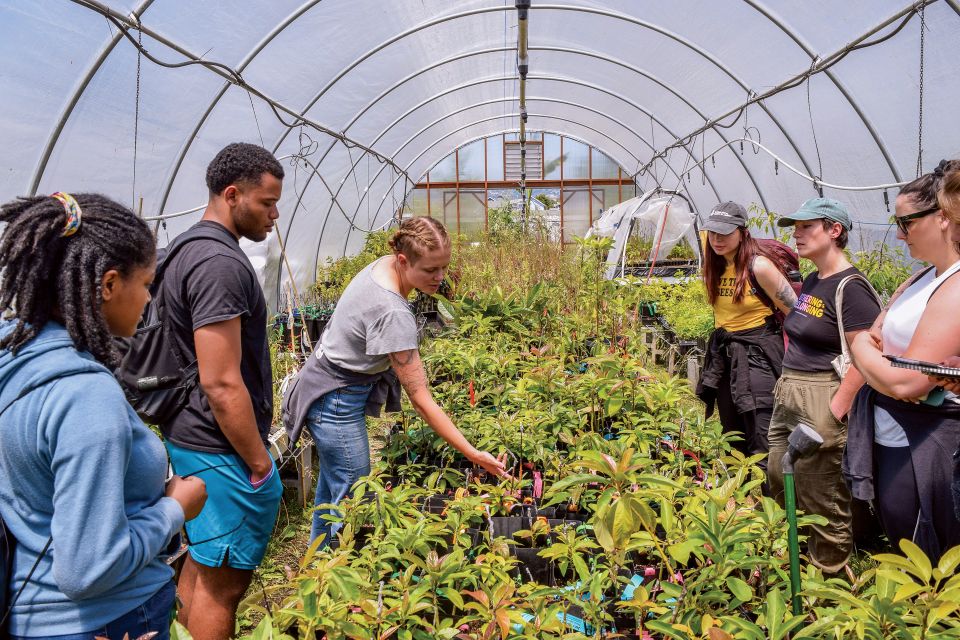 Julia Toro, MF '21 Forestry, discusses plants with program participants and other collaborators during an outing to Planting Justice Nursery in Oakland.
Dowdy-Arnold is interested in food policy and urban planning, and she has advocated for food security and environmentally friendly agricultural practices. This fall she's launching a business selling artisanal soaps and herbal teas made from plants grown in a garden at Spelman.
In collaboration with Energy and Resources Group professor Isha Ray and graduate student Annelise Gill-Wiehl, Dowdy-Arnold studied the gender dynamics and affordability of liquified petroleum gas (LPG) in rural Tanzania, where women typically cook with charcoal or firewood. LPG is safer, cleaner, and more efficient, but also more expensive; women save for weeks or even months to afford a single canister. For the experiment, researchers offered women two LPG canisters and a lockbox for their savings, then interviewed them about how it changed their habits. Dowdy-Arnold coded interviews, sorting what the women have said to identify common patterns and themes, while leveraging her women's studies and food security expertise to improve the project.
Carlos Jackson, a rising junior and environmental science major at Tuskegee, hopes to become an extension specialist within a university or at the U.S. Department of Agriculture after he completes his education. When chosen for the program this summer, he knew right away that he wanted to work with ESPM professor Benjamin Blonder and postdoctoral researcher Roxanne Cruz-de Hoyos, PhD '20 Integrative Biology, on their study of quaking aspen trees. A collaboration with the U.S. Forest Service, the research tracks drought resistance in the species, measuring the growth of 2,700 saplings at the Oxford Tract greenhouse; the saplings represent genetic varieties that grow at different elevations or in various regions. The scientists hope to determine which genotypes might best tolerate climate change.
Sharing Wisdom
For Dowdy-Arnold, the program's combination of research, field trips, mentoring, and meeting with alumni strengthened one conviction: "If we're going to do research, I want to see how our communities are affected and how we can help them through our work," she says.
During one of the program outings to Allensworth, California—a town founded exclusively by Black people in 1908 that was then marginalized by white farmers—Dowdy-Arnold recognized discrimination she'd seen before. Among other injustices, trains were steered away from the town and waterways were dammed to limit Black farmers' access to water. "The challenges that they faced with their water quality, even with their land," Dowdy-Arnold says, "I see those things happen all the time."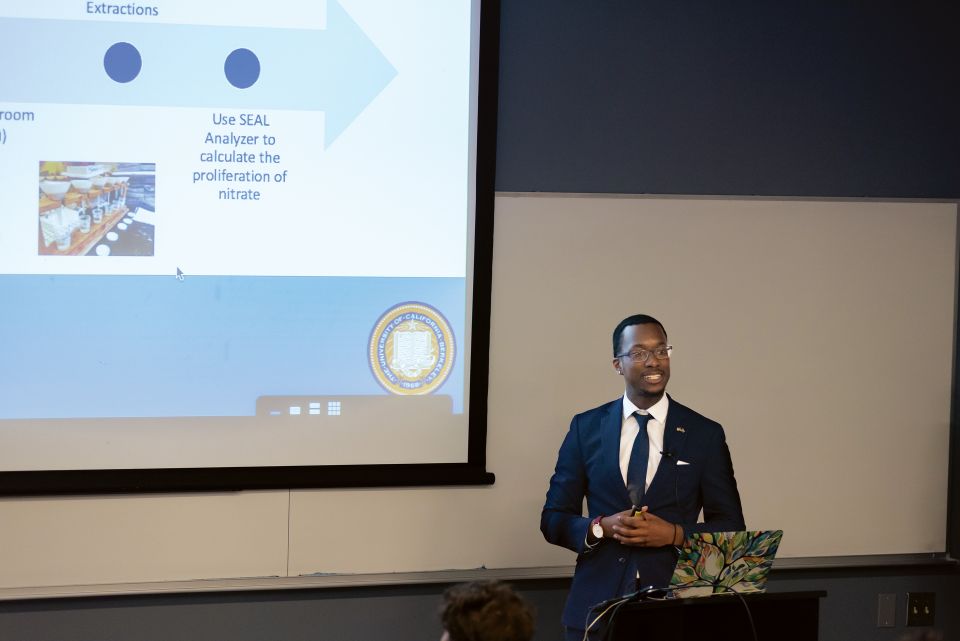 Christopher Bass presents his research at the end of the program in July. 
Bowles hopes the program will be among a rising wave of opportunities for diverse students not only to pursue PhDs, but to infuse environmental fields with their own wisdom. "The field of environmental science has some of the least representation of diverse identities, and yet we're trying to work on explaining some of humanity's biggest issues," he notes. "We just won't be able to do that without more diverse voices and perspectives and experiences present."
Fanshel also stresses that the program has benefits far beyond opportunities for Spelman and Tuskegee students. "We view mentorship as a two-way learning space," Fanshel says. "The Berkeley faculty really learn from our faculty partners at Spelman and Tuskegee, because what they are teaching and what the students have been exposed to at their home institutions is different than the orientation here. We have so much to learn."
Lasting Impressions
Overall, Dowdy-Arnold says the program has pushed her academically. "It has me thinking about what my future career path will be."
At first glance, she was struck by how walkable Berkeley's campus is, and how much food access there is. Jackson had his own early impressions: huge, beautiful, and colder than he expected. The Houston native says Berkeley feels like "a different world."
"I appreciate the diversity, the different types of food. It's just a much more laid-back atmosphere," Jackson says. "Here, there's a variety of different perspectives and ways of thinking." Jackson says the impact of the program will last long after his summer research is over, as he hopes to maintain ties with his research team and mentors. Also, "I know my family will be proud of me, after finishing this, after they see my work," he says. "They'll be proud." His Tuskegee mentors, he says, will be, too.
---
Funding is needed to continue the HBCU Environmental Scholars for Change program. Please consider making a gift to support the partnership. 
2023 Projects and Mentors
Carlos Jackson, Tuskegee University
"Do Transpiration and Photosynthesis Rates Determine Future Stand Success in Quaking Aspen?" 
Mentors: ESPM professor Benjamin Blonder and postdoctoral researcher Roxanne Cruz-de Hoyos
Destinee Whitaker, Spelman College
"Where's My Water?: Investigating the Effects of Drought in Po Valley, Italy" 
Mentors: ESPM professor Manuela Girotto, postdoctoral researcher Grace Carlson, and graduate student Tianxin Carlos Wang
Christopher Bass, Morehouse College
"Deep Soil Profiles Net Nitrification Rates in the Northern California Delta" 
Mentors: ESPM professor Whendee Silver, postdoctoral researcher Tyler Anthony, and graduate student Shayla Husted 
Na'Zyia Dowdy-Arnold, Spelman College
"Qualitative Data Coding in Clean Cooking Research: Coding the Sustainability and Affordability of LPG in Rural Tanzania" 
Mentors: ERG professor Isha Ray and graduate student Annelise Gill-Wiehl