On the Ground: Students as Teachers
From left: Anna Julian, Nicole Parker, Elli Arzbaecher (also below), Isabel Cabrera, and Jordan Honeysucker, students leading Solutions for a Sustainable & Just Future.
Photo by Mathew Burciaga
At UC Berkeley, students have the opportunity to learn from world-class professors who are at the leading edge of their fields. But for some, equally memorable lessons come from their peers.
Every semester, between 3,000 and 4,000 students across campus enroll in more than 100 student-led courses offered through the Democratic Education at Cal (DeCal) program. Working with faculty sponsors, students identify gaps within the current curriculum and then propose, create, and facilitate their own classes.
Dozens of students in Rausser College of Natural Resources lead DeCal courses on various environmental and general interest topics each semester. Here we present a selection of recent courses led by our undergraduates.
ESPM 198: Climate Change Denialism
Facilitators Mara St. Amant and Christine Shimahara introduce the scientific basics of climate change before expanding on the psychology of and challenges caused by science denial. They explore the relationship between the material economy and public discourse about climate change and review historical instances of climate change denialism including media manipulation, political corruption, and misinformation.
ESPM 98: Introduction to Natural Toxins
Students explore the presence of naturally occurring toxins and compounds across human history, culture, and physiology with facilitators James Pak, Louise Chen, and Lindsey Kojima. They analyze the role, evolution, and bioapplications of natural toxins and compounds and discuss the environmental consequences of mass drug production.
PLANTBI 98: Fruits of the World
With their culinary, economic, and cultural significance, fruits play an important role in global society and serve as an example of how plants evolve to thrive across different global ecosystems. Facilitators Nithya Shankar and Sara Otgonbaatar explore the biology, natural history, usage, and symbolism of a different fruit each week.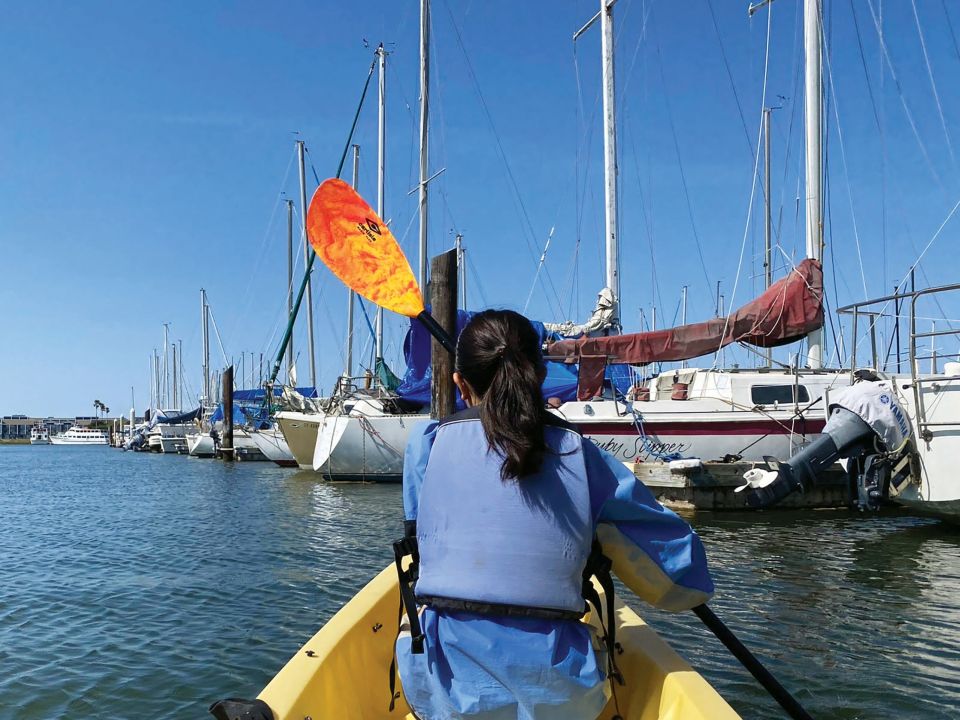 Past sessions of the Exploring the Bay Area's Bioregion course involved outings to kayak, hike, and enjoy the outdoors.
Photo by Caitlin Grace
ESPM 198: Exploring the Bay Area's Bioregion
Facilitators Addison Eftekhari, Thuy-Tien Bui, and Caitlin Grace help participants connect deeply with the space they inhabit through weekly field excursions to sites across the Bay Area. Students learn about the land-use history of the Bay Area drawing on elements from ecology, hydrology, energy, community connections, and Indigenous history.
PLANTBI 198: Medical Microbiology
Facilitators Azeeta Bance and Gabrielle Trapse explore the many ways bacteria, fungi, protozoa, and viruses interact with human health. From the impact of yeasted bread on the nutrition of ancient humans to the way malaria has shaped genetics, the course offers a weekly look at different microorganisms that have shaped society.
NUSCTX 98: Nutrition, Well-Being, and the Environment
Students learn how to live a clean and balanced lifestyle by delving into the relationship between food and the environment with facilitators Ava Nadell and Ashley Carter. The course provides an in-depth look at sustainable food systems by exploring topics in food production, environmental impacts of agriculture, and related public health issues.
ESPM 198: Solutions for a Sustainable & Just Future
A crash course in sustainability through lessons on waste and consumption, climate change, politics, environmental justice, decarbonization, and more is facilitated by Elli Arzbaecher, Isabel Cabrera, and Nicole Parker. The popular solutions-based course offers scalable actions to implement in everyday life. Course creator Sage Lenier, BS '20 Conservation and Resource Studies, is now working with former and current course facilitators to bring the curriculum to a global audience through a new youth-led nonprofit.
Other Recent Rausser College DeCal Courses
Life Skills: Introduction to Baking
Assistants, Therapists, and Practitioners
Introduction to Food Systems
Introduction to Composting & Vermiculture
Health for High Achievers 
TreeCal: Tree ID & Ecology
Going Green or Greenwashing