Photos by Vishal Subramanyan
Keeping Wildlife in Focus
Fourth-year Vishal Subramanyan's photos capture the wonder of wildlife and emphasize the importance of conservation.
Vishal Subramanyan first picked up a camera during a 2015 trip to Katmai National Park and Preserve in southern Alaska, where he and his family hoped to witness brown bears catching fish during the park's annual salmon run. "My dad borrowed a long lens from his friend for the trip, and he let me use it when we got there," Subramanyan said. "I've been photographing ever since."
Subramanyan has honed his skills through trial and error, as well as mentorship from National Geographic photographer Steve Winter, who is best known for his images of big cats. Now, eight years after the Alaska trip, Subramanyan has captured incredible images of bobcats, coyotes, mountain lions, and other species found in parks and open spaces in California and beyond. His wildlife photography has been featured in a handful of Bay Area news outlets and even earned him recognition in photo contests run by the California Department of Fish and Wildlife and London's Natural History Museum.
When he's not focusing on coursework for his double major in ecosystem management and forestry and statistics, Subramanyan spends his free time scouting the Bay Area's parks and open spaces for subjects. In addition to using telephoto lenses capable of getting close-up images of wildlife from safe distances, he's also begun to utilize digital camera trapping techniques. Unlike traditional wildlife photography, this method—which requires a photographer to leave cameras, flash units, and remote triggers in the field for multiple days—has helped him to capture more elusive animals and incorporate more habitat into images.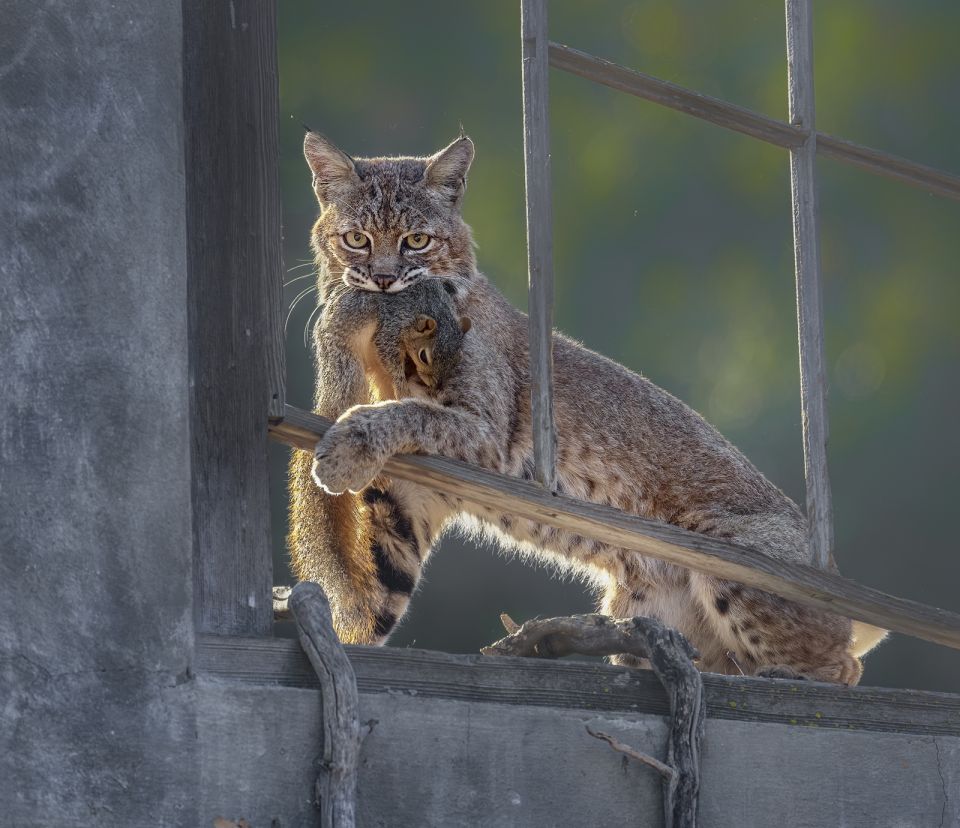 Subramanyan's photo of a bobcat was highly commended in the Urban Wildlife category during the 2023 Wildlife Photographer of the Year competition. Portrait by Mathew Burciaga. Bobcat photo by Subramanyan.
"It's not only helped me better understand composition and light, but it also forces me to be a better naturalist," Subramanyan said. "You have to look for signs of the animal in the environment, predict where exactly it is going to be, and think about how it's going to walk through the landscape." He currently has eight camera traps deployed throughout the Bay Area, including at the UC Berkeley-managed Blue Oak Ranch Reserve, and is working with the National Park Service on a project documenting efforts to help conserve Yosemite National Park's endangered great gray owls.
Subramanyan's photography has also helped him connect with other wildlife photographers and researchers across UC Berkeley. He is currently an undergraduate research apprentice in the lab of Environmental Science, Policy, and Management professor Christopher Schell, where he works with graduate student Cesar O. Estien to classify the behaviors of urban wildlife observed by the lab's camera traps. He is also working with Integrative Biology researcher Alan Shabel on field surveys and camera trapping relating to a subspecies of mountain beaver found exclusively in Point Reyes National Seashore.
As he finishes his undergraduate studies, Subramanyan plans to continue his photographic practice—and possibly expand into filmmaking. He hopes to one day produce the same type of nature documentaries that sparked his interest and raise awareness about the issues wildlife face across increasingly altered landscapes.