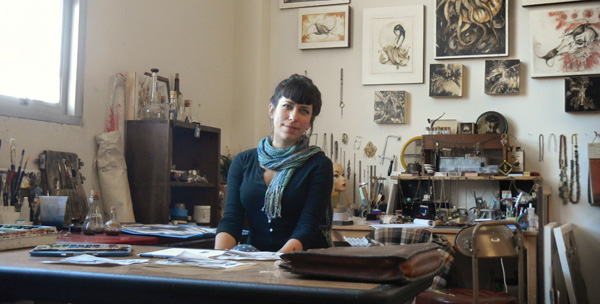 PHOTO: Ann Brody Guy
The Alchemy of Art and Science
Jennifer Harrower
2006 Genetics and Plant Biology
"You couldn't give me a plane ticket to make me leave right now," Jennifer Harrower told a friend back in April of last year. Finally settled into her West Berkeley studio after a series of travel adventures, she was savoring having the time to paint. Three days later, the phone rang. "I want to hire you. I'm sending you a plane ticket," said a forest ecology professor doing research in Costa Rica's Monteverde cloud forest, whom she'd met the previous summer through friends.
Harrower spent the next four months in Costa Rica, taking notes, recording measurements, and climbing up trees in the service of forest dynamics and gap-phase regeneration research. "Basically that means we're going out looking for tree falls in the rain forest," she says. "It's normally so dense, everything's growing on top of each other. So when you get a light coming in, all the plants scramble to put themselves in the best position. It's really interesting to look at all the dynamics of how the forest moves and changes."
That's pretty much how things have gone for Harrower, who goes by Juniper, a nickname that unexpectedly stuck after she gave a friend a tour of Big Morongo Canyon Preserve, a riparian forest near Joshua Tree National Park where she served as a docent in high school, and where her fascination with plant science began.
To say she's pursuing a dual career in art and science is too tidy for the torrent of ideas, projects, and pursuits that fill her days and her mind. Now back in her studio, Harrower is developing characters and illustrations for an educational e-book series, illustrating two children's books, and designing album cover art for Bay Area band the California Honeydrops. And she's showing — and selling — paintings. Many artists find it difficult to straddle the fine art and commercial worlds, but Harrower's only limit is time. "I can't wait to finish these projects I'm working on because my head is full of these ideas — I've got like 50 paintings I want to do."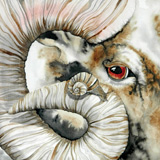 Her painting currently centers on developing wine as a medium — what she calls the "ongoing ever-present body of work of my life." (Her website, www.tintaytinto.com, is Spanish for "wine and ink.") While she was working as an artist in Argentina two years ago, some wine spilled and dried, and then, she noticed, changed color the next day. It was beautiful, and a fascination was born. "Wine is such a magical, elusive, timeless thing that I thought it would be really great to go deep with that medium."
What came next was like a science experiment. Harrower wondered if varietals made different colors, and how processes could tease them out. "I bet if I cook this down I can make a sharper pigment," she narrates her thought process. "I bet if I oxidize first, or add some vinegar or salt, I can play with the chemistry of it and get different colors to come out." She credits her undergraduate work in Associate Professor Mary Wildermuth's plant biochemistry lab for how she thinks about an experiment. Wildermuth "was a mentor and really inspired my understanding of the science process."
"Todd told me, 'Creative art is the best possible thing you could bring into the science mindset of creative thinking and problem solving."
Even though Harrower seamlessly integrated science into her artwork, she missed the research environment. Scouting a project she might attach herself to, she "fell in love with" integrative biology Professor Todd Dawson's work on redwood trees and climate change, and applied to Berkeley's Ph.D. program in integrative biology, along with several other carefully researched graduate programs. In March she decided to accept a fellowship at UC Santa Cruz, working with Greg Gilbert, a professor of environmental studies (formerly with CNR), but her interview with Dawson brought clarity and put to rest worries that her art career might be viewed as a distraction from serious scientific work. "Berkeley is an institution that's way more open to that nondirect, nonlinear path to the things we do," she said. "Todd told me, 'Creative art is the best possible thing you could bring into the science mindset of creative thinking and problem solving.' He totally got it."
"It's taken me a long time to come to terms with this dual part of my personality and realize that I can do both" art and science, she says. "It's really intimidating because everybody tells you no. 'Are you an artist or scientist? Which one are you going to pick?' I need to be true to both paths. There's such a dialogue between art and science, each one has influenced the other — for me, it's kind of the same currency."