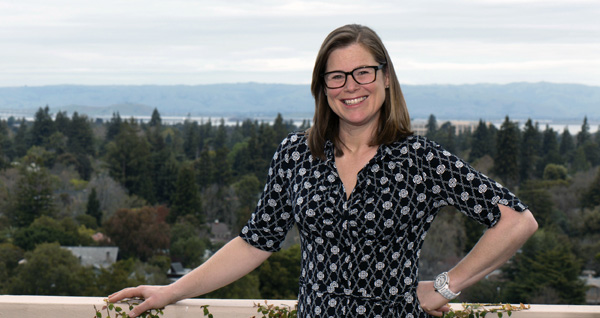 New Endowment Fund Boosts Sustainability
Palo Alto residents who have seen the car with the "GIV2CAL" personalized license plate around town might fairly guess that it belongs to a Berkeley development professional. They would be wrong. Carrie Maser '87, got the plate so that when people ask her about it, "I can get on my soapbox." Don't get her started.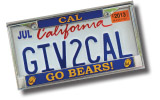 For the third-generation Cal Bear — her grandmother graduated in the 1920s and her parents are both Class of 1957 — the commitment to giving back runs deep.
"I feel very strongly that those of us who have attended public institutions in California and are successful have a moral obligation to donate to those institutions, because they are the economic and social engines of the state," she says. "They are what's made it great, and they are what will continue to make it great in the future." If the legions of graduates who have benefited from the system don't give back, we're going to lose that greatness, Maser says. "The state doesn't have the resources to do it, so it's going to be up to the alumni to step up."
And step up she did. Last year, together with her husband, Ben, a Palo Alto physician and a 1987 anatomy and physiology graduate, she started a $75,000 endowment fund to support sustainability-oriented master's programs. Hard science and research are important, she says, but the goal of this gift is to leverage private sector–bound students who will be able to "help companies understand their role in sustainability, or good agricultural practices, or forestry, or energy production or consumption. The College, because of its mission, has a unique opportunity to produce people who are going be to more aware of the impacts they or their company have on their local surroundings — or, depending on what the company's doing, the impact could be worldwide."
It's a pragmatic approach, far from the ivory tower, supporting "people who are actually going to be out there trying make their way and make a living, but at the same time bring to the table more thoughtfulness," Maser says. Such sustainability awareness played a large role in her own life when she and Ben chose a biodynamic winemaker for the vineyards they bought two years ago. The holistic, sustainable form of farming follows the same tenets as organic farming, like avoiding irrigation, fertilizers, and pesticides.
But the endowment wasn't a one-time reflection of the couple's commitment to a single issue; it follows years of annual giving and encapsulates deeply held values.
"[Alumni support] is so ingrained in people who go to private schools," Maser says, pointing to her neighbor Stanford, which has one of the largest endowments of any institution in the country. And yet despite annual giving in the billions, "the donors continue to give and they continue to fundraise — it's such a culture of giving back."
If more alumni from Cal — and the Cal States, and the community colleges — adopted that culture, it would change everything, Maser says. "When you think of the number of alumni that we have in all of the public institutions in the state, if every one of us just gave something every single year, you could wipe out all of the budget problems. It would make a huge difference."