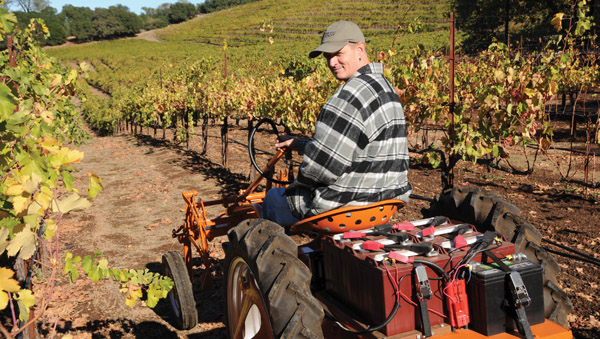 Jon-Mark Chappellet aboard his 1949 Allis Chalmers G model tractor, which he converted to electric.

Alumni working in the wine industry tell Breakthroughs about their land, their vines, and their passions
Brian Talley Political Economy of Natural Resources and History '89
President, Talley Vineyards and Talley Farms
Operation: We specialize in estate-bottled chardonnay and pinot noir from the Arroyo Grande and Edna Valleys, just south of San Luis Obispo. We farm about 160 acres of wine grapes as part of a larger farm, called Talley Farms, where we grow vegetables, lemons, and avocados and run a community-supported agriculture program that delivers a weekly harvest box to local subscribers. 
Road to wine country: I was born into the vegetable business, which was founded by my grandfather, Oliver Talley, also a Cal grad, in 1948. My parents (Don and Rosemary, both 1962 Cal grads) started the winery in 1986 while I was still in Berkeley. In 1987 I started working in a wine shop on College Avenue. I immediately fell in love with wine. After I graduated, I convinced my parents to let me run our winery operation and became general manager of Talley Vineyards in 1991.
CNR influences: The two most important things I learned at Cal are the value of continuing education and the idea of continuous improvement. I love learning new things because it keeps me engaged and because it's critical to continue to grow and evolve. The idea that you should strive for continuous improvement became a core principle for me.
Beyond the bottle: I am proud of the role that Talley Farms and Talley Vineyards play in our community. This is a value that was established by my grandfather and reinforced by my parents. We have a charitable foundation that awards scholarships to Arroyo Grande High School students. We are building an endowment called the Fund for Vineyard and Farm Workers that helps to support farm workers in San Luis Obispo County. We operate soccer fields on our property to support youth sports, and we support the Arroyo Grande Hospital. 
Taste of the land: Our vineyards are only seven to eight miles from the ocean. Because the weather is so cool, the grapes retain a high level of natural acidity and the wines tend to be very fresh and vibrant. Soils in the area vary dramatically, from fractured sandstone in Rosemary's Vineyard to sandy clay loam in our Stone Corral Vineyard and clay in the Rincon Vineyard. Each soil type lends a distinctive character to the wines, though the common thread is uncommon minerality in the flavors.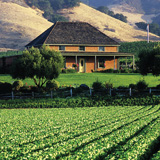 Passions behind the wine: My personal mission is to take the opportunity that my parents gave me, make it better, and pass it along to the next generation. My cousins run the farm with me; we don't expect that all 10 of the fourth-generation kids will return to the farm, but we share a commitment to make our business as strong as it can be for those who do choose to come back.
What do you love most? I think I have the best job in the world. Two days ago I tasted every wine we produced in the 2012 harvest (about 130) with our winegrowing team. Yesterday I spent most of the day walking our vineyards with my vineyard manager and discussing our pruning for 2013. Next week I'll be in Las Vegas selling wine. I'm really proud of what we produce and I can't imagine a better way to spend my days.
Jon-Mark Chappellet Conservation and Resource Studies '84
Director of Operations, Chappellet Winery and Vineyard
Operation: We're a family-owned vineyard and winery. We grow 100 acres of grapes, all of which are certified organic by California Certified Organic Farmers. We are best known for our cabernets but also produce chardonnay, chenin blanc, cabernet franc, merlot, zinfandel, and petite sirah. We have a wine club that allows people to try each of the wines we produce. 
The road to wine country: This is a second-generation business started in 1967 by my father, Donn Chappellet, who is now 81. He is a fourth-generation Californian who grew up in Los Angeles and spent summers baling hay and driving a tractor on a small ranch in the Tehachapi Mountains. He developed a love of wine while still in college and started collecting cabernets at an early age. 
CNR influences: My interest in organic farming and sustainability in general were directly influenced by my experiences and classes within CNR. I remember first hearing about global warming in 1980 or thereabouts, when there was still a real debate as to what was happening with climate change. The theories that were being discussed then have become our reality today. If the world had taken the "precautionary principle" approach to what we were being taught in the early '80s, our future would look a lot different than it does currently. 
Beyond the bottle: One of the most compelling issues for me is preserving agriculture in the Bay Area. Far too many farms have been converted to suburban developments. We are very lucky in Napa County to have a real agricultural preserve that can only be changed by a vote of the people. It's a long way from a perfect system, but it sure beats what's happened elsewhere in Northern California.
Taste of the land: Soils, elevation, proximity to the bay, slope, and water availability are among the many factors that determine our grape and wine quality.
Passions behind the wine: Things are never the same two years in a row. Growing grapes and making wine are not things that you just figure out once and then repeat. Yes, agriculture is tough, but learning how to adapt to nature and seeing how the unending challenges show themselves in the wines keeps life interesting.
Matt Cline Entomology '86 and Political Economy of Natural Resources '88
Winemaker and Managing Member, Three Wine Company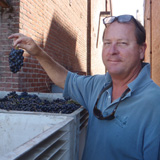 Operation: We're a family-operated winery and sales company. We specialize in growing and making wines from the original California "field blend" varietals, which include zinfandel, carignane, mataro (mourvèdre), petite sirah, and alicante bouschet, among others. These predominantly red wine grapes have been growing in the northeast corner of Contra Costa County in and around the town of Oakley since at least the early 1880s. Our white wines are predominantly cool-climate varietals like riesling and albariño, and are sourced from vineyards in both Monterey County and the Russian River Valley in Sonoma County.
The road to wine country: My family has deep agricultural roots in Contra Costa County, where my mother was raised on a "subsistence" farm, which today I would characterize as a "sustainable and integrated single-family farming operation." Growing up in the San Fernando Valley in Southern California, it was summers spent at the family farm outside Oakley that helped form my core beliefs of how we fit into nature. But it was the exposure to the pleasures of wine with food at an early age and in the comfort of a large Italian family, with the tradition of making wine for the table, that gave my brother (a graduate of UC Davis) and me the dream to start Cline Cellars while I was still studying at Cal.
CNR influences: I transferred to CNR from the College of Letters and Science after a failed attempt to follow my father's pre-med path. Even though I wasn't the best student, the entomology department was where I found my niche. Chemistry, biology, physics, and more specifically plant physiology, microbiology, and soil science, are tools I still use every day as a winemaker and grape grower.
Taste of the land: Our vineyards are situated at the apex of the San Francisco Bay — the confluence of the Sacramento and San Joaquin Rivers and the Suisun Bay in Contra Costa County — and are growing in extremely sandy loam soils. This is not only a unique area geographically, geologically, and climatically, it is also a very historic grape-growing area, with vines that are still producing after more than 130 years.
Passions behind the wine: Resurrecting the reputation of California's early varietal choices helped open my eyes to the artistic side of wine-growing. Blending zinfandel with the classic Mediterranean varieties of carignane and mataro without the constraints of the arbitrary federal varietal labeling laws has opened my mind to how complex and fun the winemaking process really is. The fact that this business continues to successfully pay the bills, which helps my wife and I raise our three teenage daughters, is what is really amazing. The wine also helps relieve the stress of raising those daughters.
Philip Nelson Genetics '87
Founder, Silvertip Vineyards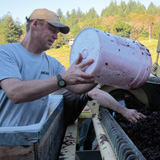 Operation: We are a small estate winery. All of our grapes are grown in close proximity to the winery. We make all of the decisions for the vineyard, for the winery, and for all aspects of sales and marketing ourselves.
The road to wine country: My father, my brother Tom, and I pulled out our Christmas tree farm of 30 years and planted the vineyard in 1999. Our neighbor, David Bruce, had been urging us to remove the Christmas trees and plant pinot noir for about 20 years prior to the conversion. We sold some syrah to a winemaker named Paul Stroth in 2005. When I tasted that wine in early 2008, I was so impressed by it that I formed Silvertip Vineyards with Paul as the winemaker. We made our first wines under the Silvertip label in fall 2008 in rented space, and by 2011 we were in our own winery next to the vineyard.
CNR influences: My education has influenced everything I do in a very positive way. There is so much serendipity in life that it is hard to say exactly how things came to be as they are. I can say that I have very fond memories of my time at Berkeley and that those years were very important and impactful to me. 
Beyond the bottle: Silvertip Vineyards is a sustainable enterprise. It has the potential to far outlive its founders. My expectation is that my children or my brother's children will sustain it in the future.
Taste of the land: Silvertip Vineyards exists to capture the character of our unique mountain vineyard in our wines. It would be foolish to grow grapes in a steep, low-yielding mountain vineyard if the resulting wine could be [made from grapes] grown elsewhere. Our wines have high natural acidity and balance and an obvious minerality. These characteristics are shared by other coastal mountain vineyards, but there are also flavors unique to our vineyard.
Passions behind the work: I have a day job in a large corporation. All aspects of winegrowing are a wonderful contrast to that job. I like the physical and tactile aspects of winemaking. I like the beauty of the vineyard and I like that we can make all of our decisions ourselves. You get very nice feedback for your efforts when you make wine that people enjoy.