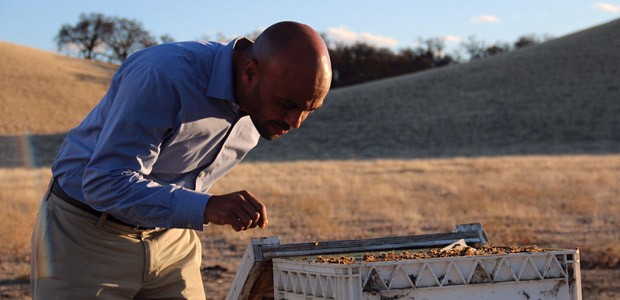 [+PHOTO]
Ayele Solomon
The Economic Power of Honey
1996 Political Economy of Natural Resources
Ayele Solomon says that "epiphany" might be too strong a word to describe what he experienced while driving through southwestern Ethiopia's Kafa forest in 2009. But his realization that replacing traditional tree-hanging beehives with modern frame hives had the potential to solve multiple economic, environmental, and social ills in the region—an ecosystem under heavy threat of deforestation—has been a driving force in his work ever since.
Solomon is trying to get a 30-year carbon-rights agreement signed by the Ethiopian government. It would be the biggest conservation project in the country.
The Bay Area–based Ethiopian native is the director of project sourcing in Africa for Wildlife Works, the world's leading REDD+ (Reducing Emissions from Deforestation and Degradation) project development and management company. He's in the process of getting a 30-year carbon rights agreement signed by the government of Ethiopia. If secured, the agreement would allow Wildlife Works to manage a quarter of a million hectares (roughly 618,000 acres) of Kafa, where the company would encourage low-impact honey harvesting as a major alternative source of income to the crop farming driving deforestation. They could then quantify the amount of carbon saved in the trees, and sell carbon credits that would directly profit the surrounding communities.
"To me, that would be really big," Solomon says. "Because I, along with Wildlife Works, would have brought to Ethiopia one of the largest REDD+ projects in the world and also the biggest conservation project in the country in terms of size and investment."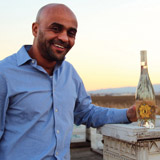 The Kafa forest is a place that Solomon was passionate about long before he began working for Wildlife Works nearly three years ago. His thesis project at Berkeley focused on creating markets for the wild-growing Coffea arabica in Kafa, which was declared a UNESCO Biosphere Reserve in 2010.
Solomon was motivated by the economic challenges of average Ethiopians. Influenced by growing up in an agricultural family in Kenya—his agronomist father relocated for work from then-communist Ethiopia—at a time when his native country was in the news for famine, he knew he'd be back doing conservation work in Africa someday. "I've always had a connection with the land," he says.
An internship at the U.S. Environmental Protection Agency, graduate work in natural resource development at Michigan State University, and field work in land degradation and sustainable land management shaped Solomon's ultimate goal of leaving the nonprofit sector while still addressing agriculture, conservation of biodiversity, food security, development, and natural resource issues. Business school provided Solomon with a new approach. "It had some growing pains," he says of his leap from research to the corporate world. But it was his launch of a consulting company in Ethiopia that led to the job at Wildlife Works and to his other current undertaking: the production of honey wine.
Evidence of people cutting trees in Kafa to produce charcoal and crops to supplement low incomes inspired Solomon to come up with a strategy that would provide an incentive for the conservation of natural resources. "You can't just tell people to stop cutting trees and give them a little bit of carbon money," he says, crediting Berkeley for influencing his pragmatic approaches to environmental issues and resource economics. "You have to create alternative livelihoods."
Solomon identified honey production using modern frame beehives as a key alternative livelihood that would not only create a five-fold increase in annual honey yields and a rise in the incomes they provide, but also create jobs for women, who have long been excluded from the tree-climbing practice of traditional honey collecting. Honey wine, known as t'ej in Ethiopia, could be an extension of the improved beehive, Solomon thought. He imagined that proceeds from wine production could fund the conversion of thousands of traditional hives to modern ones.
"I just sort of continued with the idea when I came back to California," Solomon says of his desire to produce the golden drink, also called mead. "I developed a strong business plan, and the wine turned out great." Originally, he'd hoped to use Ethiopian honey and export the wine from there. But the lack of both a wine industry infrastructure and a commercial market—"Everybody drinks their grandmother's and mother's honey wine"—convinced him to choose San Francisco as the base of his venture, The Honey Wine Company (BeeDvine.com).
Over the past four years, Solomon, whose business card title reads, "Imaginer," has been perfecting his Bee D'Vine honey wine recipe in his East Bay garage. Collaborations with biochemists, professional winemakers, and Northern California beekeepers led to the maiden bottling in early 2014.
Someday, Solomon hopes to source specialty Kafa honey produced in modern hives. "We're trying to link the two together," he says of his Wildlife Works project in Kafa and his honey wine business. Both would contribute to improving a place he's always been connected to. "So, full circle."