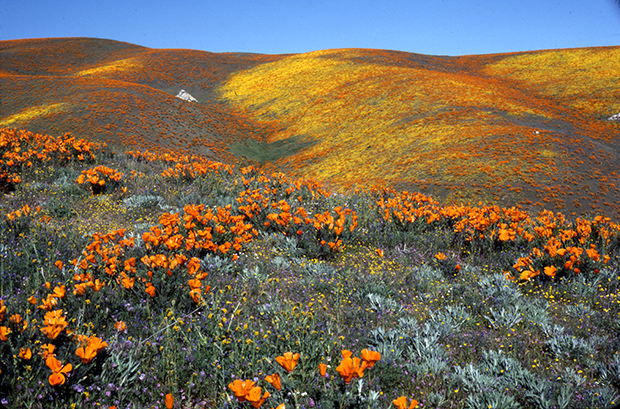 Rebooting California's Parks
Parks Forward launches the future of the state's finest natural resource
When you think of California state parks, maybe hiking through a cool redwood canyon comes to mind. Or tent-camping in a star-studded desert. Or perhaps you've visited Sutter's Mill, where the gold rush—and with it, in a very real sense, California—began.
Or do you think instead of overflowing trash cans, too few rangers, and persistent cries about lack of funds?
California state parks, now more than 150 years in the making, are rich and diverse, full of natural wonders and amazing stories—and they both show their age and reflect the penny-pinching mode of the present day. As Robert Doyle, general manager of the East Bay Regional Park District, quipped recently, "Yellow caution tape seems to be the biggest investment in state parks lately."
"You've got to get the people in. You've got to open the door just a little, let the sun shine through, and pretty soon you've got a wide-open door and someone standing there basking." — Caryl Hart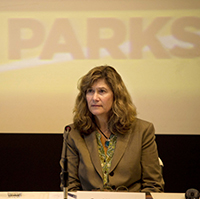 And it doesn't help that they're part of a government bureaucracy, where inertia can be a potent force.
A few years ago, California state parks—279 properties covering 1.6 million acres and 280 miles of coastline, and infusing an estimated $6.5 billion annually into the state's economy—were in crisis. With funding allocated each year by the state legislature, the Department of Parks and Recreation's budget was an ever-fluctuating line item. In the 1970s, 90 percent of the department's budget came from the General Fund, but by last year that portion had plummeted to around 24 percent. By the first decade of this century, the parks suffered under the weight of a $1.3 billion maintenance backlog, and there was scarce money to fill vacant ranger and interpretive positions.
In 2008, Governor Arnold Schwarzenegger toyed with the idea of shuttering some 50 parks to help close the gap in a $24 billion statewide budget deficit. Four years later, Jerry Brown's administration similarly proposed, more seriously, that 70 parks go on the chopping block. That is to say, a full quarter of all state parks—each one a gem—were to be axed in order to save $22 million: a mere drop in the then–$16 billion deficit bucket. And those parks would be gone for good.
Californians were outraged, and many rallied together to sponsor, do volunteer maintenance work in, or even potentially run their favorite local parks. Ultimately, the crisis was averted—owing to, among other things, a financial scandal. But there was fallout: The public was now on alert. Were state parks just a political football?
As the parks were getting their second reprieve in four years, the legislature passed the California State Parks Stewardship Act, AB 1589, which required the Department of Parks and Recreation to develop a prioritized action plan to increase revenues at state parks. But lack of revenues was just one factor contributing to a systemic, institutional malaise.
Innovation, accessibility, and inclusivity are watchwords sprinkled throughout the commission's report.
To address this deeper issue, the collaborative Parks Forward Initiative was launched in June 2013, and the independent commission Parks Forward was created to undertake a top-to-bottom evaluation of the department and devise a viable action plan. This February 6, the commission set out its vision for the future in a 56-page report, which it presented to a full house at the Railway Museum in Old Sacramento State Historic Park.
The report summarizes findings and recommendations from 18 months of meetings, public hearings, surveys, and studies. What set it apart from previous similar efforts that went nowhere (as recently as 2013, the Little Hoover Commission issued a comprehensive report titled Beyond Crisis: Recapturing California's State Park System) are two things: receptive leadership in John Laird, secretary of the state's Natural Resources Agency, and Lisa Mangat, acting director of the Department of Parks and Recreation; and, perhaps even more important, the launch of a proactive Transformation Team to implement the report's top-level action items over the next two years.
Parks Forward commissioner Caryl Hart, PhD '09 Environmental Science, Policy, and Management, and the director of Sonoma County Regional Parks, says that the 2012 crisis was both a good and a bad thing. "I'd rather it hadn't happened, but since it did, [the commission] is a good outcome. Something needed to happen. The California State Parks [organization] needed to reinvent itself, figure out how it was going to engage a new, diverse, urban population as well as a younger population, and learn what it needs to do to become a modern-day agency. It took a crisis."
And change has already begun. The day the Parks Forward report was issued, the Department of Parks and Recreation launched a sparkling redesign of its website (www.parks.ca.gov), now featuring luscious photographs, map- and activity-based search capabilities, and non-English-language options. The management, it seems, has rolled up its collective sleeves and gotten to work.
Technology and Design Innovations
One of the first priorities has been fee collection, with a move from old-fashioned "iron ranger" fee-collection boxes to app-based payment systems and credit/ATM card options at modern pay stations. This improvement has been implemented at 120 parks, with another 50 to go. One advantage, besides ease of use, will be greater flexibility: Beachgoers who only want to stay an hour or two, for example, now need only pay for an hour or two, rather than getting charged for an entire day. The electronic system will also streamline accounting.
At the February 6 meeting, commission cochair Lance Conn, former president of Vulcan Capital, the company that runs Microsoft cofounder Paul Allen's business and philanthropic affairs, presented three of the commission-generated projects already underway that give potential park visitors a taste of what awaits them and demonstrate innovation, accessibility, and inclusivity, watchwords that can be found sprinkled throughout the commission's report.
The first project features four designs by architecture students at Cal Poly Pomona, who were presented with the design challenge "Revamp the Camp." Commission-sponsored studies had found that although there are plenty of campsites at state parks, younger people tend not to use them, not yet having built personal connections to parks and the outdoors, or simply not having the equipment required to enjoy them, like tents and sleeping bags. But what if they could rent a comfortable cabin for the night, with views, security, and protection from the elements? The consensus was, they would come and discover—and hopefully want to further explore—the pleasures of California's wild outdoors.
Conn also introduced two technology-driven projects. For one, Google Maps was contracted to provide 360-degree Street View coverage of 20-plus trails in 14 state parks, beaches, and reserves, with more to come. For young people or families who are unsure what a nearby park might have to offer, or whether a long drive will pay off, taking a virtual walk along a trail may quell fears or, even better, entice.
The other project is a web-based app for "search and discovery of parks," also intended to facilitate social sharing of pictures and comments via Instagram and Flickr. By applying filters based on place and activity, users can see parks and their amenities, as well as people like themselves enjoying the outdoors.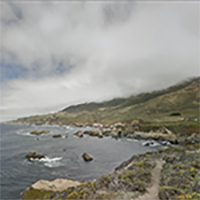 Hart is enthusiastic about projects such as these and the reasoning behind them: "You've got to get the people in—you've got to open the door just a little, let the sun shine through, then open it a little more, and pretty soon you've got a wide-open door and someone standing there basking."
Behind the Scenery
Another watchword of the Parks Forward report is accountability. Although new projects are exciting, Hart says, "most of the upcoming changes are going to be beneath the surface." The commissioners, in their sum-up comments at the February 6 meeting, noted that the most important goal for the next two years is to rebuild public trust and a sense of transparency.
The most pressing tasks they identified include opening up new pathways to leadership—moving beyond the antiquated system of advancing only law enforcement rangers into administrative roles—and expanding park access for underserved communities, especially among city dwellers, who are expected to comprise 75 percent of the state's population by 2050, and youth. Fiscal transparency is another priority.
First and foremost, however, stable funding, divorced from the state's General Fund, is imperative, and to this end a key proposal is the establishment of a new nonprofit called Parks California. One of its main jobs would be to raise money to support parks projects, as the Golden Gate National Parks Conservancy does. In the end, Hart envisions Parks California as helping to create a "seamless network of parks. Instead of state, county, and city parks each being in their own little bubbles, there begins to be an approach of everyone working together."
Commissioner Julie Packard, executive director of the Monterey Bay Aquarium, called the parks—and the network necessary to promote them back into a state of vibrancy—an "ecosystem." "We have no excuse not to get this right," she said of the effort to restore that ecosystem to health. "We have a wealth of talent, energy, and passion. We also have amazing resources to protect, super-strong conservation in the NGOs, and the best universities and supporting organizations. We've got all the pieces."
Parks and Recreation director Mangat acknowledged that "the heavy lifting is still ahead of us." But with a 10-year plan that includes goals such as universal transportation options, the promotion of healthy lifestyles, and management in the age of climate change, along with the Parks Forward promise of a "specified process of renewal and of institutionalizing change," things may now be on the right path—as we get in front of change rather than continuing to fall behind.
But the change must lead, ultimately, to greater public engagement. Referring to E. O. Wilson's biophilia construct, Hart points to the huge human need for connection to nature. "With all the issues we have these days—with water, with climate change—we have to encourage people to connect," she says. State parks have an important role to play in instilling a love of nature and the outdoors—and a sense of caring and connection—in all of us.
And the first step, Hart says, is bringing the experience of California's extraordinary park system to newer, broader audiences who have never glimpsed the vast landscapes available to them. "That's what we're going for," Hart says. "I really feel that's the key: Expose people a little, and they're going to become park lovers. It's inevitable."
Tech Tools
Take a virtual tour of the California State Parks system at www.parks.ca.gov/whatsnew.
Search and discover, then share at www.caliparks.org.
Learn about new accommodations at www.revampthecamp.com.