For the Next 150 Years
CNR's annual fund provides unwavering support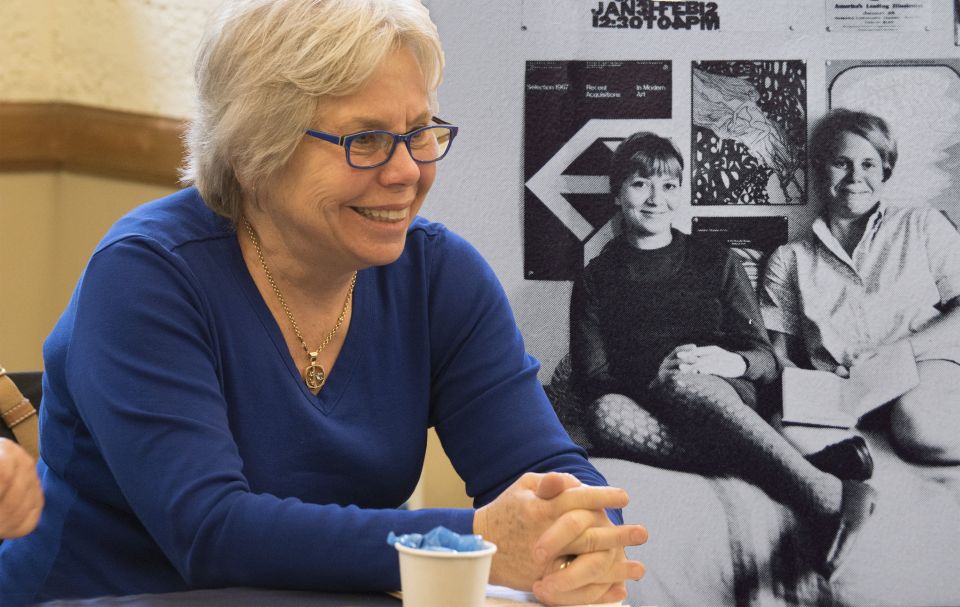 Right: Kathy (Ohlson) Hartzell, BA and BS '72, and Julie (Asher) Palladino, BA '69, in their room at the Berkeley Student Cooperative in 1968. The two remain close friends today. Left: Kathy at a meeting of the CNR Alumni Association Board.
PHOTO (left): Jim Block
When the University of California was founded in 1868 as a land-grant institution, it was assumed that the school would always be state supported—but time and economics have changed that equation. A 2014 Daily Cal article on the history of tuition at UC revealed that by 1970 the free tuition that had previously been granted to state residents was to be modified with a new "educational fee" of $150 per year for undergraduates and $180 per year for graduate students. Since then, all UC students have experienced a deepening financial burden as state support has continued to shrink and the cost of living has risen.
One of the undergrads who paid that $150 fee was Kathy (Ohlson) Hartzell, BA and BS '72, for whom UC Berkeley has played a multigenerational role. Hartzell has fond childhood memories of her father, Robert V. Ohlson, BA '39, MA '40, History, singing Cal songs while she and her sisters played them on the family piano. Years later, she graduated with joint degrees in geography and conservation and resource studies when the latter was a brand-new experimental major in the College of Agriculture. And her daughter, Georgina Hartzell, graduated from CNR with a degree in nutritional sciences–metabolic biology in 2009. "I love that the College of Agriculture I attended eventually evolved into CNR to address the growing needs of the broader world and the education of more students," Kathy Hartzell says. 
As a leadership volunteer, Hartzell currently serves on CNR's advisory board and as honorary chair of the Berkeley Fund for Natural Resources, the College's annual fund. "Gifts to this fund help us educate tomorrow's leaders," she says. "They allow the dean the flexibility to apply funds where they're most needed to support our outstanding students and faculty, providing them with great opportunities for research and collaboration."
Today, philanthropy is playing an increasing role in keeping a Berkeley education both excellent and accessible to all. Back in the day, Hartzell paid for her Berkeley education with $1,000 annually from her grandmother and a part-time job. "If I were attending Berkeley now, there's no doubt I'd be in debt," she says. 
Hartzell encourages CNR's alumni and friends to deepen their support of the College with a "stretch gift" during our sesquicentennial year, increasing donations to 150 percent of their previous gifts to make an even greater impact. "Giving to the Berkeley Fund for Natural Resources is a way for alumni and other donors to show their steadfast support year after year," she says. "Everyone can be a part of CNR's next 150 years by making an annual fund gift. Please join us!"