Food is Where the Heart Is
Alumna Jessica Siegel supports the Cal Teaching Kitchen.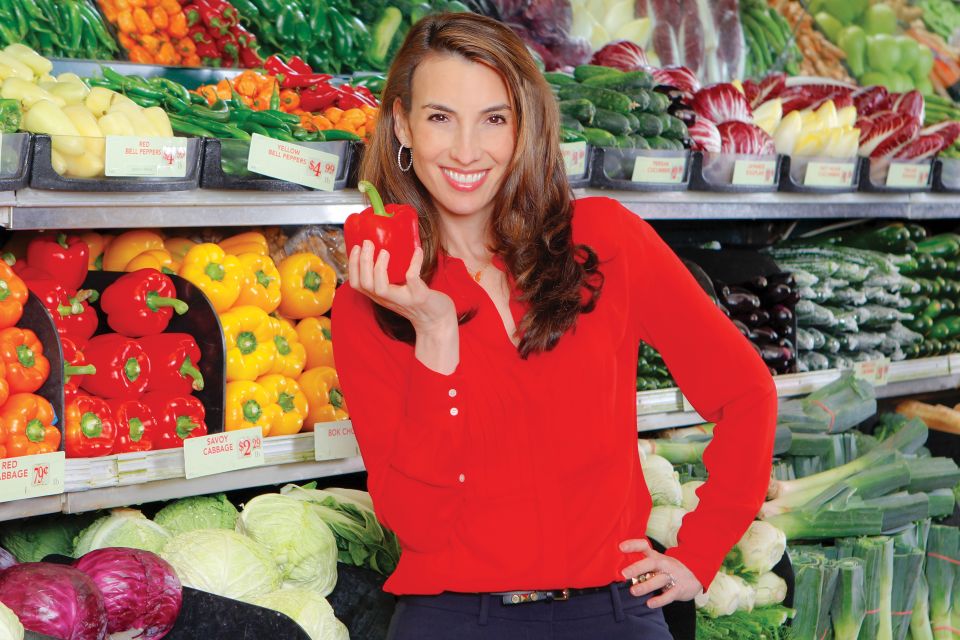 PHOTO: Courtesy of Jessica Siegel
Growing up, Los Angeles native Jessica Siegel was such a picky eater that she refused to try even a bite of lettuce. She was a 19-year-old UC Berkeley sophomore when she finally tasted her first salad—a medley of spring greens, warm portobello mushrooms, and parmesan. "It was the whole package—the flavors, the textures, the temperatures. It was an epiphany," says Siegel, BS '98, MPH '00, RD.
Since then, food and its connection to health and wellness have become Siegel's life's work. And, she says, noting the irony, she's famous for her salads. In what she calls "a dietitian's dream job," Siegel heads nutrition for the 27-store Southern California grocer Gelson's Markets, conducting in-store consultations on everything from weight loss to disease prevention, developing recipes for the company's newsletter, and creating a line of salads that bears her name. She has even hosted a podcast, Nutrition Bytes, which was one of the earliest nutrition podcasts on iTunes.
The Mediterranean diet is a framework for all of this. "Thousands of studies show that populations who eat this way are healthier, live longer, have less diabetes, heart disease, cancer…" she says. And it's not all about recipes. "They also have more vitality as they age, and that has a lot to do with the social aspects of sitting down with other people to share a meal."
Siegel traces nearly all of her insight and enthusiasm back to her days as a nutrition and dietetics major and women's studies minor, a combination that helped her connect food, nutrition, health, and self-awareness. She learned to cook via technical classes on food science, a memorable internship with TV chef Martin Yan, and the Bay Area itself—the epicenter of a culinary shift to quality, seasonal ingredients like those in that warm mushroom salad that changed everything. While earning her master's at the School of Public Health, she pursued her interest in the disease-prevention aspects of nutrition.
Knowledge about food and cooking was critical at every step. "It's such an important aspect of education, not just for nutrition majors but for everyone," she says. That's why, with her husband, Steve Tsoneff, Siegel has made a generous gift supporting the campaign to update the 1950s-era Cal Teaching Kitchen in Morgan Hall. In addition to housing the dietetics program, the facility is used by student groups and campus health services. It's also home to Personal Food Security and Wellness, a course developed for students struggling with food insecurity that focuses on how to prepare healthy meals on a tight budget. With the gift, a pledge they'll honor over the next five years, Siegel is sharing her passion for food with new generations of students and thanking UC Berkeley for a wealth of knowledge and opportunity.
More often these days, Siegel is the one getting thanked—shoppers often stop by to tell her she's made a meaningful difference in their lives. "People take me home with them," she says of her Jessica brand, delighted that her name stands for all she's learned about flavorful, healthful food. But it's the personal connections that touch her most deeply. "Customers know there is a real person putting love and care into their food. It's so gratifying."
---
CNR is seeking $2.5 million in capital funds for the Cal Teaching Kitchen project. Consider pledging your own multiyear gift to show your support. Learn more about how to contribute on the kitchen campaign website.