A Mission South
Delegation of women in STEMM tour Antarctica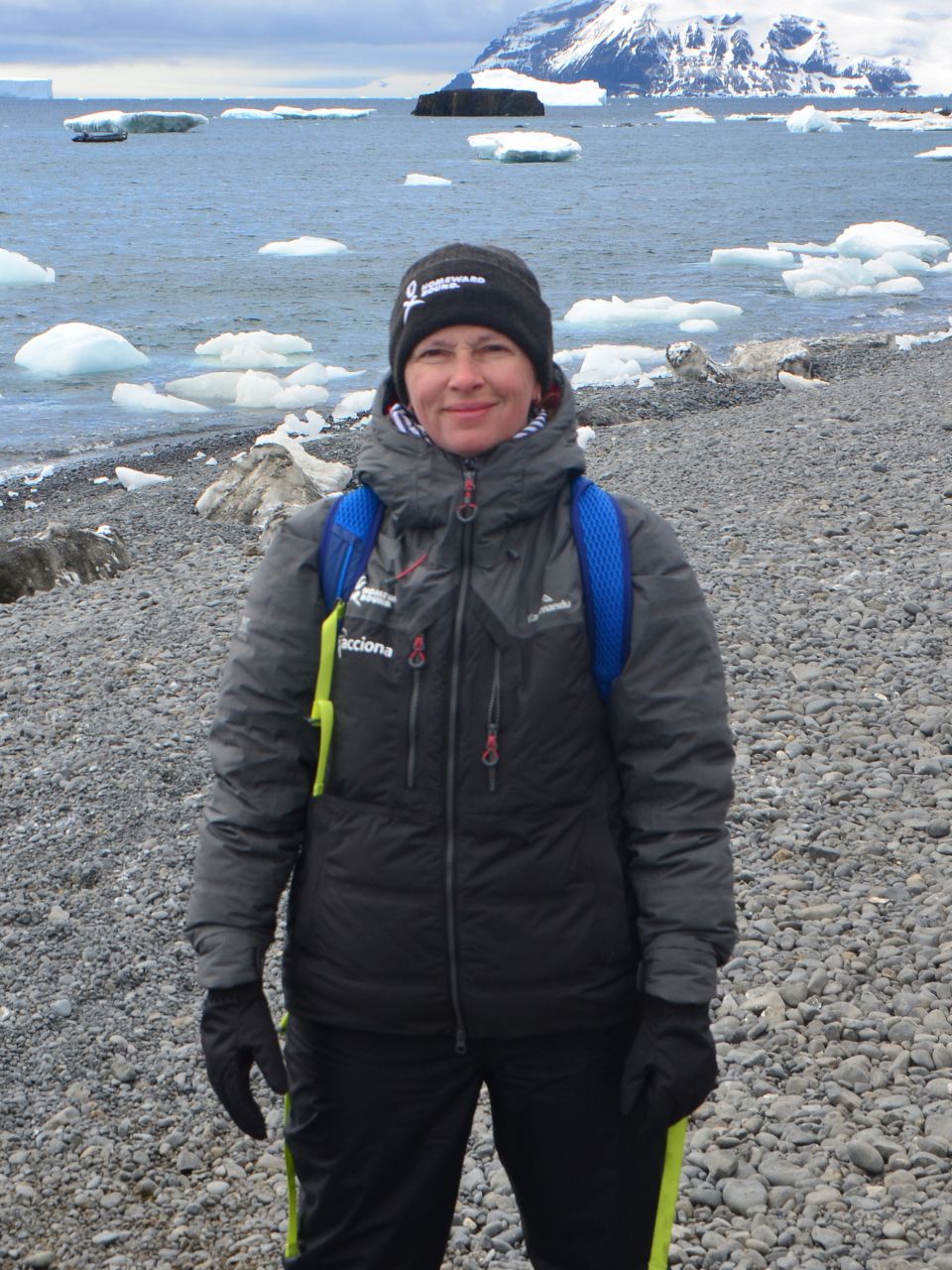 The iceberg appeared to be breathing. Slowly undulating in the frigid water, its cerulean blue base glowed below the surface. Antarctica's glaciers have calved and sent icebergs adrift in the ocean for millennia. But watching this scene from a Zodiac boat in December, Iryna Dronova, PhD '12 Environmental Science, Policy, and Management (ESPM), saw both a metaphor and a warning.
"We knew that with each splash of water, the iceberg wasn't breathing; it was melting," says Dronova, who is now an assistant professor in Berkeley's Department of Landscape Architecture and Environmental Planning. "It awoke a sensation of time running out, an urgency to act on climate change." She and Valeri Vasquez, a PhD candidate in the Energy and Resources Group (ERG), were among a group of women who traveled to Antarctica last winter as part of the largest-ever all-female delegation to the frozen continent.
Their expedition was convened by the Australia-based initiative Homeward Bound, which was launched in 2016 to create a global collaboration of 1,000 female leaders in science, technology, engineering, math, and medicine (STEMM) fields. One hundred women are selected to take the trip each year. Those in the 2019 group—the fourth so far—came from more than 30 countries and from disciplines directly and indirectly related to climate change: among them, marine science, oceanography, wildlife biology, public health, energy, astronomy, biosecurity, and botany.
The participants toured the Antarctic Peninsula, a rugged collection of snow-and-ice-covered mountains and islands that stretches toward Argentina and Chile. The western Antarctic Peninsula is one of the fastest-warming places on Earth, with a mean annual temperature increase of 2.8 degrees Celsius between 1950 and 2005, according to the International Journal of Climatology.
The concept behind the delegation was that, after experiencing the spectacular, fragile continent firsthand, the women would return home inspired to push for Antarctic protection and energized in their work as it pertains to climate change and related issues. Vasquez says that Antarctica "allowed us a glimpse of the rich biodiversity we were there to learn how to protect."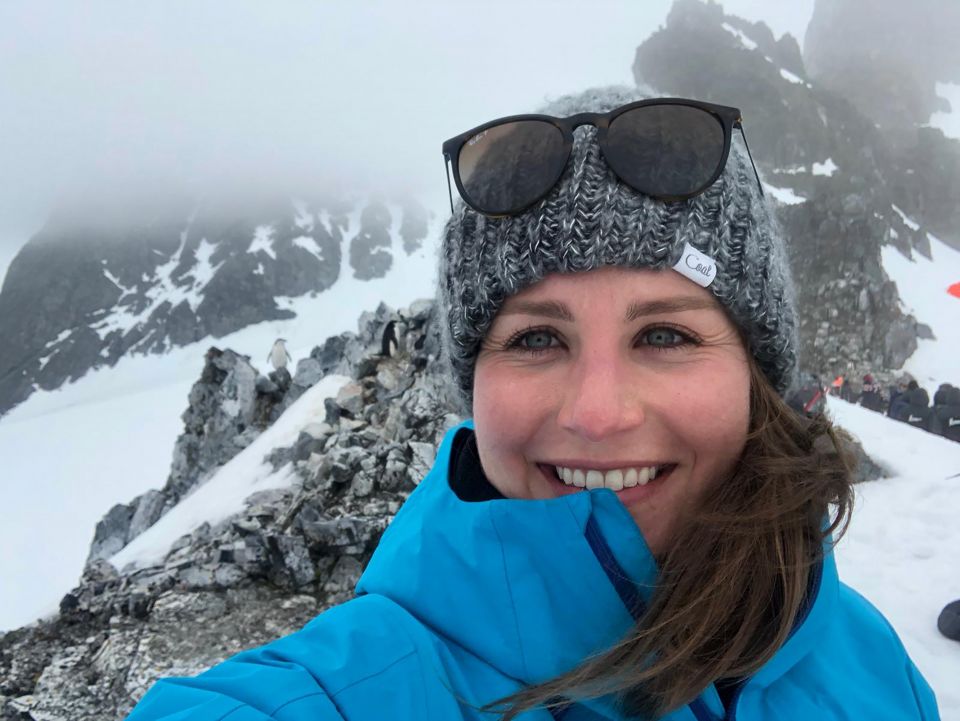 Modeling mosquitoes, mapping wetlands
Prior to her graduate studies at Berkeley, Vasquez worked for the U.S. State Department as an adviser on international climate policy. Among other things, she helped broker the negotiations at the U.N. Framework Convention on Climate Change, during which 195 nations crafted the Paris Agreement to curb greenhouse gas emissions. Her desire for a deeper understanding of the science underlying mitigation and adaptation efforts brought Vasquez to ERG, where she modeled the human health–related economic costs of carbon dioxide emissions for her master's thesis. 
Now, for her doctoral work, Vasquez develops computational models to explore options for using a genetic engineering approach called gene drive to curb the spread of disease-carrying mosquitoes. Such novel approaches are expected to be increasingly important for controlling the incidence of illnesses like malaria as climates change around the globe. In the future, Vasquez hopes to investigate applications of gene drive in agriculture and conservation as well.
Dronova uses remote sensing techniques (like capturing images from sensors on satellites, aircraft, or drones) to monitor the health, biodiversity, and function of wetlands and to inform decisions about their management and conservation. She also utilizes thermal satellite images to examine how green spaces in urban environments provide cooling benefits, depending on how the cities are designed and planned. And she's collaborating with Berkeley colleagues and alumni on two projects assessing carbon sequestration in restored wetlands, including one with ESPM professor Dennis Baldocchi and his Biometeorology Lab. 
Global climate connections
While their work does not involve Antarctica directly, Vasquez and Dronova both say that the journey underscored the deep linkages between ecosystems worldwide—in particular, those involving the drivers and impacts of climate change. The Southern Ocean, which surrounds Antarctica, drives ocean currents and regulates the global climate. Warming temperatures can melt previously stable ice sheets and hasten the calving of glaciers. Antarctica's ice sheet is thought to hold more than 60 percent of the world's fresh water, and an influx of fresh water from the melting ice sheet could interrupt the circumpolar current that influences climate across the globe. In September, an Intergovernmental Panel on Climate Change report predicted with "very high confidence" that Antarctica's melting ice sheet could trigger a sea level rise of several meters within a few centuries.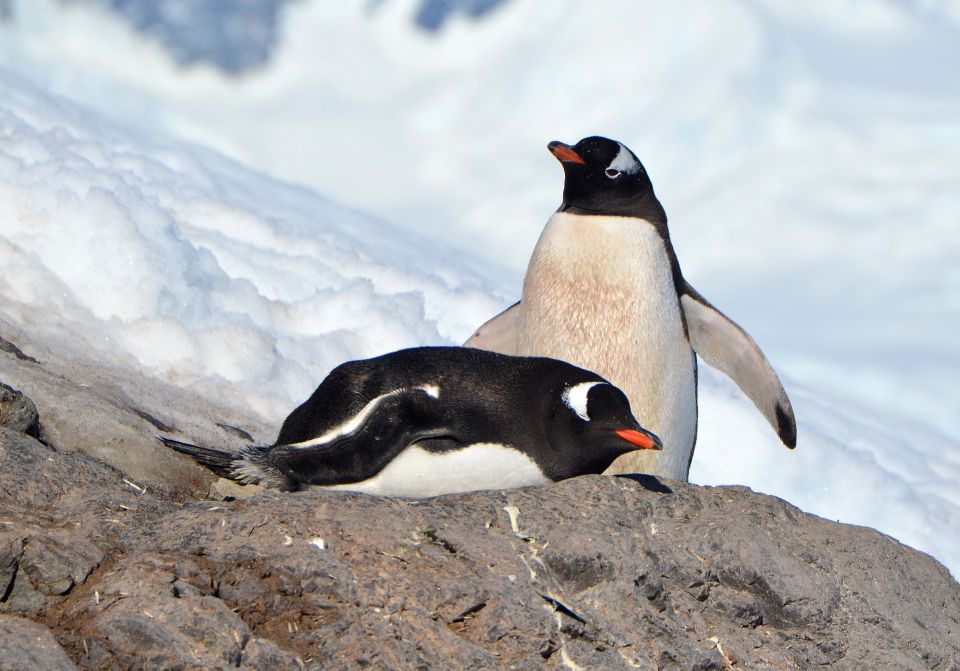 "Even though we think about Antarctica as a vast pristine space, it is so fragile and so connected to what's happening in the rest of the world," says Dronova.
"It was incredible to observe how this landscape is shaped by geology, time, climate, and animals and to witness how these connections evolve even in this relatively extreme environment," she adds. "We saw penguins building their highways across the snow, water and ice carving landscape features that then provide habitat for nesting birds and animals, and ice blocks that support organisms under the water like krill and phytoplankton."
The delegation traveled to Antarctica on the 60th anniversary of the Antarctic Treaty, a multinational agreement that set aside the continent for the peaceful pursuit of science. Vasquez—like many Antarctic scientists and policy advisers— describes the treaty as an inspiring example of international cooperation.
"It shows the scale of collaboration we're going to need," Vasquez says, "as countries, communities, and individuals, to preserve this incredible place for generations to come."