Rishi Khalsa
Crafting the Message
When he joined the California Department of Justice as a press secretary in January 2019, Rishi Khalsa ('17 Master of Development Practice) figured he'd put his Spanish-translation skills to use eventually. As it turned out, he was tapped right away, to help craft the Spanish language response that California Attorney General Xavier Becerra would give to President Donald Trump's State of the Union Address just a few weeks later. "To immediately have the opportunity to work on such an important speech on the national stage was a thrill," Khalsa says.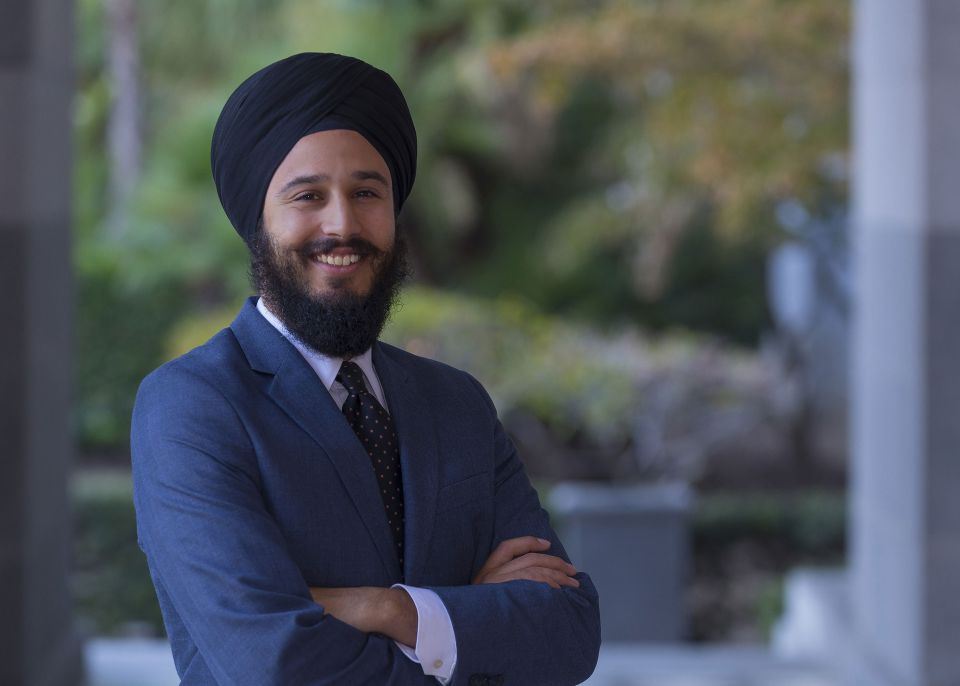 Photo courtesy of the Capital Fellows Program.
The ability to convey a message clearly, no matter the stage, has long been a valuable skill for Khalsa. Whether during his high school days in India, his time studying abroad in Spain during college, his two years teaching English with the Peace Corps in Costa Rica, or his translation work with the nonprofit Global Press Journal, Khalsa's aptitude for communication— in English, Spanish, and Punjabi—has served him well.
Eager to build on his experiences and explore global development, he applied to the UC Berkeley Master of Development Practice (MDP) program after completing his Peace Corps assignment. "It seemed like a natural segue from doing development work to understanding how that work fits in the bigger picture," Khalsa says. "I knew Berkeley would be a great place to develop a theoretical background." 
A Grounding in Theory
Enrolling at Berkeley marked a coming home for Khalsa. In his early childhood, he had lived just blocks from campus and heard the Campanile tolling daily. "Listening to those bells, I knew that, someday, I would go to Berkeley," he says. 
One of Khalsa's first classes proved to be the most influential: International Economic Development Policy with Alain de Janvry, a professor of agricultural and resource economics. "We discussed the differences between various approaches to development—everything from Angus Deaton's concerns about aid undermining social contracts to Esther Duflo and Abhijit Banerjee's studies that assess the impact of development interventions," Khalsa recalls.
He took advantage of the MDP's flexible structure and chose courses that would help him develop an emphasis in international media. "I was interested in working in the foreign service, perhaps as a communications officer," he says. "And I was already working as a researcher and translator with Global Press Journal, which trains and employs women around the world as journalists. I was able to bring those interests together in the MDP."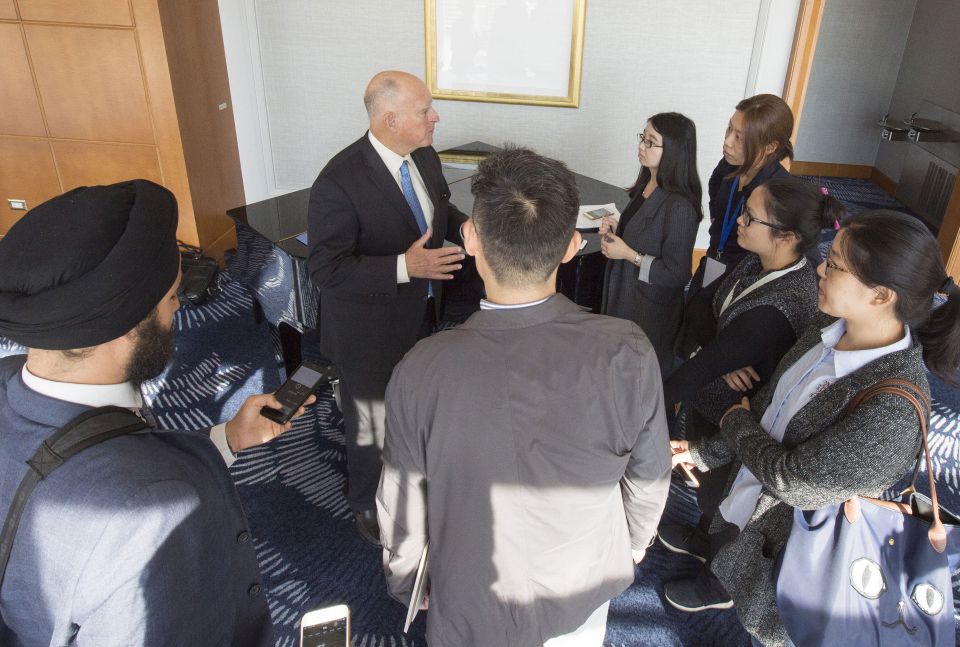 Rishi Khalsa supporting Governor Jerry Brown during a press gaggle outside the China Pavilion at the Global Climate Action Summit in San Francisco. Photo courtesy of the office of Jerry Brown.
After graduation, Khalsa joined California governor Jerry Brown's communications team through the Capital Fellows Programs at Sacramento State. "It's a fantastic program for people who have limited experience with state government to dive in at the highest level," Khalsa explains. He eventually found himself involved in the Global Climate Action Summit, for which Brown invited environmental ministers from around the world to San Francisco. "When I was in the MDP, there was a contingent from Berkeley that participated in the Paris climate accord discussions. At the time, I told my department director, 'That's what I want to do,'" he recalls. "It was remarkable to then be able to attend a meeting of ministers at the summit in San Francisco and to be in the room for such a high-level political process." 
Khalsa transitioned from the fellowship into an assistant press secretary role with the governor before pivoting to the California Department of Justice, where he is one of three press secretaries. "The department touches on nearly all the different facets of state government," he says. "We represent various departments and agencies as our clients, but then our office also proactively tackles issues on behalf of residents or the state. My job really runs the gamut. I'm learning all the time." 
While his areas of focus include labor, housing, civil rights, and criminal justice reform, his communications work has also recently dealt with immigration. In November, the U.S. Supreme Court heard oral arguments in the lawsuit against the Trump administration over the government's attempts to rescind the Deferred Action for Childhood Arrivals (DACA) policy. Khalsa collaborated with the multiple plaintiffs' communications teams—including the University of California's press office—to help present a unified message and amplify the state's perspective. At a time when DACA was national news, he wrote press releases, organized press conferences, and crafted responses to federal talking points.
"My job really runs the gamut. I'm learning all the time."
"One of the reasons I ultimately decided to work in state government instead of the foreign service is because it offered the chance to work on issues from a policy perspective that aligns more closely with my own beliefs, particularly in regard to immigration," he says.
One press conference that he helped organize crystallized for Khalsa what he has been working toward since he first entered the MDP program. At the conference, Attorney General Becerra spoke with a number of DACA recipients, including an individual who is a plaintiff in the case. "To be able to witness firsthand the courage and tenacity of people whose livelihoods and lives are at stake," Khalsa says, "was an incredibly rewarding experience."