Career in Clean California
Louise Bedsworth, PHD 2002 Energy and Resources
For Louise Bedsworth, no two workdays are alike. One day, she directs investments that connect affordable housing and public transit, in an effort to advance equitable community development and reduce greenhouse gas emissions. Another day, she meets with an organizer who establishes urban gardens, to expand access to nutritious, affordable food while revitalizing green spaces.
Bedsworth is the executive director of the California Strategic Growth Council (SGC), a cabinet-level state organization formed in 2008 to foster and fund community-driven projects that strengthen local economies, ensure social equity, and enhance environmental stewardship. SGC's guiding principle is that sustainability, equity, economic prosperity, and quality of life are intrinsically linked—and call for comprehensive approaches.
"If we were looking to maximize any single goal—such as emissions reduction, affordable housing production, or community development—our programs would look different," says Bedsworth. "We're trying to demonstrate how we can bring all the pieces together."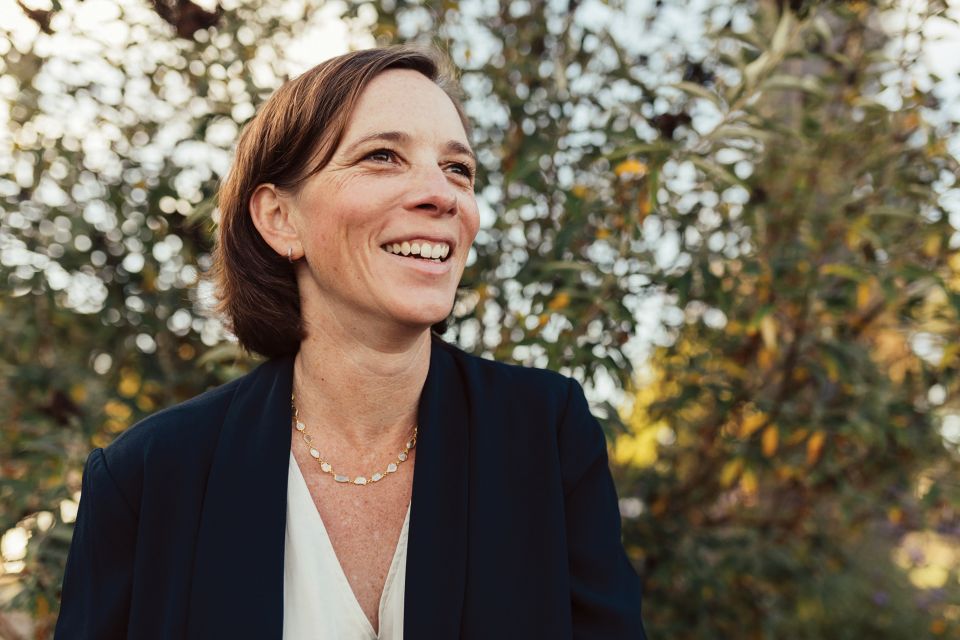 Louise Bedsworth. Photo courtesy of California Strategic Growth Council.
For nearly 20 years, she has worked in fields related to California environmental and climate policy. If her career has a unifying thread, it's been a deep interdisciplinarity and the steady integration of cutting-edge research into policy and action.
The science-policy nexus
Bedsworth earned her undergraduate degree in earth sciences at MIT before coming to Berkeley to study environmental engineering. Focusing on nuclear energy and risk analysis, she explored coursework on the interface between technology and policy, but eventually decided to redirect her specialization toward environmental regulation. "Most engineers at that time were modeling and measuring, but I was interested in interviewing regulators to understand how modeling information was used," she remembers.
After obtaining her master's, Bedsworth joined the Energy and Resources Group (ERG) to conduct doctoral research with a committee that included Professor Gene Rochlin. She was enthralled by ERG's interdisciplinarity and tight-knit community, and she spent hours reading past students' dissertations. In her free time, she played ultimate frisbee with the ERG intramural team.
Bedsworth focused her dissertation on California's smog-inspection system. At the time, the U.S. government was amending Clean Air Act regulations, but the state—which had long been more progressive than the federal government on environmental policy—took its own strong regulatory approach.
The topic suited Bedsworth's interdisciplinary leanings. "Smog regulation involves some very technical questions around engineering and testing methodology, but it's also wrapped up in complex questions about human behavior," she says. "How are regulators managing the system to make it effective but also politically acceptable? How do you keep people from cheating?"
"We can only address climate change if we address equity across the state."
In addition to coursework, Bedsworth pursued other opportunities. One summer, she traveled to Vienna to work with the International Institute of Applied Systems Analysis, a think tank focused on global-scale challenges, where she did comparative analyses of European and U.S. vehicle-emissions regulation. She also held an Environmental Protection Agency fellowship and interned at Redefining Progress, a nonprofit focused on ecological footprints founded by an ERG alum.
Statewide Strategies
Upon finishing her dissertation, Bedsworth became an advocate for the Union of Concerned Scientists, working on California's greenhouse gas emissions standards for passenger vehicles. A particularly proud moment came when, in a 2015 speech, President Barack Obama praised California's strong leadership on emissions regulation. "The victory that we all felt—finally having the state leadership and federal partnership to really push forward—was incredible," she says.
After working as a researcher at the Public Policy Institute of California and at UC Davis, Bedsworth transitioned into state government in 2011. At the Office of Planning and Research in Governor Jerry Brown's administration, she led various collaborative research initiatives and climate change adaptation and resilience programs. One of her first projects was a long-term environmental-goals report for the entire state.
"Working in the governor's office was at first daunting but also demystifying," she recalls. "I saw a huge opportunity to move from this outside space into understanding the political process, designing and implementing policies, and putting solutions in place."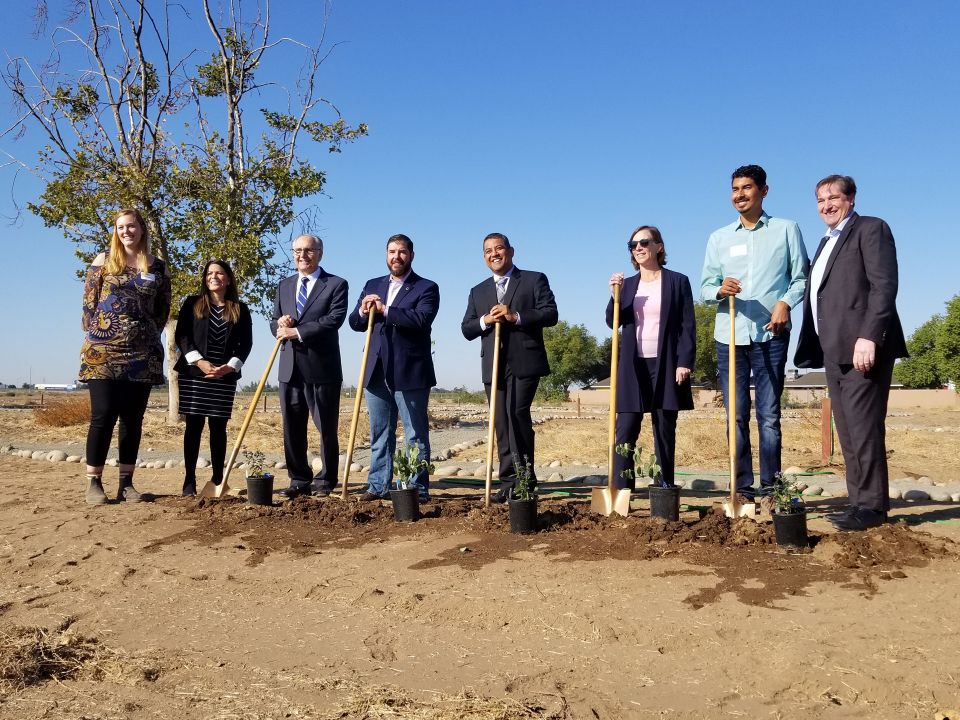 Louise Bedsworth (third from right) participates in a groundbreaking ceremony for the Yosemite Village Permaculture Farm.
Bedsworth crafted strategies to coordinate climate-related activities at the state, regional, and local levels. She helped develop the Integrated Climate Adaptation and Resiliency Program, a comprehensive statewide response to the impacts of climate change, and she worked to advance social equity in distributing a $70 million grant from the National Disaster Resilience Competition. She also collaborated with researchers at Rausser College of Natural Resources and other scientific institutions in co-authoring the biannual statewide Climate Change Assessment in 2018.
At SGC, Bedsworth has led a vast spectrum of projects. For example, she currently oversees a program called Transformative Climate Communities. Through that initiative, SGC awarded a $66.5 million grant to the City of Fresno that will connect three underserved neighborhoods there with new affordable housing, public transit infrastructure, green spaces and community gardens, and other improvements. As with so many SGC-funded projects, this one centers primarily on communities historically most affected by pollution and poverty.
Bedsworth's favorite part of her job is meeting with stakeholders in communities and learning about a town's vision for an ambitious project. "Our organization combines top-down goals with community-led, ground-up sets of priorities," she says. "We need all Californians to be part of the climate solution, and we can only address climate change if we address equity across the state."
"I feel really lucky," Bedsworth adds. "I'm doing what I've always wanted to do."
Update: On April 30, Bedsworth stepped down from her role as Executive Director at SGC. She will join the Center for Law, Energy, and the Environment at the Berkeley Law School, where she will direct the Land Use program and also support the California-Climate China Institute. In her new role, Bedsworth will examine various ways to scale and replicate the success of California's climate programs. On April 29th, the California Legislature issued a resolution in honor of her many achievements in State service over her career.