Navigating Water Issues Worldwide
Rebecca Peters, BS '14 Society and Environment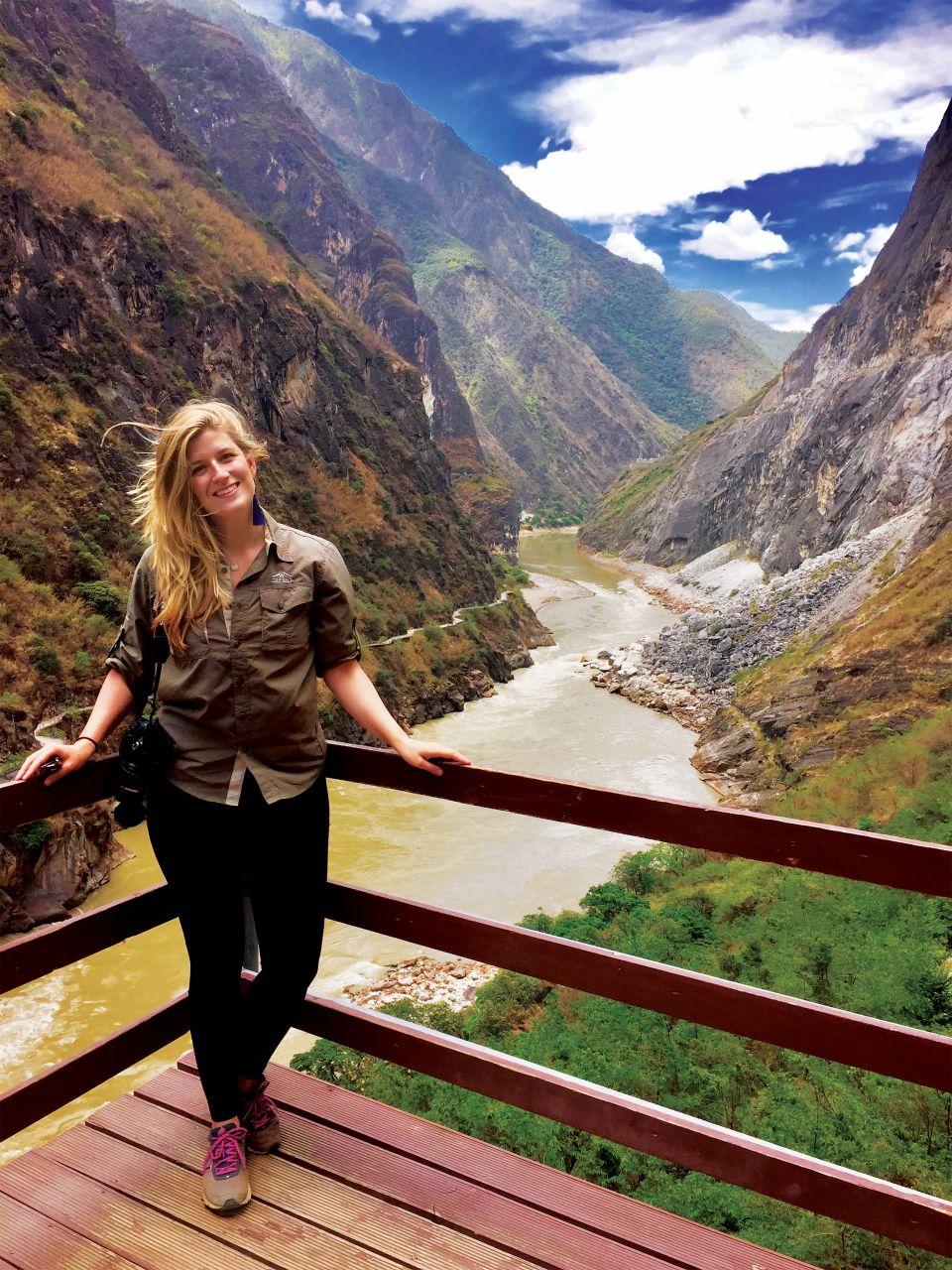 Rebecca Peters in China's Tiger Leaping Gorge on the Jinsha River in Yunnan Province.
When Rebecca Peters applied to Berkeley as a transfer student in 2011, she grappled with what she considered her "family curse." The three prior generations of women in her family had all attended Berkeley, but none had graduated. "I thought, 'If I get in, I'm going to give this everything I've got,'" she says. "Because Berkeley is the kind of place where you can really make things happen."
As demonstrated by her becoming a Truman Scholar, a Marshall Scholar, and UC Berkeley's University Medalist by the time she graduated in 2014, Peters succeeded in her quest. And she has continued to give her all in her career as an international water policy advisor, which has taken her to more than five dozen countries (and counting) and, most recently, led to a position at the U.S. Department of State. 
Reading the Water Landscape
Peters had already become involved in environmental activism before she arrived at Berkeley from her hometown of Calabasas, California. In high school, she volunteered with the Mountains Restoration Trust and served on the Calabasas City Council Environmental Commission, which helped transform a section of the Las Virgenes Creek from a concrete storm drain back into a natural landscape. 
She got her first glimpse of the immense global landscape of water issues during her undergraduate environmental science studies at Cal Poly San Luis Obispo. A class project took her to the remote town of San Pablo Tacaná in Guatemala to co-develop a water treatment project. "When I returned, I was grappling with everything I had learned and looking for ways I could continue to work on issues of water and community development," she says. "At the same time, I learned about the global poverty minor at Berkeley, which is a really different approach to engaging with issues of power, poverty, and inequality. It was a compelling reason to transfer."
At Berkeley, she pursued not only the global poverty minor but also dual majors: a BS in society and environment from the College of Natural Resources and a BA in international development and economics. She thrived under the mentorship of three women faculty in the College who "completely changed the course of my life," she says. Kate O'Neill "really cared about the practical side of how international environmental policy is made." Political Ecology, taught by her thesis advisor Nancy Peluso, "formed my critical thinking skills about how I approach natural resources management," she says. "I apply lessons from that class in my daily life." She was also inspired by the work of her other thesis advisor, Isha Ray. "People like Isha have shown so much intellectual leadership in the field—I am standing on the shoulders of giants, and she is one of them."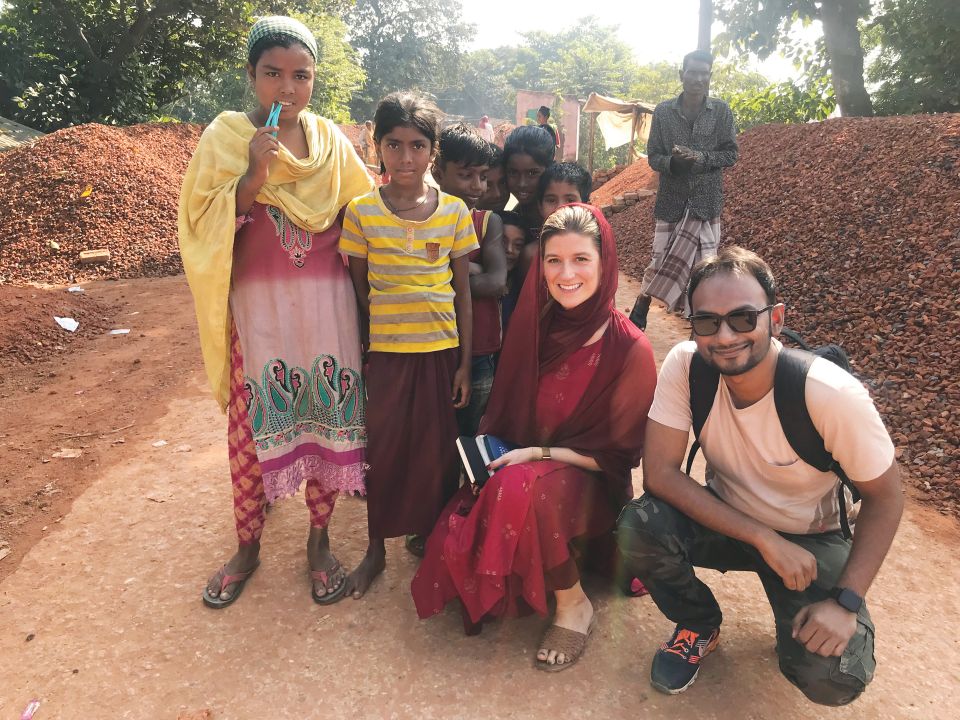 Peters with REACH water security programme colleague Aziz Rahman (far right) and community members in Dhaka during household surveys about experiences with river water pollution in 2019.
Peters reconstituted and led the Berkeley Water Group—which to this day serves as a forum in which students discuss their research on water, sanitation, and hygiene—and co-launched a project that augmented access to water and feminine hygiene supplies for girls at 12 rural schools in Bolivia. Those interests dovetailed in the DeCal course she founded and co-taught for six semesters, Water and International Human Rights. "I wanted students to come away with a deeper appreciation for what water means for us individually and in our communities and societies, and to tie that into the broader principles of how we think about human rights and laws," she says. 
Breaking the Cycles
As a Marshall Scholar in England, Peters continued her studies of the intersection of water and poverty issues. She earned a master's degree in poverty and international development at the University of Manchester, known for its cutting-edge research cluster on poverty alleviation. The program took her to South Africa to study post-apartheid water governance reforms. She subsequently earned a master's degree in water science and governance at King's College London, studying with esteemed water researchers including Stockholm Water Prize laureate Tony Allan.
After graduation, Peters spent a year researching transboundary river policy and the impacts of hydropower dams at the Asian International Rivers Center in Yunnan, China. She attended the International Hydropower Association conference in Ethiopia and co-authored a report with The Nature Conservancy on how dams and their surrounding river systems can fit together more holistically.
For her PhD at the University of Oxford, she focused on river water pollution in Bangladesh. "Geographic and climatological conditions that affect water vary in different places, but there are shared patterns in water issues anywhere you go," Peters says. "It's never wealthy, powerful people who have a hard time getting access to water. I want to better understand ways to break these cycles of poverty and lack of agency and control over natural resources across the world."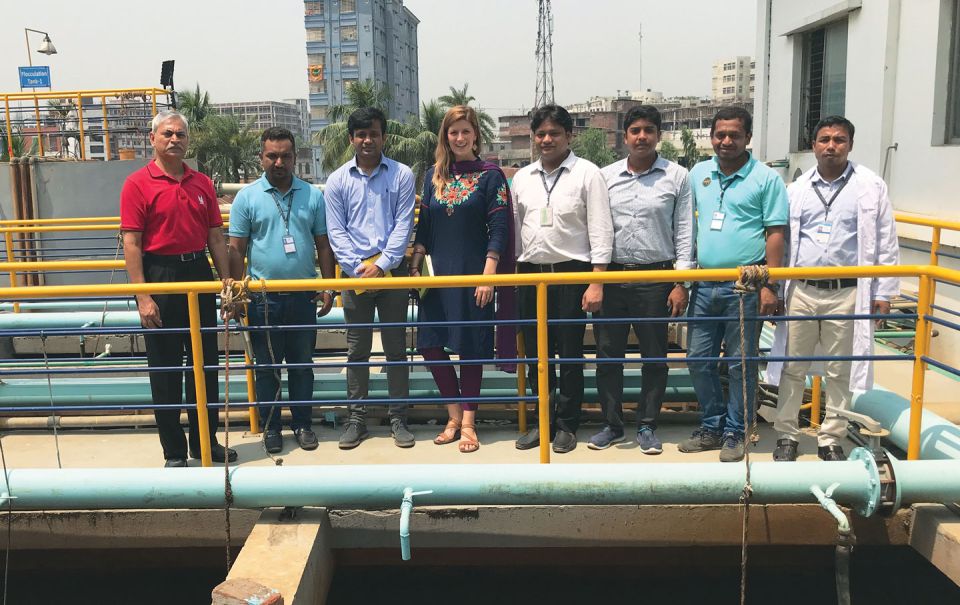 Peters visiting a textile production facility's wastewater processing plant in Dhaka, Bangladesh.
Integrating her Interests
Peters is now applying her expertise on water and natural resource issues in thought leadership roles on both sides of the Atlantic. Since January 2021, she has been an Academy Fellow, and then Academy Associate at Chatham House, a century-old, independent international affairs think tank in London. And in October 2022, she relocated to Washington, D.C., to join the U.S. Department of State as a contractor serving as international water policy advisor. "I saw the position as a way to integrate my interests in public service, water, and foreign policy," she says.
At the State Department, her team leads the development and implementation of U.S. foreign policy on global water security, transboundary water cooperation, climate adaptation, and natural resources management. "There are high levels of commitment to addressing water and climate," she says. "It's a really exciting time to be working on these topics."