Left photo: CA Department of Water Resources. Right photo: Central Sierra Snow Lab.
The Central Sierra Snow Laboratory
Field Station Spotlight
CSSL lead scientist Andrew Schwartz demonstrates use of a federal sampler for snowpack water measurement. 
Photo: CA Department of Water Resources
At the top of Donner Pass in the Sierra Nevada Mountains, at an elevation of nearly 7,000 feet, sits an old cabin. It's one of the snowiest places on Earth-a fitting home for the Central Sierra Snow Laboratory (CSSL). When snowfall is at its highest, the front door of the cabin is buried, and resident researchers can only enter through a window on the third floor.
A UC Berkeley field station run by lead scientist Andrew Schwartz, the CSSL houses one of the longest ongoing sets of data on snowfall in the world, dating back to 1878. Providing daily, hand-collected measurements of precipitation and regular data on snow water content, the lab offers critical insight into the Sierra Nevada, California's most important water storage system.
More snow means more water trickling down to reservoirs and streams for the benefit of ecosystems, fish, agriculture, homes, and industry. With recent patterns of more rain and less snow, water reaches those streams and reservoirs quicker and may end up evaporating or flowing out into the ocean. Understanding how much snow is being stored in the mountains is crucial for water management.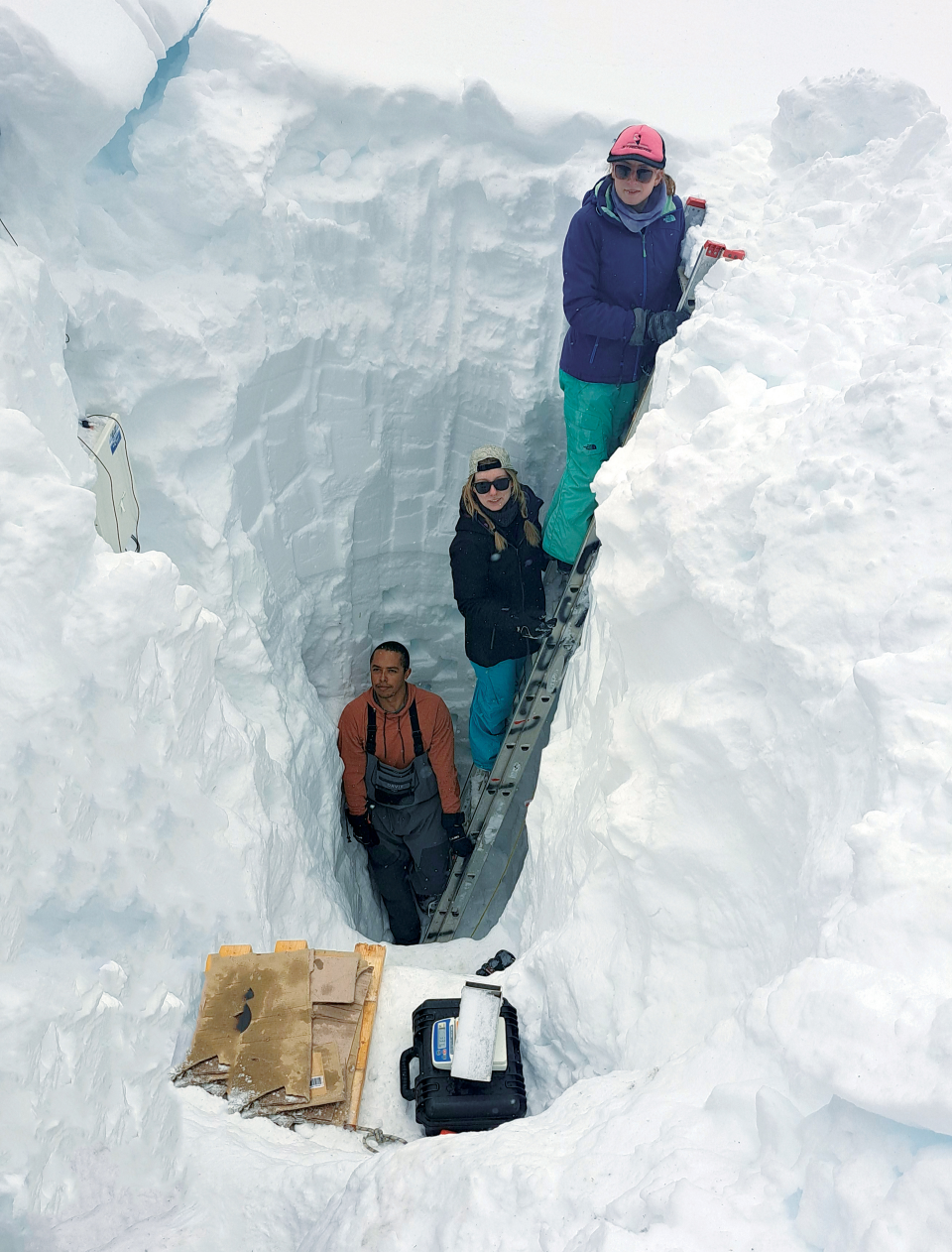 University of Nevada, Reno students take snow temperature measurements inside a nearly 18-foot deep pit at the lab in March.
Photo: Andrew Schwartz
First a facility of the (then) U.S. Weather Bureau and the U.S. Army Corps of Engineers, then run by the U.S. Forest Service for four decades, the CSSL has been managed by UC Berkeley since 1995. When longtime researcher Randall Osterhuber retired in 2019, the lab was almost shuttered as the pandemic forced university budget cuts and a hiring freeze. But professor Robert Rhew—then faculty director of the facility—worked to ensure the lab could continue its essential work. A local ski patroller named Justin Lichter volunteered to take measurements for a season so that records would not be interrupted, and Schwartz arrived in April 2021.
Over the past two years, he has revitalized the CSSL, acquiring new equipment, expanding staff, raising awareness about the lab and making sure its data is accessible, and increasing collaborations with researchers from Berkeley and other universities. 
"In addition to extending important historical records, we're helping California's Department of Water Resources plan for the future of the state's changing water resources," Schwartz said. The lab is also testing and developing new instrumentation to ensure accurate measurements, he said, as well as investigating how rain on snow and forest fires—both more frequent occurrences due to climate change—affect water and water processes.
During the major, multiweek storms that hit California in the early months of the year, many meteorologists and news outlets turned to the CSSL for information about the record snowfall. By mid-March it was clear that this season has been the second snowiest in the snow lab's history. "It's been a tough year at the snow lab—we've had issues with flooding and have needed to clear substantial amounts of snow after every storm to make sure that the infrastructure isn't being damaged," said Schwartz. "Despite these challenges, the benefits for the drought are immense."
In May, CSSL Director Andrew Schwartz explained what happens to all the snowpack as it starts to melt in an interview with the Weather Channel. Watch a recording on the Weather Channel site.